Virus test is not as bad as long wait for results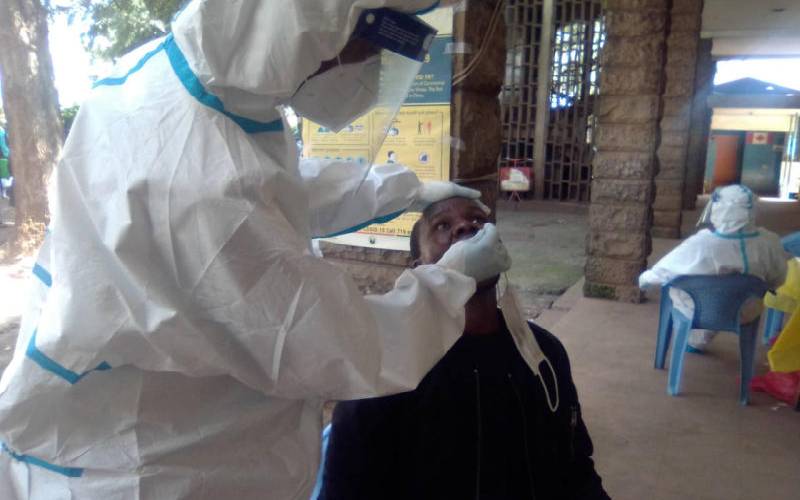 On Sunday, I made up my mind to get tested for Sars-CoV-2, which is the virus that causes the coronavirus disease.
I admit I had to google the name of the virus. Like most people, I only knew the name of the disease.
The government is currently carrying out mass testing in Eastleigh after it declared the business-cum-residential suburb a coronavirus hotspot. So that was my next destination.
St Teresa's Girls School is sandwiched between Eastleigh and Mathare, and it is one of the places the Health ministry has set up camp.
Police have set up a barrier on Juja Road, which is right outside the school, and they were having a hectic time trying to determine which residents to let in and out of the estate.
A vehicle mounted with loudspeakers was slowly driving down the road as a voice encouraged residents to get tested. But only a few brave souls walked through the school gate.
Inside the school, a small queue formed in front of several desks where health workers helped us to fill out a three-page document with a long scary title: Case Investigation Form for 2019 Novel Coronavirus (Covid-19).
There were three answers the staff were particularly interested in: Are you sick? Did you come into contact with a sick person? Did you travel?
In my case, the answer to these questions was 'N/A' (not applicable).
There were six options listed on the form: a) contact with a confirmed case, b) surveillance, c) repatriation, d) presented at health facility, e) point of entry detection and, f) other.
I was marked as 'other', given a number and sent off to another queue. I glanced at the tiny paper that had number 58 printed on it and clutched it tightly.
Another statistic
My mind raced as I wondered whether I would end up becoming just another statistic.
"Mtu anadungwo shindano kwa matako? (do we get an injection in the buttocks?)" I heard a boyish voice say. I smiled and felt some of the tension lift from my body.
The speaker, a street urchin, was part of a large group that comprised nearly half of the 'brave' volunteers. They were chatting away with no care in the world as a health worker tried, and failed, to get them to maintain some semblance of social distancing.
"Hawa wanakaa daktari wa mortuary (these ones look like mortuary attendants)," another said, which I guess was the best description they could give of the medics who were clad in the kind of protective gear worn by astronauts headed to outer space.
This particular boy had sneaked in a bottle of glue that now dangled from one side of his mouth. He looked higher than a kite, which made me wonder whether someone needed to be high on something to volunteer to be tested.
As if on cue, a man who was ahead of me in the queue suddenly lost his nerve and declared he wanted to go home. "I do not want to be quarantined. I don't have the money for quarantine. What will my neighbours say if I have coronavirus?"
He continued muttering to himself because nobody, apart from the street families, was in a talkative mood.
The tension was back, thicker than before.
The health workers finally managed to enforce social distancing by drawing circles on the floor.
Their fun curtailed, the street boys now competed to see whose temperature was the highest.
The queue moved fast and before long they were ready for me.
Now, there are many myths about the testing procedure. This is what happened. I sat down on a plastic chair and Neil Armstrong floated towards me, prepared to make one small step for man and one giant leap for mankind.
I looked up and the medic inserted a long swab deep into my nasal cavity and scrubbed. I blinked hard and involuntarily shed a few tears.
I opened my mouth and the swab was thrust into the back of my throat. I feared I would deposit my breakfast on the floor but the scrubbing was over in seconds.
"We will send you the results on your phone," said Armstrong.
Back in the newsroom, I told my colleagues what I had done.
After they had picked their jaws from the floor, one asked, "Why did you do it? Do you realise that if your test returns positive we will have to self-quarantine for 14 days?"
The thought had crossed my mind. As well as what would happen to my family and friends.
It has been over 48 hours and I still haven't gotten my results. So, I wait. It is many times worse than the test.