The Tatu City dream begins to take shape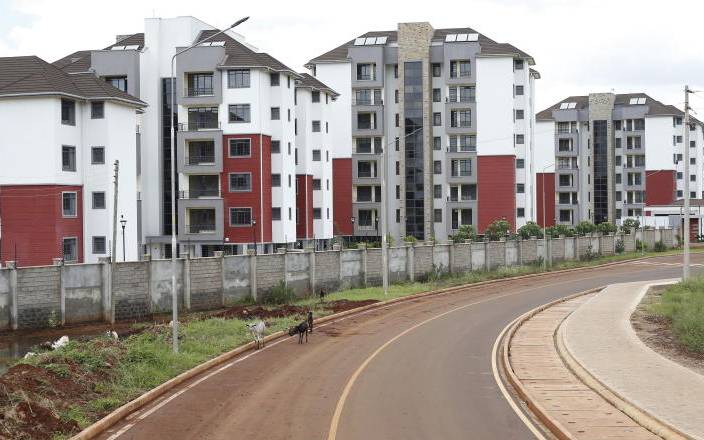 On a quiet Thursday morning, H&A drove into Kiambu County to check on the progress of Tatu City, a mixed-income community whose construction started in 2015.
Ruiru-Kamiti Road ushers us into the city, which aims to welcome potential residents to utopia, or as close as they can get to it.
As we approach the 5,000-acre development, expansive lush greenery meets the eye. At inception, the place was planned to be home to around 150,000 people.
Driving down Tatu Navigation Road, some of the buildings that will be home to these tens of thousands start to come into view.
An imposing edifice of white and maroon is the first of the residential buildings we approach. This is a Lifestyle Homes' project, and it has 1,200 apartments.
The first phase is complete and ready for occupation. Its first resident moved in in October 2019.
Next is Kijani Ridge, a 300-acre low density neighbourhood that offers quarter-acre and half-acre fully serviced plots.
For the half-acre plots, the price ranges between Sh23 million and Sh28 million; the quarters cost between Sh11 million and Sh14 million.
"The price is dependent on the location of the plots and also the payment options picked," says Justus Kariuki, an advisor to Rendeavour, the private developer behind Tatu City.
Potential buyers
And despite several businesses across the country stalling as a result of the coronavirus pandemic, here, construction is ongoing.
Potential buyers are still visiting the site. They, however, are required to wash their hands first and exercise physical distancing in their cars; these are the few signs at the development that things are not entirely going on as normal.
Twenty-six homeowners are constructing their houses, with an additional 69 home designs having been approved, pending construction.
"Yesterday alone, 10 buyers visited," says Beatrice Njeri, the head of residential sales, adding that the management is taking precautions against Covid-19 while ensuring work goes on.
"All workplaces are disinfected at regular intervals, and handwashing and sanitising is enforced. We are also disseminating regular coronavirus awareness updates for staff and local communities," reads a message from Tatu City Chief Executive Stephen Jennings.
The development, on completion, will have homes, schools, offices, a shopping district, medical clinics, nature areas, a sports and entertainment complex, and a manufacturing area.
Just metres off the entrance into Kijani are the private Nova Pioneer Girls Secondary and Nova Pioneer Boys Secondary schools. These are both day and boarding schools.
Along Ruiru-Kamiti Road is Nova Pioneer Primary School, as well as the public institutions Tatu Primary School and Ngewe Primary School.
And for those interested in an international curriculum, Crawford International School sits inside the ridges of Tatu City.
The goal is to make the city self-sustaining such that staff at the park can own homes in the city, shop in the city and have their children go school here.
The industrial park already has 50 Kenyan and international firms that are open or developing. Of 450 acres at Industrial Park Phase 1, 30 acres remain unsold, the developer says.
Among resident companies are Cooper K-Brands, Dormans, Maxam, Copia, Africa Logistics Properties, Chandaria Industries, Kim-Fay and Davis and Shirtliff.
Commercial spaces in Kijani Ridge are in the design stage ahead of the construction of a central business district, which is expected to kick off in three years' time, according to Mr Kariuki.
"We have a development control company that has to approve plans for construction. We do not approve construction of high-rise buildings in the estate. People buying plots here in pursuit of serenity will always have their privacy and serenity," he adds.
Kariuki says the developer helps its customers get approvals for construction from the relevant authorities, and walks them through the legal process of coming up with a construction plan.
The standard fencing style for Kijani prohibits the erection of stone walls or any forms of solid walls, so steel bars reinforced with mesh wire fence most homes.
This, Ms Njeri explains, is aimed at maintaining the scenic views of the ridge as stone fences cause an obstruction and create a drab scenery. Natural hedges, however, are welcome, she says.
A sewerage system has been laid, and roads are being upgraded from basic access roads to tarmac as the construction of homes progresses.
Tatu has a utility company, Tatu Connect, which attends to residents' needs. It also has an emergency response team, and a partnership with Gallagher Security Company to automate security.
"We will have smart gate-opening. You can open the gate for your guest from the house," says Kariuki.
Alongside a clubhouse whose construction is underway is a jogging track, which is among the amenities the city will be opening soon.
Buyers of plots in Kijani are, however, discouraged from making an investment by planning to resell the plots. There is a deadline for construction after the purchase of a plot, though a buyer can get their money refunded if they are unable to start building.
Rendeavour has constructed six such cities in Africa. In Nigeria, it has Alaro City near Lagos and Jigna in Abuja; in Ghana there is Appolonia and King City; Kiswishi in the Democratic Republic of Congo; and Roma Park in Zambia.