Miguna should respect our president and Raila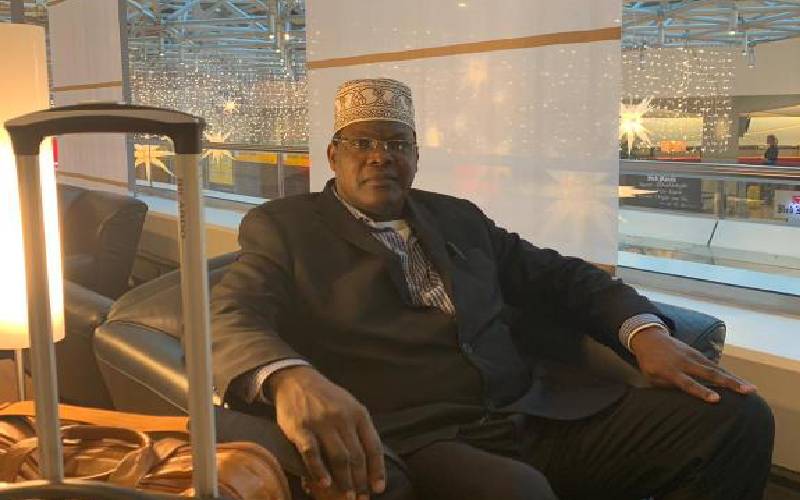 For some time now, political activist Miguna Miguna (pictured) has been hurling all kinds of brickbats from his base in Toronto, Canada, towards the Government and its top leadership without any element of respect. That behaviour is uncouth, unwarranted and unAfrican.
In his youthful days, Miguna had a brush with the Government of the day especially when he was a students' leader at University of Nairobi, an unfortunate collision that led to him to flee into exile in Canada where he, thankfully, completed his education. That was not a good experience. However, that is no reason enough for Miguna to throw caution to the wind and resort to insulting Kenya's political leadership.
Miguna was not the only one to find himself on the wrong side of the administration of the day. There were many others. However, the difference is that a host of other Kenyans who had a similar clash with the State have since reconciled their individual conscience and come to terms with the realities of the day, including political activism. Some have been, or even are, senior State officers during the regimes of retired President Mwai Kibaki and incumbent Uhuru Kenyatta.
None other than former Prime Minister Raila Amolo Odinga stated twice early this year during the funeral of former President Daniel arap Moi that he and the departed leader had forgiven each other regarding the injustices visited on him during the latter's stewardship of the nation. That is what statesmanship requires of a patriotic leader.
On his part, Miguna has refused to forgive or be forgiven. Instead, he has resorted to social media to vent his anger and frustration on Kenya's top political leadership, especially President Kenyatta and Raila.
As a lawyer and a politician who participated in the crusade for expansion of democratic space in Kenya, Miguna should be the last one to misuse the very freedom which many Kenyans, including himself, fought for so hard to attain, not forgetting that many other Kenyans gave their arm and limb in that fight.
True, Miguna has, justifiably, a bone to pick with Kenya's immigration personnel, a matter in which the country's Judiciary gave a strong verdict in his favour. However, that is no reason for him to unleash blanket epithets against the top government and political leadership.
Having lived in a highly democratic country like Canada for so long, Miguna should be the first person to appreciate and demonstrate the salient tenets of democracy. He should have known by now that democracy is not a licence to insult. Neither is it a ticket to pour one's rancour on the streets of village market. Freedom of expression is not absolute; it comes with responsibilities.
Indeed, Miguna needs not be reminded that divergent opinions are one of the pillars of democracy and one's freedom actually ends where another one's starts. It is a give and take affair.
By choosing to throw all insults he comes into contact with in the direction of the President and the ODM leader, Miguna has clearly betrayed the very democratic credentials he purports to hold so dearly. No amount of insolence and chest-thumping can change Kenya's political realities overnight.
Miguna has to live with the reality that Uhuru is the bona fide elected President of the Republic of Kenya and will remain president until his term ends in 2022. Nothing will ever change or erase that fact of history.
What is more, Miguna has to respectfully embrace the undisputed fact that Raila is the most influential politician in the country after Uhuru. That is another fact of history that cannot be substituted or wished away.
Let me remind Miguna that during the 2017 presidential race, Uhuru won with nine million votes while Raila came second with eight million votes. On the other hand, Miguna who contested for the Nairobi governorship managed a paltry 10,000 votes. Surely, between Miguna and the two national leaders, who has the space to berate the other? Yet, neither the President nor Raila has demeaned Miguna in the manner that he himself does.
It is on record that during the Grand Coalition Government headed by Kibaki and Raila, Miguna served as the Legal Adviser to Raila who was then the Prime Minister. Miguna is the self-proclaimed General of the so-called National Resistance Movement (NRM before the former premier opted to make peace with the duly elected President of Kenya.
The same Miguna is the one who 'swore-in' Raila as the "People's President" at Uhuru Park on January 30, 2018 before the Opposition leader bravely moved on and shook hands with the President to prevent Kenya from sliding into anarchy. It is wrong, therefore, for Miguna to turn around and mudsling the persons, names and families of Uhuru and Raila.
Like Most of us, Miguna has parents, children, brothers and sisters as well as other relatives. No one abuses Miguna's kith and kin in public the way he does those of Uhuru and Raila. That insensitivity is abhorable, particularly among Africans. It is unwarranted and totally lacking in respect.
Mr Nyamweya is the former President of Football Kenya Federation