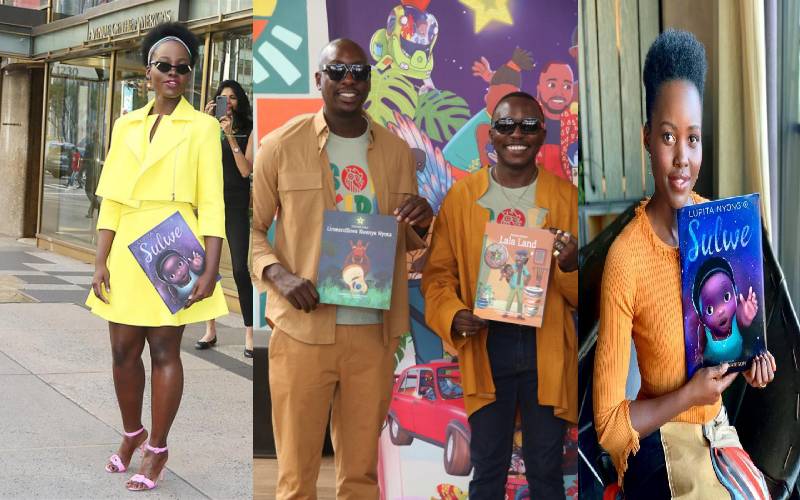 While some keep their eye on expanding their ever-growing careers with brand deals and endorsements, penning the title 'bestseller' for the younger generation seems to have become a popular venture for many famous people in the last few years.
It is no wonder you see famous names on the New York Times children's picture book bestseller list like Kelly Clarkson.
In 2003, Pop Star Madonna surprised everyone when she conquered the children's book fiction market after releasing The English Roses, which debuted at the top of the New York Times bestseller list.
It sold 57,369 copies in its first week and was translated into 42 languages.
Kenyan star and Black Panther actress, Lupita Nyong'o joined the list of celebrities writing children's books in 2019.
The award-winning actress released her book, Sulwe, which follows the story of a young girl who wishes for her dark skin to be lighter. It portrays the life of a young black girl dealing with issues of colourism and self-esteem, based on Lupita's own story of growing up as a dark-skinned girl. So popular is the bestseller book that Netflix is going to make it into an animated musical.
In 2021, Sauti Sol band member, Polycarp 'Fancy Fingers' Otieno released a children's book, Written in the Stars aimed at retelling African stories that are misinterpreted.
"Africa needs to tell its own stories. For a long time, our history was transmitted verbally from generation to generation. The downside of that is people taking advantage to misconstrue our actual truth, taking all the glory of our inventions and brilliance as the African people," said Polycarp.
Pop culture and branding expert, Nick Ede explains, "Celebrities like Idris Elba, who have mass appeal in movies and TV and who can write the compelling narrative that children learn from is a savvy way of making money and keeping fame and securing years and years of royalties. I think it is a savvy way of staying relevant, building a new fan base and making money and also building a legacy like famous authors."
Cecil Castellucci, a children's book author, tells romper.com; "Some people genuinely understand that writing for young people is a craft and they engage with the community of children and young adult authors vibrantly and importantly. They bring their celebrity status to our field and it is fantastic. And other people think it is easy because it is for children. And that tends to be annoying. But those celebrities do not usually stay in the field."
Cecil says that those who stick around tend to understand the importance of children's literature. "Everybody thinks writing for children is easy because it is for children. The thing is that writing for children is exactly like writing for adults. It is hard," she said.
Children's literature tends to offer a different kind of fame compared to Hollywood – a more direct and pure relationship, making today's children feel even closer to authors than in the past. However, questions raised about celebrities venturing into children's books are how it affects the literature financial ecosystem and career writers. Since celebrities have big promotional budgets, not to mention their popularity, a mid-list writer might find it hard to have their books promoted in bookstores, let alone have book tours.
Danny Katz, a columnist for The Sydney Morning Herald, says in a piece; "We non-celeb kids'-book authors just cannot compete; we do not have the public profile or media savvy that celebrities have. I once did a bookstore appearance and only two children showed up, both my own. And neither bought my book even though I gave them the money."