Medina Twalib: Trailblazer who wants to change Pokomo lives
SUNDAY MAGAZINE
By George Orido | Dec 12th 2021 | 5 min read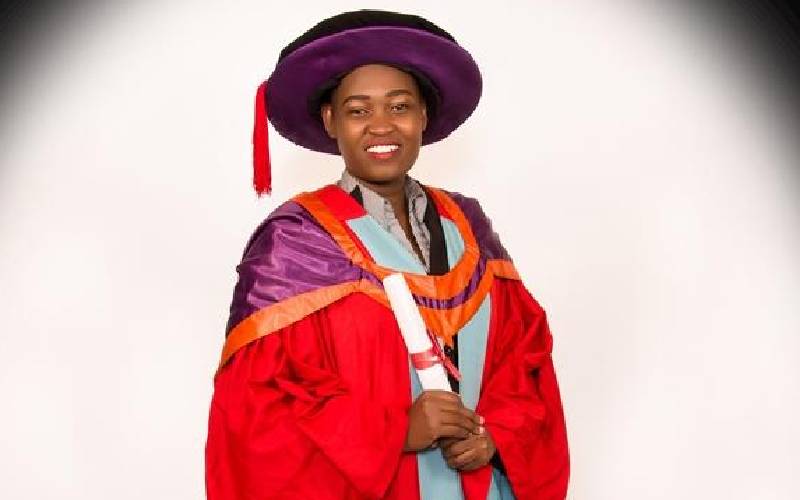 Many Kenyans have only heard about the Pokomo when they were learning about the origins of the Kenya National Anthem in school. If you missed the lesson, the amthem was borrowed from a Pokomo lullaby.
The Pokomo are a small community (counted as 112,075 in the 2019 population census). Little wonder then that they have been mostly quiet in national discourses. But one woman wants to change all this.
Step back to 2017.
The air is expectant and the excitement is reaching fever pitch as the Chancellor of the University of Nairobi calls a young woman in a bright royal pink gown to the podium to receive her PhD award.
The sunny weather on this day of November 2017 with the blue skies only strengthened the importance and significance of what was to happen to this lady from Hola in the heart of Tana River County.
And the words, "... give you power to read and do all that appertains to this degree," are followed by ululations as now Dr Medina Halaqou Twalib bows to receive the hat and instruments of education at the imposing graduation square.
What Chancellor Vijoo Rattansi had pronounced from her mouth was not just another PhD Business Administration candidate graduation, but a historical milestone where the first woman PhD ever from Pokomo Community was graduating with her doctorate debgree.
"When my name was called in full and was being given the powers to read and be the best I could during my Doctorate graduation, I cried especially when the VC mentioned that the University had the honour to graduate the first Pokomo lady; it was just joy," says Medina whose joy was a mirror to the happy day she got admission to Moi Girls' High School Eldoret, over a decade earlier.
She remembers the feeling and the thoughts going through her mind when as an orphan she got admission into this prestigious national school.
"I knew the journey to liberate my people had started. I saw a future that is hopeful not just for me but for my people as well," she tells The Sunday Magazine.
And it was never an easy journey to the top for Medina, who had seen her father stuck in a wheelchair for four years before his death when she was just nine years of age and brought up by her mother who passed on a few years later.
"I like being around people since it is the same people who took me in when I had no parents to run to," says Medina with an infectious smile that can disarm any potential adversary.
Loss of parents
And true to her words, her schooling was facilitated by well-wishers and benefactors, including bursaries, that saw her through high school, Bachelor's Degree and the MBA programme at the University of Nairobi.
"My mum was my best friend, we would laugh and share ideas; she kept reminding me over and over that, I was to be called a doctor someday. Well, she did not live to see that," she recalls painfully, especially the fact that her mother died in her arms that fateful night at 3 am.
For someone who lost her father at a tender age, Medina understands the problems of her people.
She says it is time for Tana River women to claim the or rightful place in the economic drive of the country.
She gets emotional every time she hears the National Anthem play because though many Kenyans know the tune was taken from a Pokomo lullaby, many do not know who the Pokomos are.
"There is a lot of rich history in Tana River including the Hola prison where Mzee Jomo Kenyatta was jailed. We have where the Mau Mau warriors were buried and we have a school named after the latter," she says.
She adds that Tana River has some of the best textile traditions, producing some of the finest clothing material in Africa, not forgetting some of the tastiest meat products in the world.
She decries the low levels of education and societal injustice to young women in the area, including child marriages and lack of opportunity for a decent education.
"I know education is key and the people of Tana River have lagged behind in this sector," she says.
Medina reckons that Kenya as a nation has so many resources enough for everyone and that better management of the same can deliver happiness to all her populace.
And Tana River people are rising to the occasion, not taking chances with the coming general elections.
Last week, elders blessed Medina at a colourful traditional ceremony to endorse her quest to represent them as the Tana River Women Rep.
Led by King Komora John, King of Zubaki of the Pokomo traditional royalty, Medina was blessed and prayed for and given the mantle to seek votes from Tana River people for the big calling.
"I am humbled by the confidence our elders have in me and the trust bestowed upon me will never be betrayed. I am in it for the whole hog," she said at the end of the ceremony in Hola.
But she is not new in politics. Medina in 2013 vied for the gubernatorial race as deputy governor with a good showing, though she and her colleague never made it she drew great lessons from it.
"My campaigns then exposed me to many realities among my people. I understand them with specific issues affecting the youth, women and the elderly," she says.
And Medina has already rolled up her sleeves, hitting the ground to engage her people. The people she wants to represent. The going is already showing a treacherous path but nothing can deter her.
"If elected, in the next five years, I will work together with my leader colleagues to make a turnaround of the fortunes of our people. Tana River will get food security through modern agriculture programmes; we will seek more bursaries for the needy, bud more classrooms and empower women and the youth to engage in income-generating activities that are sustainable," says Medina.
And she knows better, for she has a Doctorate in Human Resources and a rich resume.