Harold and Clarissa strike parenting deal
SUNDAY MAGAZINE
By Peter Theuri | Dec 12th 2021 | 3 min read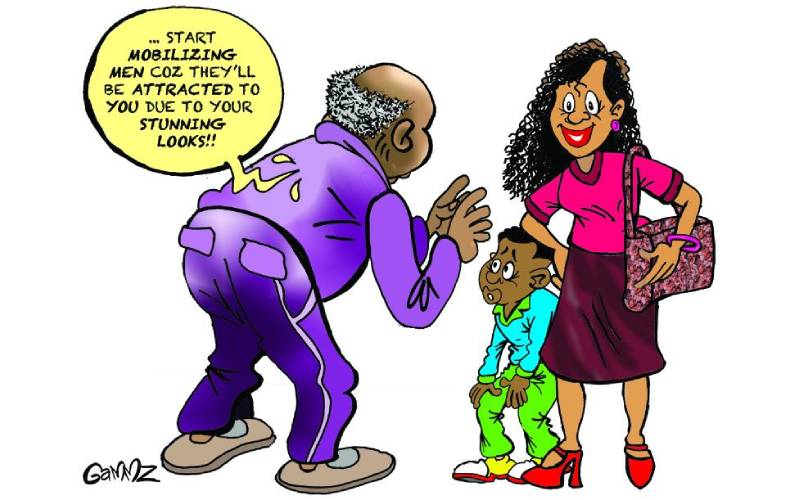 When Harold staggered in and saw three people staring at him with avocados in their hands ready to be flung at his face, he regained soberness instantly.
"Careful, we do not play around with food," he said. He then wrestled the fruit from my hand, casually peeled it and, turning to face Clarissa, said, "Long time, no see!"
Harold would be there watching a house get devoured by fire and would spit into the flames hoping to put the fire out. He addressed Clarissa so casually one would have thought they had last met just days before.
Paul just about reached for the fruit in his mother's hand faster than Harold who swung and lost balance, falling onto Clarissa's lap.
"Last I made a mistake, I sat on you as you are seated now. So, Harold, shall we dance?"
Harold and I admired him deeply for this I will confess, he did not show any signs of being perturbed.
"Clarissa, tell you what, we are going to win this one yet again!"
Trivialising everything the way only Harold does, the priest, otherwise known for his debauchery and love for the avocado, turned to Paul.
"When I last saw you, you were unborn. You look like someone I know," said Harold, insisting that the boy's name had to be Luke; why else would the mother look for Harold.
"For so long you have not sent even a shilling for the boy's upkeep," Clarissa said. "And that is why I am here."
Harold asked her if it was time he sent the one shilling that he had failed to (he was deeply sorry, he said) and how he would send it while she sat right in front of his face.
"Do I look like a joke to you?" Clarissa asked, obviously aware that she did. Harold nodded. He enjoyed such moments.
After a brief introduction, where Paul introduced himself as Saul (with the mother clarifying that he must have been asleep when the Damascus moment came) Harold asked Clarissa what role she intended to play in his campaigns. But a disgruntled Clarissa said that all she wanted was money to pay school fees for Paul. Harold jumped.
"Fees for who? See that idiot over there?" he pointed at me. "That is Pete. He is my nephew. He should be in school but he knows that I do not pay to have children become wiser than I am."
It was agreed that Clarissa could possibly get her compensation if she followed the right channels. These included going to the Magic-straight Court, where no magic, Harold was certain, was going to save her case.
She would go to the Hi Courts, to the Court of Uphill and then to the Soup-rim Court, where she might be awarded a shilling a month in upkeep.
With that agreement, I was going to help her approach, and bribe, the chief judge.
If you remember, Harold decided that all the courts will be led by the same man, yours truly. As such, it was between her and Harold, whoever would qualify as the highest bidder would have his way. I knew who would.
I had expected the two to explode at each other but when they started talking, I knew that for the millionth time, my crystal ball had betrayed me.
Soon, the two had started planning on how she would start mobilising men, who would be attracted to her due to her clearly stunning looks, while he went for women. I, with my inability to attract anyone, would accompany them on their campaign trails, announcing their arrival in different shopping centres and markets.
I told Harold I did not understand why he was campaigning and yet he had the voters' register in his possession, with a lot more than 100 per cent of the voters registered. He reminded me that one had to be seen to be campaigning so that the results were never going to get disputed.
I was angry that Clarissa and Paul were staying. That meant that I would be spending the night with a boy who confessed to being a hopeless insomniac, and who kept on telling stories about Woozles and Heffalumps, a not so subtle way to endorse himself as a top friend of the court.