I left a good job to go rear dogs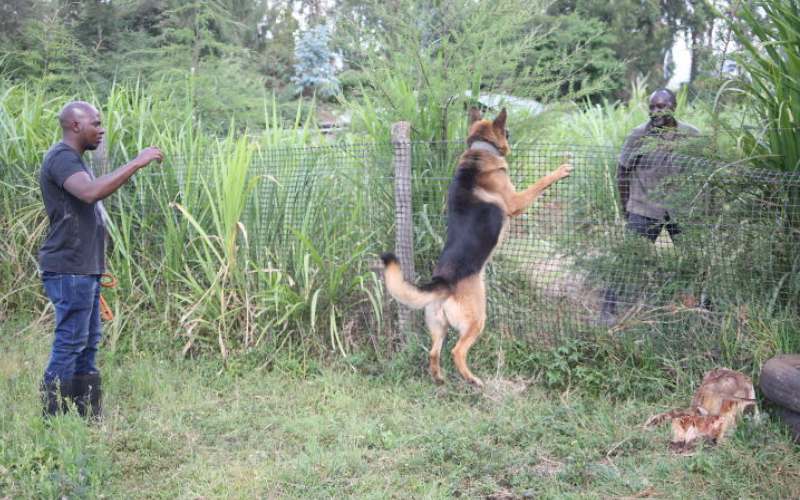 At the age of three, Raphael Kithinji owned a dog that he loved so much. He says everyone in his Kinoru village in Meru knew he and Works, his dog, were inseparable.
Works made Kithinji so passionate about dogs such that after the dog's death (Kithinji mourns Works to date) he vowed to keep dogs as a tribute to him.
Two decades later, Kithinji is now an accomplished dog breeder.
"I left my high profile job as a financial analyst with the government in 2012 and I have never regretted the decision," says the agribusiness entrepreneur.
He never thought he would add dog business to his stable.
In 2015, he got his first litter. His friends wanted the puppies but he had only six puppies and more than 10 friends. He did not know what to do until one of the friends offered to pay Sh20,000 for a puppy.
"That gave me the idea of a business as I decided to sell the puppies," says the dog breeder.
He was surprised when he sold all the puppies at Sh20,000 each.
Later the same year, through referral, three Laikipia ranch owners visited his farm looking for pedigree dogs. Word had gone round that he kept well-fed and trained dogs.
"My dogs eat better food than I do," he laughs.
The buyers fell in love with three of his German Shepard puppies. When they asked for the price, he said Sh25,000. They were shocked and told him that he was underselling his puppies.
"Without provocation, they offered him Sh35,000 per puppy and told me that if the dogs were registered and had pedigree records, they would have bought them at Sh80,000 each," he recalls the incident that turned around his dog breeding venture.
Since that encounter, he set out to build an accomplished enterprise. His search for pedigree dogs surprised him as there were only a few pedigree breeders, the majority of who did not have papers to ascertain it.
"The dogs on offer were of low quality compared to the ones I owned," he says.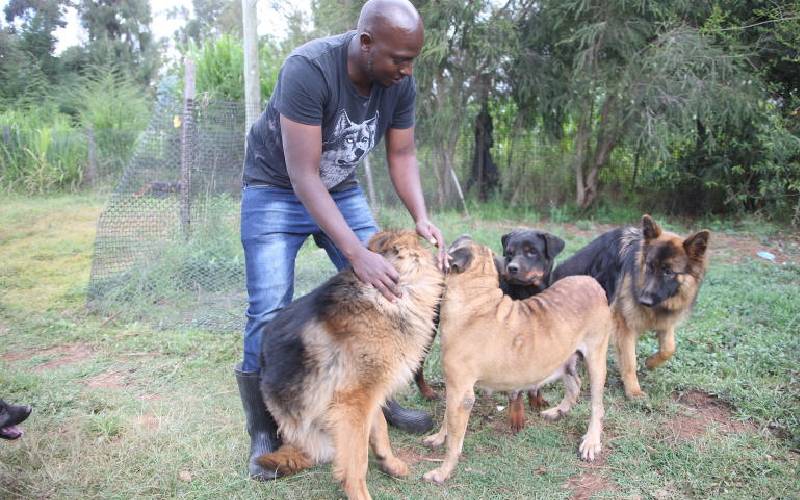 Finally, after three years of searching, he got five dogs with pedigree papers from Nakuru, Machakos and Nairobi at a cost of Sh80,000 per dog.
The business finally paid off when in 2020 Covid-19 hit, Kithinji realised that he needed to diversify.
He imported two Doberman and two Pinscher, all six months old puppies from the US at a cost of Sh500,000 each, which have since given him litters, some of which he has sold and retained others for breeding purposes.
For serious would be dog-breeders, he says, the idea of starting a dog breeding business might sound like a heaven-sent gift.
"For starters, it does not come with seasonal fluctuations and then again if you are really passionate about it, you can start with no monetary capital and thirdly, no formal training is needed, which means you can start as soon as yesterday," says Kithinji.
Today, he owns 50 pedigree dogs – German Shepard, Rottweilers, Pinscher, Maltese, Chihuahua, and Japanese Spitz among other breeds.
Since 2018, he has sold 100 German Shepard puppies, 40 Boerboels, and 40 other puppies from his other breeds, bringing his total earning to Sh16 million. This, he says, is against an investment of Sh4.2 million.
His focus is to establish a large export enterprise. "I am looking forward to the day that my business will attract international clients," says the financial analyst and IT graduate.
"My two-year-old daughter loves dogs and in return for this love, no harm from anyone can come to her and no house girl will mistreat her because the dogs will not allow it," says the doting father of one.