Top student mulls career in music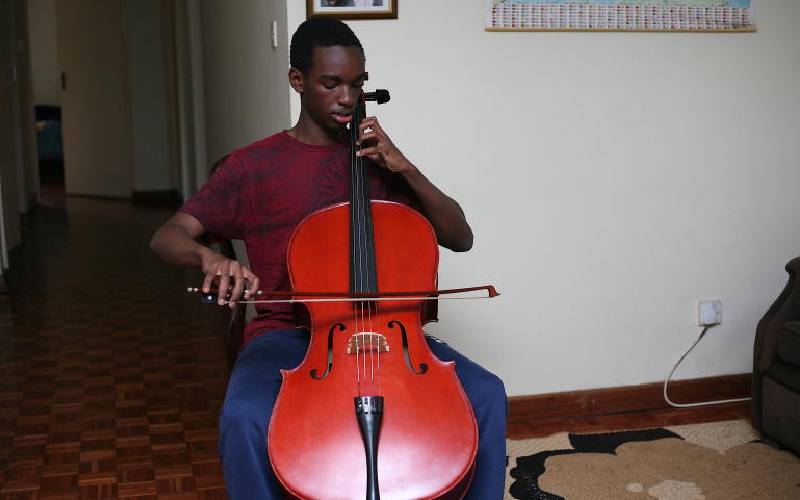 Traditionally, top Class Eight and Form Four exams performers have a near predictable list of career choices. Medicine, engineering, law and aviation.
Not so for Mark Kipkoech Kogo; well, he has medicine in the mix, but he is also seriously considering music. And what's more? His parents are on board.
When KCSE results were announced on Monday, Emily Karimi Kogo jumped up and down in jubilation. Her son, Mark, had emerged sixth nationally in the exams.
"I was very happy, I shouted when I heard the results," says Emily.
Mark had managed a mean mark of 87.106. In contrast, the first student overall got 87.334. He beat Mark by 0.228.
When we met Mark, 18, at their home, my first question to him was: "How did you do it?"
Two or three long seconds pass as he gathers his thoughts. "I allocated study time to subjects depending on how well I was doing in each of them," he says.
Mark also had a vibrant extra-curricular life. It was not books 24/7, all year round. He loves art and music.
The first time he started playing music was in Class 7 at Makini School.
He says: "My music teacher taught me how to play the piano. I loved it. Even when I was transitioning to high school, I wanted to continue studying music." His parents let him, and even now as he thinks about his options, they are happy to let him follow his heart.
For many a parent, a career in medicine, law and engineering (seen as prestigious) did not warrant dalliance with the arts.
Even young Mark caught a whiff of it. He says: "There is pressure from society at large that one should pursue a career in something like medicine as opposed to something like a becoming a chief chef."
"As parents, we tend to want to achieve that which we never achieved through our children," his father Josiah Kogosays. "It is not necessarily a good thing."
On Mark's KCSE performance, he says, "He has delivered! I am a very proud man."
Kogo admits that a part of him wanted Mark to pursue medicine, but he has never asked his son to take this path.
"But I no longer think it is a good thing to push our agendas as parents to our children," he says, smiling.
However, Mark says, his father subliminally messaged his desire on the kind of career he hoped his son would go into.
"He talked about being a doctor, much more than say, a chef. He would say something like, 'If you study hard you can be a doctor.'"
In the days that followed release of KCSE results, Kogo told his son to pursue a career that he was passionate about.
"I told him to search his heart and choose wisely: a career that would fulfil his dreams," he says. "I will support him fully whichever way he goes."
This was pleasantly reassuring to Mark.
He says: "I haven't decided yet what I want to do. I have narrowed down to some few options. I am considering medicine; I don't know if it has anything to do with dad's subliminal messaging. But I know that I love biology.
"The other thing I am considering is still a grey area: I haven't yet come to associate a career with my personal interests in music, art and literature.
"I may pick one. Or I could also pursue both."
Mark's interest in music has been remarkable.
He joined the high school band and performed with them at events whenever they were called upon.
"When I was in Form Two, I told dad that I wanted to learn how to play the cello. And he got me one."
Joining an orchestra
In 2019 (he was in Form 3), Mark joined the Safaricom Youth Orchestra – where he fine-tuned his cello skills under tutelage of a cello instructor.
Today, Mark is very good in playing the piano, the clarinet and the cello.
When he straddles a cello; his left hand on the strings and the right grasping the bow, what comes out is a inspiring.
Masala Sefu, his cello teacher during his days with the youth orchestra, has nothing but praise for Mark.
She says: "He was self-driven. I could tell that he was studying how to play the cello because he wanted to: he went the extra mile. My work was just to guide him. I could show him how to do something and he would go research on his own to find other pieces."
Music wasn't Mark's only extra-curricular activity. He also loves drawing and painting.
During the lockdown last year, he devoted a lot of his time doing community work as a volunteer.
"I was volunteering with Social Welfare Society. We would go to people's homes – especially the elderly – and clean for them. I would also play them music," he says. At school, he was also an active member of the golf club.
Kogo says his son was a diligent student. "He is very disciplined and methodical. I think, for us, all we did was to provide him a conducive environment and he would do the rest," he says.
Mark, on his part, gives his parents more credit than they are willing to claim.
He says: "My parents have always been supportive. My dad taught me at an early age how to enjoy reading – purely for pleasure. I loved reading because of him.
"My mum was most supportive with my mental health. She is very empathetic. She would visit me at school just to talk... Those moments with her were very therapeutic. She helped me shed off stress and focus in whatever I was doing."
The future for young Mark is bright and his father has vowed to support his career choices. "I do not want a situation where he graduates with a degree in something that I chose for him and dumps it to me, then goes off after his own passions".
Emily his clear with Mark; that he is free to pursue any career that appeals to him. "Children who are forced to take a career may not even complete it at university. I wouldn't want that for my children.".
A 2018 review study, published in the International Journal of Advanced Research, concluded that parents strongly influence children's career choices.
Educational and child psychologist Dr. Philomena Ndambuki, of Kenyatta University, says career choice should be a child's decision.
"A parent should not choose a career for a child: that would be a mistake," she says.
Ndambuki takes note that in Kenya many parents want to influence their child's choice. "They do this because many of them want to achieve that which they wanted to achieve but were unable to in their time," she says.
She warns that children who go into a career, chosen for them by a parent, may never enjoy it and may lead a miserable life afterwards.
Instead of choosing the career, Ndambuki says, the parent's role is to guide the child in making the choice.
Mohamud Ali, an expert in modern systems of education and learning, agrees with Ndambuki, saying, "The best thing is for a parent to expose the child to good education and be attentive to their capabilities."
Ali, who is also the CEO of MwalimuPlus – a study app used for learning by primary and high school students – praised the incoming competency based curriculum (CBC), "because it allows the child to acquire wholesome learning experience in a manner that empowers them to pick a career – unlike 8-4-4."
Ali, a software engineer, designed MwalimuPlus with artificial intelligence (AI) that tracks the child's weaknesses and strengths, then relays feedback to parents and teachers.
"We did this to make it easy for the child's parents and teachers to have a better understanding of the child's passions and possible careers," he says.
He also says that most parents want to choose their child's career in order to determine the child's future earnings: financial gains.
"What parents do not understand is that in the modern world even art pays well. Musicians are some of the best paid people in the world.
"So do footballers, actors, and others in careers that some consider fringe. What matters is how happy will this child be in that career: it is also good for their mental health, because they can make money in whatever they choose to pursue," he says.
Goretti Kimani, a career counsellor and human resources practitioner at People Link Limited, tells parents that all careers – when tackled with passion – pay well.
She adds: "Parents ought to understand that children are living in a different generation. Some jobs (like being a typewriter) are obsolete. Other new forms of work are coming up with innovation and technology.
"The best thing the parent can do is talk to the child: discuss their strong points. Listen to them. Be observant of what they love doing. And give them as much information on their career options as possible."