Passion led me to start a writers incubation hub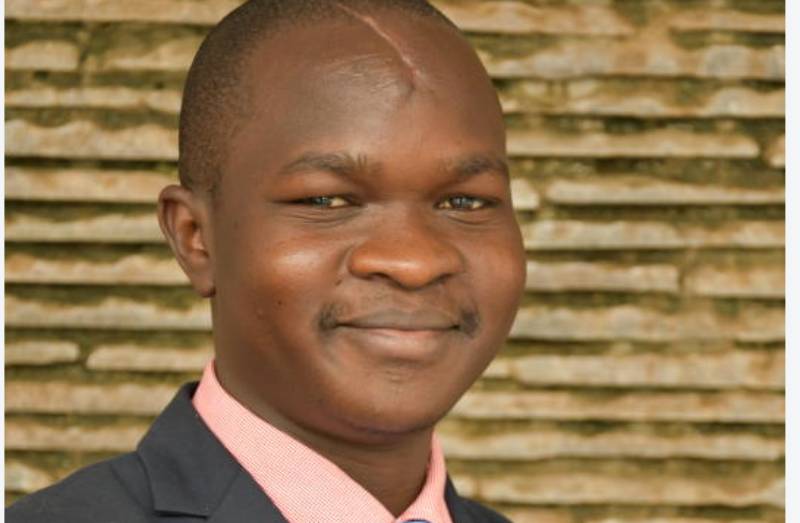 Some people are so kind, hospitable and affable that spending a minute with them is an invaluable lesson on developing personal compassion. Gabriel Dinda (pictured) is such a person.
When we met, he apologised for being late. He was not late, but the founder of The Writers Guild Kenya explained why it took him half a minute to cross the street.
He carried his trademark briefcase and, casually dressed, was uncomfortable about being photographed.
When we get to talking about the body he founded, Writers Guild Kenya, that has become an incubation hub for budding Kenyan writers, it is not difficult to see why he's so animated about it.
In June 2014, instead of receive a cake for his birthday, Gabriel launched the writers club.
Growing up in Homa Bay, Dinda says, motivated him to do something about the illiteracy around him. He volunteered to teach at a local school during school recess in 2013.
Then at Kenyatta University, as a student, he felt he had a lot of time in his hands and, thinking about ways to make the society better at home, considered starting a mentorship programme.
He tried photography, but quickly ran into headwinds. His photography equipment were confiscated, because the posters he made did not have the official school stamping from the school. He changed tact.
One day, Dinda, a writing enthusiast, wrote an article encouraging his schoolmates to attend a career week.
"I had realised students never attended career fairs. I took the article to the career office so they could stamp it." He was just trying to be on the good side of the authorities.
There, his article was met with enthusiasm. Gabriel was made the editor of the Career Focus Magazine, a position he held until his graduation in 2016.
Courtesy of his new position, his name and address were broadcast around school so parties that had stories to tell would contact him.
Search for structure
Attending journalism club meetings, Dinda says he was was piqued by the carefree attitude of those in charge. He says this was part of the reason he met Dr Mbugua wa Mungai, then dean of the literature department, to suggest formation of a club that would bring together writers and show some drive and purpose.
The writers guild was registered as a club in the university in 2014, and later as an organisation by the name 'The Writers Guild Kenya' by the Registrar of Companies on March 2015.
In 2015, Dinda was named among the Top 25 Under 25. He was feted for "bringing fresh thinking into writing and giving people a new belief that writing was not for a select group of people". The media attention that followed the gong was a boost for the organisation.
In 2016, in a project organised by German scholar Dr Nebe Johannes, The Writers Guild Kenya presented poetry that thrilled the scholar. He offered to have the poem printed and funded the publication of the first anthology by The Writers Guild Kenya, written by first time authors, Through The Journey of Hope.
In September 2016, the body decided to try self-publishing for the first time.
Exactly four years later, they have published 41 authors, 39 of them first-time authors. Seventy eight other authors, who have passed through The Writers Guild Kenya, have been published by other houses.
Gabriel is proud of what his efforts have achieved over half a decade later, with a host of partnerships under their belt.
A partnership with London's writing website Yours2read, which gave talented writers a chance to showcase their talent and win awards, came up in 2019, two editions seeing hitherto unknown Kenyan writers get feted. This writer was a beneficiary of the two short story competitions, winning both.
Gabriel's foundation established the Chapisha Chipukeezy Fund, a call for donors to contribute monetarily and help good writers, who might be financially challenged, manage to have their work published. So far, the initiative, which gives more focus to Kiswahili writers, has seen two authors published.
In 2019, the organisation started short programmes, tailor-made to handle writers and add fine tune to their skills. Classes, dubbed 'Write Your Passion', were initiated in October last year. "We wanted to make sure that every student received maximum attention. We had a class of 20 students," he told me as we sat across a table in restaurant. The second class started in February.
Still growing
Before starting self-publishing for non-members, including services such as book launching and book reading, which gave them some form of stability, The Writers Guild Kenya were financially limited. Consequently, they resorted to alternative funding to pay for services rendered, such as paying through writing for a partner.
Now, they have 3,031 members. And Gabriel, who swore in his schooldays never to let his passion dwindle, is still going strong.
"Writing receives very little attention. But we rely on written works to run our societies. Why can we not trust an unwritten constitution, for example?" he poses.
Writers Guild Kenya is no longer is the small club that he struggled to convince dons to believe in back in his campus days. Registered as a trust, it has a board of trustees of five, a management board of seven, and an advisory board of four.