She doesn't want to hold my hand in public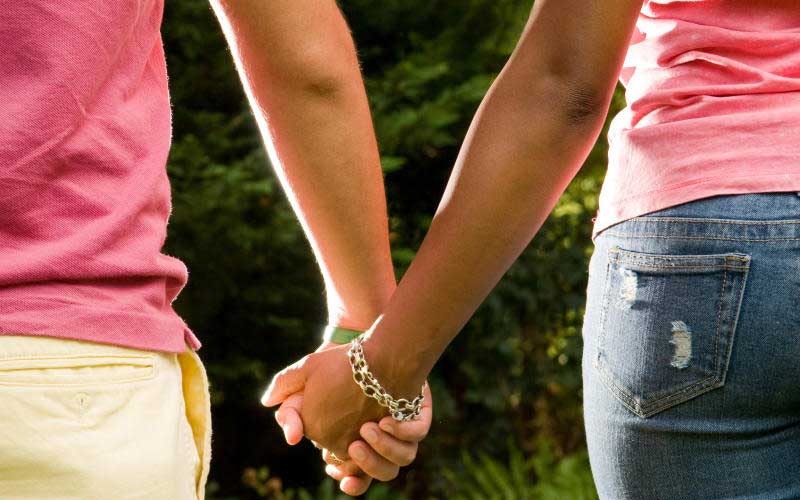 Hi Chris!
Can you settle an argument between me and my girlfriend? Whenever we're out and about, I like to touch her. Nothing tasteless you understand. Just being close and affectionate. But she really objects! It feels so natural to me to want to sit close and touch someone I love, but she makes it very clear that she doesn't want that sort of attention in public. I truly believe that she loves me, but we obviously disagree on this point.
Who's right?
A Loving Touch
——
Hi A Loving Touch!
You're right, it's natural to want to touch someone you love in public. But there are rules about public contact - think how you dislike a stranger touching you in a lift.
That's because touching in public's a 'tie sign' that identifies all sorts of relationships. From a business handshake, to the 'public displays of affection' that pinpoint courting couples.
And because the rules for touching vary, it's risky to touch anyone without knowing exactly how they feel about it!
Like people touch more in cultures which have a strong sense of tradition, such as the Middle East, Asia, much of Africa, France and South America.
By contrast, people in cultures such as America that appreciate plain speaking over more traditional values, tend to touch less for fear of upsetting people.
In high touch countries, a kiss on the cheek's a polite greeting, while in Sweden, for example, it might offend. The rules even differ from one part of a country to another. So a touch on the 'public' areas of the body - the hand, arm, shoulder or back - is acceptable in most of the USA, but not between Ohio and the Rockies! The rest of the body's out of bounds right across the USA, except within a relationship. Or in bars and night-clubs.
Touching varies between families, and there's less touching between children and their opposite sex parents, and as children grow older. Boys in particular distance themselves from their parents sooner than girls.
Women usually like men to touch, but what really interests them is the way men touch other men! It's because women assign a higher social status to men who touch others compared to those who don't.
Touch also defines where you are in a relationship. From that 'accidental' first contact, which your date can either accept or reject with a slight body movement without causing offence. But as the trust between you builds, you'll find yourself touching more and more.
So either your girlfriend comes from a family or culture which don't touch, or she's not as keen on you as you suppose. Maybe the best thing would be to ask her about that!
All the best,
Chris
The most common mistake married couples make
Hi Chris!
When my husband and I were courting, we spent all our free time together. It was what we enjoyed the most, so we'd cancel anything else just to be together. We talked every day and constantly phoned one another. And when we were together, we gave each other our undivided attention.
But now we're married we completely ignore each other even if we're in the same room! And most days we're not together all that much anyway. What with work, playing golf, aerobics, having a drink with friends...
Is this normal? It doesn't feel right to me, and somehow I feel it will lead to trouble sooner of later.
Never Together
——
Hi Never Together!
Neglecting one another is the most common mistake most couples make. And that's important, because neglect is the root cause of most break-ups. Not infidelity. Neglect. You'd probably never have married if you'd ignored each other on dates, would you? It's exactly the same now you're a couple.
So you must find the time to give each other your undivided attention. For at least 30 minutes every day. It doesn't work if you only schedule time together at the weekend. And it doesn't include time spent together with your children, relatives or friends either!
So find ways to be together without your children. That's difficult of course, but most couples don't realise just how much their kids interfere with their privacy. You know you can't make love when they're around, but children prevent much more than lovemaking. They wreck the affection and intimate chat that's crucial to a marriage.
The same goes for your friends and relatives! Or watching movies, television or sport. So don't count them towards your couple time. Instead, do what you did when you were dating. Anything that involves being alone together. And affection, conversation, relaxation and sex.
But how do you find the time?
It's all a question of priorities. Isn't it amazing how a workaholic husband who never gets home for dinner can suddenly find time for an affair?
The reason, of course is that he had the time all along. He could just as easily have spent the time with his wife. Then they'd still be in love with each other. Instead, he's infatuated with someone else, all because he got his priorities wrong.
The same goes for the time women spend on their work, or their children, or with friends - instead of with their husband. It's just a case of priorities.
Because relaxing, talking and being affectionate together is more important than anything else you do. It isn't that you don't have the time. It's just that you're using it for something else. You and your husband fell in love because you spent time together, and met each other's emotional needs. Husbands and wives stay in love the same way.
All the best,
Chris