Suzanna Owiyo's life lessons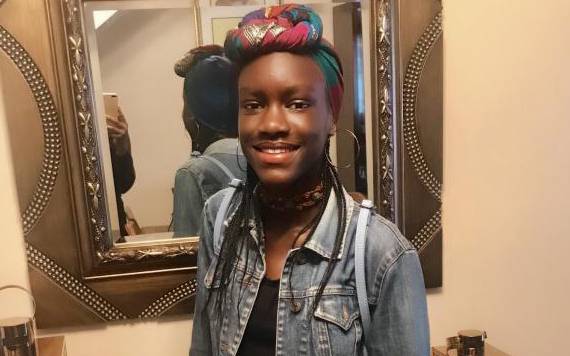 Sing this phrase, "Kisumu Ber, Kisumu" almost anywhere in the country and most people will instantly recognise the song and the artiste, Suzanna Owiyo. Suzanna, now 43, has quite a number of points to her card.
Her most memorable achievement has to be her performance at the 2004 Nobel Peace Prize Concert. She also performed at Nelson Mandela 's 90th birthday concert. When Suzanna isn't in the studio putting her beautiful voice into work, you will catch her talking about environment having being appointed as United Nations Environment Programme Goodwill Ambassador.
As I waited for her to settle down for this chat, I couldn't help but admire her glow that she wears with a lot of grace. She is energetic despite having had a long day, and looks as royal in person as she always looks whenever she gets on stage. Still, I am taken aback by her youngish looks and I comment on it.
"People tell me I look younger than I am. I think it is all in the mind. I have refused to get old! I am not getting old soon," she jokes. "I watch my diet, drink a lot of water, do exercise on and off but it is a journey of trying to get rid of bad habits," she says.
After she gets her warm water and lemon –a staple for singers – we dive right in.
She is the only musician in a family of 14 siblings. One of her favourite childhood memories was singing for Pope John Paul II in 1985 during his visit to the country.
She grew up in Thika and every time she visited her grandfather 's place in Kisumu, the whole family would gather around him, admiring him playing the Nyatiti.
Back then she didn't know she would follow in his footsteps.
How did you get into music?
In 1998, after finishing secondary school, I came to Nairobi and worked for my brother in a stationery firm in town but I used to tell my close friends I wanted to be a musician. Growing up, I used to watch URTNA Exchange Programme a lot. They used to bring female musicians from all over Africa. I used to watch Tshala Muana, Miriam Makeba, Mbilia Bel and I would always tell myself "I want to be like those women."
One day I came across an article about the late Ssali Oyugi. She was performing at a restaurant in Corner House. I looked for her contacts and reached out. I told her I was an aspiring musician who did not know where to start. She gave me an ear, listened to me singing and said she could accommodate me as a backup singer in her band. I just wanted to be there and have that experience. All she could give was bus fare. It did not last more than a year because she had to relocate to the US. Before she left she told me, "Suzanna. You have a talent. It will take you places."
So what did you do then?
I joined some Congolese bands as a dancer.
Really? You must be a good Ndombolo dancer?
(Laughs) My dear! Ndombolo ya solo. We used to be the Kenyan Koffi girls in Nairobi. We used to wear those bikers and shake like there's no tomorrow. Unbelievable!
Who inspires you musically?
Of course the late Miriam Makeba, Tracy Chapman – the fact that I play the guitar makes people say, "Oh, you are the Tracy Chapman of Africa!" No, I am just Suzanna Owiyo from Kenya. And also the late Oliver Mtukudzi.
You and Tuku were friends...did you grow up admiring him?
Not really. Actually, one day we met in a studio where both of us were to have separate interviews. He saw me carrying the guitar and said, "Oh, you can play! I said, "Yeah!" So he said, "Play something!" Somehow, we gelled and found ourselves in the interview together and played the song Malaika. The rest is history.
Were you going to work together before he died?
We had done a collabo before but we were meant to do more stuff. We had done shows together and he wanted to invite me to Zimbabwe for a concert there, which I have done before. He had also been here and we had a concert with him in Kisumu. He was like a brother, actually.
What are some of the challenges you have had to overcome as a female musician?
When you are starting as a female musician, some people think you are out of your senses. I really had to come out and prove everybody wrong and show that it is a career just like any other that requires discipline. It was a challenge when I was starting. For sure I lost friends.
Did they not want to associate with what people call a "starving artiste"?
My friend! It was hell those days. Because of that life of playing in clubs, some people would even think you were a prostitute. It did not go well with my family. I think they were really strong, because for them to accommodate that – like my father who had different ambitions for his daughter. He wanted me to be a teacher. And here I am, in a club as a dancer! Those are two very different professions. But I followed my heart and believed I could change that mentality and prove people wrong.
So how did you transition into singing?
I approached a band and told them I could sing. They asked what I could sing, and I sang Miriam Makeba. They were shocked when I went on stage. People would come and give me money. I would sometimes walk out with Sh20,000. It made me realise that the sky was the limit. That motivated me to keep on pushing.
What would you say was your eureka moment?
When Kisumu was celebrating its 100 years' centenary. The committee was looking for a theme song and I decided to grab that opportunity. It was a tall order though performing before three heads of state. Also, 'Boda Boda swoya Kondele' has been one of the best performing songs. I sang it during the celebrations and the crowd went wild. After that, my life was never been the same again.
Your most defining moment...
The Nobel Peace Prize Concert of course. I didn't even know what a Nobel was. Then, looking at the lineup of the people I was going to meet – Oprah, Tom Cruise, Patti La Belle – stuff that can make you die of shock (laughs) Thank God I contained myself. I couldn't believe I was about to take such a huge task. For about two days I kept asking myself, "Suzanna is it really true that I am doing this?" That was one great moment. I remember when Wangari Maathai won the Nobel Peace Prize and I was there singing and flying the Kenyan flag high – is humbling. I remember Patti La belle telling me after I performed, "Oh you made them clap!" And Oprah telling me, "Oh I love your skin! Dark chocolate!"
Also, performing for Nelson Mandela. He made me understand what music is all about. It made me look at music differently. I said, "Fine. I am an entertainer. People love the way I sing. But there is more to it than just entertaining. You have a responsibility to the society, because being on that platform – the values that Nelson Mandela stands for. I said I had to go back to the drawing board and think about how best I could use my voice to impact the society.
How do you unwind?
I love going out with friends. I have a gang of girls who I consider family. We meet every month, loosen up, laugh and just become ourselves. It is great therapy. Women need it in their lives, as long as those people add value to your life.
What do you think about the current crop of Kenyan musicians?
I think there is pressure for the current generation. You want to be a star overnight and end up doing all sorts of things to be relevant. But I would rather be irrelevant with a mission. I would rather be relevant with something that can impact society. I don't want to be relevant just because I have been throwing my booty left, right and centre.
What is this craze about women and their booties? For us African women, it is natural. We have it, darling. So whenever I am taking pictures I don't have to show it. We are all taking pictures of our behinds. I do not understand the fascination - it is unbelievable! We are losing our cultural values which is not a good thing.
What have been up to though?
I have a foundation called Soko Bila Waste. Basically what I am trying to do is to sensitis the public on the importance of reducing food waste. I am also back in studio. I have a new album coming out this year.