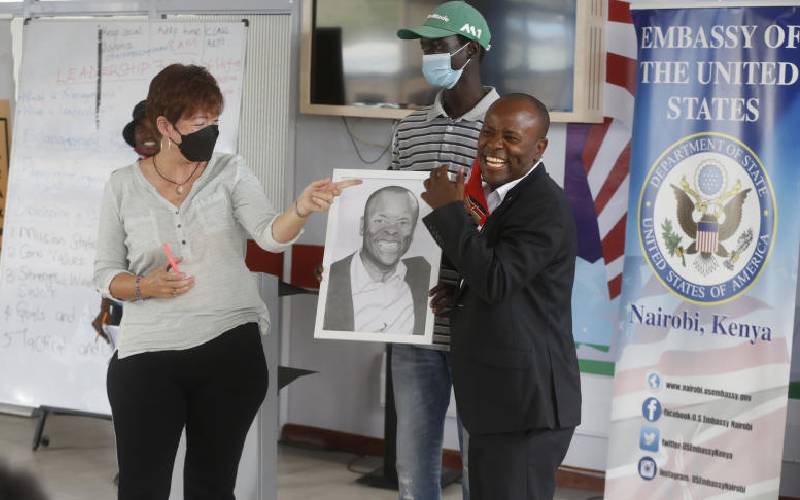 It started out like a round table talk where participants took turns in sharing their thoughts before blowing up to rhythmic sessions.
The sessions, which combine poetic rhythms into well-thought-out rap is part of the mentorship sessions bringing together 100 youth under Talanta na Amani, a project powered through a partnership between Sarakari Trust and the US Embassy at the Kenya National Library in Nakuru.
"This is a rap court. It brings together some of the selected participants interested in rapping. Their first composition is on importance of communication," Lucy Wanjiku, a participant said.
The Talanta na Amani project is a Social Arts Development Course where talented youth will be taken through vigorous soft and hard skill training for the next nine months. The training kicked off this month at the American Corner within the Kenya National Library in Nakuru.
Through the project, upcoming artistes, aged between 18 and 35 years will be empowered with mentorship sessions, capacity building workshops, life skill knowledge as well as socio-economic empowerment that is deemed crucial to enhance the entertainment industry in Nakuru.
"Nakuru is part of the areas that host a large number of artistes whose potential is yet to be fully exploited. The challenge has always been branding, marketing and creating networks so that they can reap from their talents. This project seeks to train them on vital courses so that they can market themselves," Marion Op het Veld, Sarakasi Trust Founder said.
The project is also targeted at promoting peaceful coexistence, social change and alleviating gang violence in light of the upcoming elections and current volatile situation in Nakuru City.
And while Nakuru has in the past experienced multiple gangs linked to violence, the project targets empowering youth from slum areas who could easily fall prey to political exploitation and manipulation.
It brings together aspiring youth on creative and performing arts including aspiring actors, dancers, photographers, poets, filmmakers and acrobats.
Christopher Machin, Cultural Attaché at the US Embassy in Nairobi said the project aims at empowering youth to use dialogue for expression while creating employment through arts.
He added that while art is a powerful tool in creating the world we want to see, many young people are endowed with untapped talent, skills and potential.
The youth in Nakuru will now be part of the pool of those trained in the creative industry. Similar training has since taken place in Mombasa and Kilifi.
"The challenge has always been lack of facilities, but the project now offers skills on topics including conflict management resolution, life skills and how they package their presentations," Eunice Wambui, a trainer said.
Recently, Nakuru City was named the Cultural City of Kenya among the 49 cities that recently joined UNESCO Creative Cities Network, following their designation by Unesco Director-General Audrey Azoulay in November 2021.