Kibinge crowned Lifetime Achiever at Kalasha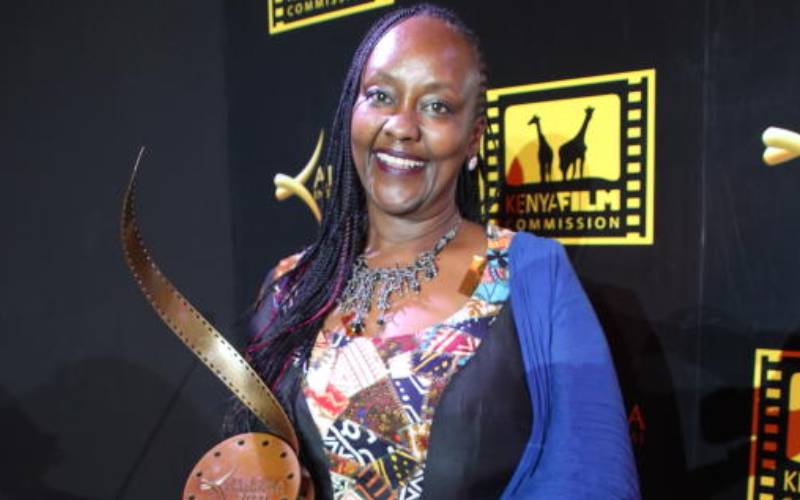 Kenyan film-maker Judy Kibinge was on Friday crowned the Kalasha International Awards Lifetime Achiever for her contribution to the local film industry.
The writer, director and producer was accorded the honours to a great cheer from the audience which comprised the cream of the Kenyan entertainment scene and guests from Hollywood.
Judy is best known for her works such as 'Something Necessary' (2013), 'The Aftermath' (2002), 'Dangerous Affair' (2002), 'Project Daddy' (2004), 'Bless this Land' (2005) and 'A Voice in the Dark' (2005).
Others are 'Coming of Age' (2008), 'Peace Wanted Alive', 'Killer Necklace' (2009) and 'Tinga Tinga Tales' (2011).
Her themes mostly edge towards women and issues rarely featured in mainstream media.
She picks on themes around social taboos and violence in developing countries.
In 2009, her documentary film 'Coming of Age' won the Best Short Documentary category in Africa Movie Academy Awards.
'Dangerous Affair' also won an award at the international Zanzibar Film Festival.
In 2017, the seasoned creative was chosen to be an Oscar judge by the Academy of Motion Pictures and Science for the categories of documentary, international and animation.
During the annual ceremony held in Nairobi, the Kenya Film Commission (KFC) CEO Timothy Owase said the Kalasha International Awards was established to celebrate achievers and inject new energy into the industry.
It does that by fostering healthy competition while also involving the film and television audiences as a way of shaping the industry.
"Our key mandate as a commission is to develop a vibrant local film and television industry, which in turn creates jobs and wealth in our country.
In the past one year, we have had some exciting activities to stimulate growth in this industry," Owase said.