Kenyan made opera staged at national theatre
STANDARD ENTERTAINMENT
By Mike Kihaki | November 7th 2021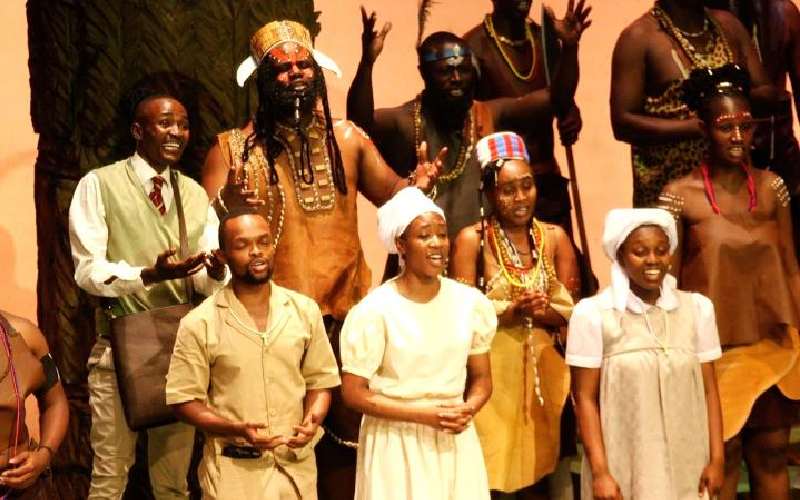 Performing arts were greatly affected by the cancellation of live events due to Covid-19.
Following the lifting of some of those restrictions, Baraka Opera Trust staged a homegrown opera, 'Nyanga: Runaway Grandmother', at the Kenya National Theatre. The opera is in English, Kiswahili and Luo.
The opera, composed by Francis Chandler was directed by Kenyan-born international Opera singer Rhoda Ondeng Wilhelmsen, who is also the CEO-Baraka Opera Trust, with Michael James as the executive producer.
The opera is based on a true story from the start of the 20th Century. Nyanga, a young herds girl is an unsung heroine from a small village on the Kano plains (current Kisumu) who runs away from her home in a desperate pursuit of the truth, "her truth".
She stepped out of the comfort zone of existing traditions and culture and to cross unknown territories or racial, geographical, historical and gender barriers in search of personal destiny. She makes a momentous and life-changing decision that affects everyone dear to her.
Two young girls, Nyanga and her little sister are herding her father's cows when they see a crowd of dust in the horizon heralding the coming of the first white missionaries.
They report what they have seen to their father, the village medicine man who then makes a decision that changes all their lives. He receives the missionaries who speak of the good news about the creator who came on earth in the form of a baby and sacrificed his life to save the world.
The story goes on to tell of a place called eternal life where all mankind will meet again where they will not find sickness, sorrow or death.
When the missionaries leave, Nyanga decides to run after them hoping that they will lead her to eternal life and where she will be reunited with her late mother.
In the show, music, drama and dance are fused together in a live orchestra to create and tell a joyous, powerful message.
To stage this culturally significant event, Baraka Opera Trust amassed a formidable array of talent. More than 100 of young Kenyan operatic singers, dance and orchestral and traditional instrumentalists, a children's chorus and five European professional singers and instrumentalists are involved.
There are 40 in the cast. 17 singers from Kisumu, a baritone from Uganda and a baritone from Norway, 10 dancers, a children's chorus made up largely of children from a Kibera based primary school, a 35- piece orchestra, which includes a cellist and bassoonist from Germany and a bassoonist and a double bass player from Norway and three traditional instrumentalists.
It has Jukisa Rowe as the stage director, Levi Wataka (music director), Ciru James (vocalist), Lyndie Shiyenga (solo singer), and Adam Chienjo (choreographer).
"This is a story of my grandmother's life and the indomitable courage of a young girl who ran away from home. That is the runaway grandmother to find her destiny and her truth," said Ondeng.
Coming out of your quiet shell
Sometimes introverts are confused as antisocial but far from it, they wish to be part of social gatherings, they just don't know how to.