Georgie, Bob Marley's character in 'No woman No cry' passes on
STANDARD ENTERTAINMENT
By Nzau Musau | October 8th 2021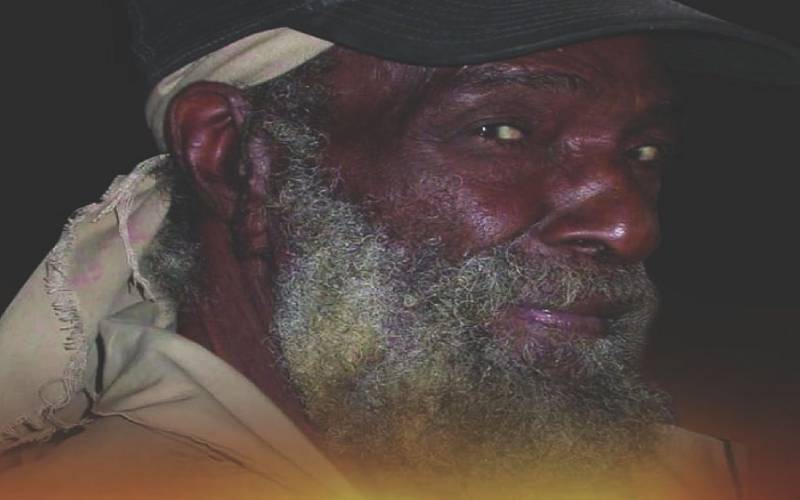 George Robinson, the assumed mythical figure that made the fire light in Bob Marley's heart-rending classic 'no woman no cry' quietly exited the scene on Wednesday, 40 years after his idol.
A constant face at Bob Marley's 56 Hope Road headquarters, now a museum, Georgie died peacefully at 89 years' age, further shrinking the circle of Bob's soulmates who are still alive.
In the last one year, death has pounded the ever diminishing circle. Bunny Wailer, an original member of Wailers band passed on in March. Last month, Lee "Scratch" Perry, who produced for the band in its formative year, and affirmed their militancy, passed on.
Yesterday, Bob's daughter Cedella was the first to announce Georgie's passing in an Instagram post, followed later by a statement from the Bob Marley Museum.
'We lost our Georgie who kept the fire burning all through the night. Rest well Georgie. Fly away home,' Cedella said, attaching a video of her elder sister Sharon, comforting Georgie in earlier days.
In a statement, the Bob Marley Foundation regretted the death, expressing the sadness amongst the Marley family.
"From his days at Trench Town to 56 Hope Road, Georgie would regale guests of his experiences with the reggae icon at the Bob Marley Museum. He will be deeply missed," the foundation said.
In the song, amplified across the world by a recorded live performance at the Lyceum in London, Marley sings; "said I remember when we used to sit in the government yard in Trench Town. And then Georgie would make the fire light, as it was log wood burning through the night."
It goes on; "And then we would cook cornmeal porridge, of which I share with you… my feet is my only carriage, so I've got to push on but while I am going… everything gonna be alright"
Those were the days when everything was wrong for young Marley. Born of a deadbeat father, his mother had crossed to the US to make a living, leaving him behind scrapping through slum life.
Later on things started getting alright, his musical career blossoming. He bought a house in upmarket area of Kingston, and moved in with all his ghetto brothers, including Georgie, who used to hang around the compound, smoking, playing and reasoning with their benefactor.
"Travel on Georgie, we will never ever forget," Marley's eldest son, David "Ziggy" Marley mourned him.
In those days, Ziggy was a young boy, living not far from 56 Hope Road with his brothers and sisters.
"He really used to do exactly what Bob said, man we enjoyed his cornmeal and sweet potato puddings, his porridge and boil eggs, his stories, and yes he always had a fire blazing as youths coming up we gathered around it and ate some good food," Ziggy said yesterday.
On September 18, Georgie celebrated his 89th birthday. The Bob Marley Foundation posted a photo of him and fan, outside the Museum, donning the Brazil national football team jersey, Marley's favorite.
"May the blessings be plentiful for many more years Georgie. Happy earthstrong."
Marley other son Stephen simply said; "Keep the fire light, Georgie." Aston "Family Man" Barett, Bob Marley bass guitarist and one of the last surviving original member of the Wailers had no words too:
"At a loss for words. Sleep well my brother, your fire will forever blaze the spirit." Barett's brother, Carlton Barett, was the acclaimed drummer who decorated the Wailer's band with unique beats, which have outlived him. He was shot dead in April 1987. In September of that year, Peter Tosh, a ranking member of the group was shot dead.
Yesterday, many Marley fans expressed glowing tributes for George, describing him as a wonderful soul. Some expressed shock that he was a real figure while many extolled Marley's ability to make and keep friends. Those who knew told of their interactions with him.
James Francis talked of how Georgie took him to Nine Mile, Marley's birth place, and showed him the rock Marley used as his pillow.
In "Talking blues", Marley sang of a "rock-stone" that used to be his pillow by the night, as poverty ravaged him in rural Jamaica.
A John Cunningham told of how as a peace corps volunteer in Jamaica, he would stop by the Hope Road property, to buy mementos to send back home:
"Georgie lived on the property still, round the back of Bob's House. He would sweep up breadfruit tree leaves and cook sometimes. I used to love sitting and hear him tell stories."
"I will always remember the days I was around Georgie. He was always on his bicycle wearing his shorts and he would always take some long rides. He always kept the fire burning," a Miss Rowe said.
"When I came to that gate of 56 Hope Road early morning July in 1991, he welcomed me and made for me a fresh ginger juice at the back of the house. Later I found out that it's that George," Razoofmusic
"May George be reunited with his dear friend Bob, keeping the fire lit," Eric Smith wrote.
Quick facts
-No Woman No Cry was released in 1974 at Harry J Studio's in Jamaica, on Natty Dread album
-A more popular "live" version of the song was recorded at Lyceum Theatre, London, in July 1975
-The Lyceum recording ranked No. 37 of Rolling Stone's Greatest Song's of All Time.
-The original song writing was credited to a Vincent Ford, a Marley friend who ran a soup kitchen in Trench Town
-The song was later covered by the American hip hop group Fugees, with Wycliff Jean on lead vocals.?