Mighty Salim's family records song in his honour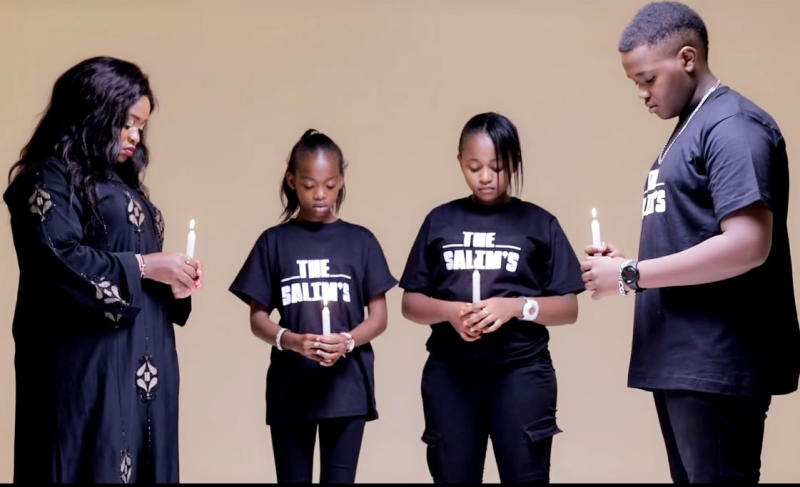 The Salim family has recorded a tribute for the late musicians and members of the family who are household names among lovers of mugithi music.
The song, Tribute To the Fallen Salims, features Sarafina Salim and her daughter Britney, niece Winskate and nephews Wayne and Glen, who bear the name Salim.
"The song is in memory of our beloved members of the family whom we have lost recently. It is a prayer for their souls as we try to get closure with their untimely departures," Sarafina said.
The song, in which the five express their pain of losing their loved ones is a rendition of the emotional Nikuri Bururi Mwega Ma (the good land that is heaven) hymn song.
Winskate is a daughter to the late Salim Junior, Wayne is a son to her sister Mary Salim, while Glen is a son to Naomi Salim, a gospel musician.
"The song is a tribute to Salim Junior, Mighty Salim, sister Mso Domsa and nephew Austin Salim, whom we loved. Losing them is a great pain to us," she said.
The four family members died between 2016 and 2021.
The late Salim Junior, real name Paul Mwangi, and the eldest of the Salim brothers died at War Memorial Hospital on January 23, 2016.
His hit songs include Sarafina and Muti Uyu Mukuona (this pillar).
"My brother Mwangi suffered a chest infection and his condition worsened while at the hospital where he died," Mighty Salim told the press after Mwangi's death.
After Mwangi's death, Mighty Salim revealed that he found it hard to accept that his brother from whom learned much about music was no more.
In July last year, Mighty Salim released a heart-wrenching tribute song Hamwe Na Mwathani (together with the Lord) for Mwangi, which featured him crying on the tombstone of his late brother.
The family was again hit by grief in June 2019 after Mso Domsa whose real name is Dorcas Muthoni succumbed to cancer.
She was a Mombasa-based businesswoman and the family described her as a key moral and financial pillar in their music careers.
In December 2019, death again robbed the family of the youthful Austin Salim who had just graduated from a local university.
"Austin Salim was Muthoni's son. He died a few days after he was diagnosed with dengue fever. His death came as a shock just a few months after his mother died," said Sarafina.
On January 24 this year, Mighty Salim, real name Timothy Njuguna died from kidney complications he had battled for over a decade.
His death came hours after the family held a memorial ceremony for Salim Junior, who died on January 23, 2016.
Sarafina yesterday told The Standard that the release of a tribute song by the nephews and nieces under her guidance will be followed by another track from her and her siblings.
"All these occurrences have left permanent marks on our lives as individuals and as a family.
"As sisters and brothers, we also intend to release another tribute song to our departed siblings. We are nurturing the young talents in the family and they are doing well," said Sarafina.