Kobe Bryant tributes led by Barack Obama , CR7 and Michael Jordan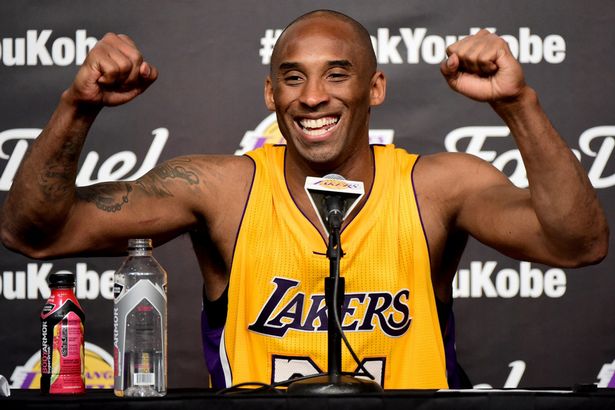 Sporting stars and famous faces from around the world were quick to pay tribute to Kobe Bryant, who tragically passed away aged 41 on Sunday.
The likes of US President Donald Trump, former presidents Barack Obama and Bill Clinton, Usain Bolt, Tom Brady, Whoopi Goldberg, Lennox Lewis, Tiger Woods, Andy Murray, and Justin Bieber were among those to pay their respects to the five-time NBA champion on social media.
Bryant, regarded as one of the best players of all time, represented the Los Angeles Lakers for all of his 20-year careers and also won two Olympic gold medals before retiring in 2016.
President Trump wrote on Twitter: "Reports are that basketball great Kobe Bryant and three others have been killed in a helicopter crash in California. That is terrible news!"
Michael Jordan, arguably the most famous basketball player of all time, said to Sports Illustrated: "I am in shock over the tragic news of Kobe's and Gianna's passing. Words can't describe the pain I'm feeling.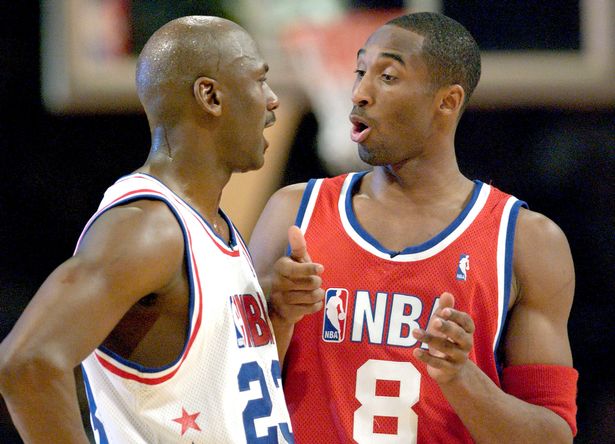 "I loved Kobe - he was like a little brother to me. We used to talk often, and I will miss those conversations very much.
Get the latest sports news updates. Subscribe to our SMS sports service by texting 'SPORTS' to 22840.
The Cameroon-born centre wrote: "Man I don't even know where to start. I started playing ball because of KOBE after watching the 2010 finals. I had never watched the ball before that and that final was the turning point of my life. I WANTED TO BE LIKE KOBE. I'm so FREAKING SAD right now!!!! RIP LEGEND"
Fellow Lakers legend Shaquille O'Neal said: "There's no words to express the pain I'm going through now with this tragic and sad moment of losing my friend, my brother, my partner in winning championships, my dude and my homie."
Former record-breaking Olympic sprint champion Usain Bolt tweeted: "Still can't believe" along with a photo of him with Bryant.
Tom Brady, the six-time Super Bowl winner, wrote: "We miss you already Kobe"
Shooting guard Dwyane Wade, who won three NBA titles with the Miami Heat and was a team-mate of Bryant's with the United States, wrote: "Nooooooooooo God please No!"
Former US president Barack Obama said: "Kobe was a legend on the court and just getting started in what would have been just as meaningful a second act.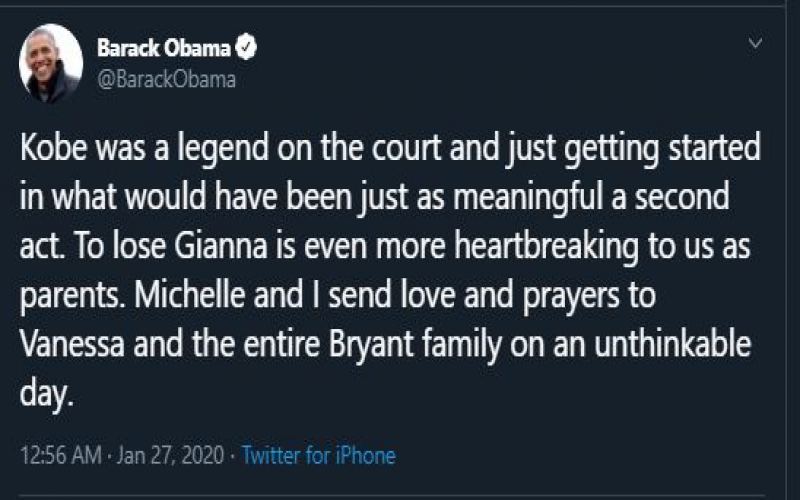 "To lose Gianna is even more heartbreaking to us as parents. Michelle and I send love and prayers to Vanessa and the entire Bryant family on an unthinkable day."
Another former president, Bill Clinton, along with wife Hillary, the former presidential candidate and US Secretary of State, said: "Hillary and I are deeply saddened by the tragic loss of Kobe Bryant, his daughter Gianna, and all those who died in today's helicopter crash.
"Kobe brought excitement and joy to basketball fans not just in Los Angeles, but all over the U.S. and around the world.
"He was also a leader off the court, including in his advocacy for young people, especially the vulnerable and homeless — a passion I saw firsthand when I joined him and Vanessa for the opening of a housing project they and their foundation supported.
"Kobe Bryant lived a very large life in a very short time. But above all, he loved his family. Our prayers are with Vanessa, Natalia, Bianka, and Capri, and all those who lost loved ones today."
Golf legend Tiger Woods, a friend of Bryant's and a lifelong Lakers fan, was told the tragic news while competing at Torrey Pines on Sunday.
He said: "It's a shocker to everyone, and I'm unbelievably sad. It's one of the more tragic days, and I think for me, the reality is just kind of sitting it because I'm just hearing about it five minutes ago."
Woods added: "He brought it each and every night on both ends of the floor. And not too many guys can say that throughout NBA history."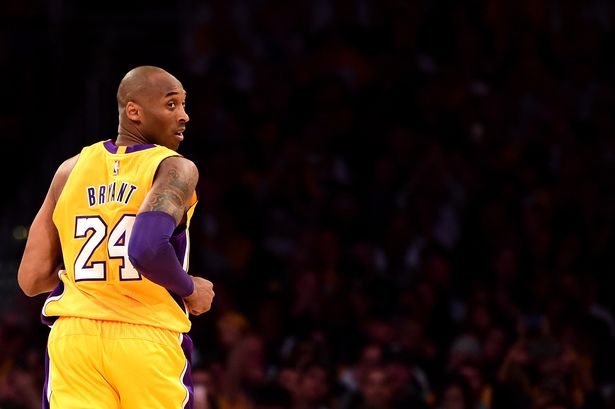 Former England striker Gary Lineker wrote: "Oh no. How awful. One of the greatest sportsmen of our lifetime. Utterly tragic", while current England forward Raheem Sterling wrote: "Rest easy Legend".
Tennis superstar Andy Murray's Instagram story read: "This has hit me hard. Thinking of all his family, friends and colleagues."
Actor Idris Elba tweeted: "Kobe is G. Will always be remembered @kobebryant A Sad day."
Kareem Abdul-Jabbar - who is the only player to be named an All-star more times than Bryant - posted a video on Twitter, in which he said: "To Kobe's family I want to send muy sincerest and heartfelt regrets and prayers and my thoughts are with you guys.
"He was an incredible athlete, and a leader in many ways, he inspired a whole generation of athletes... becoming one of the best points scorers Los Angeles Lakers has ever seen. Kobe my thoughts are with you, absolutely, rest in peace young man. This loss is hard to comprehend."
Whoopi Goldberg said on Twitter: "RIP Kobe, a hero to many including my grandson, extraordinary athlete and always kind to me and my family. My deepest condolences to his family."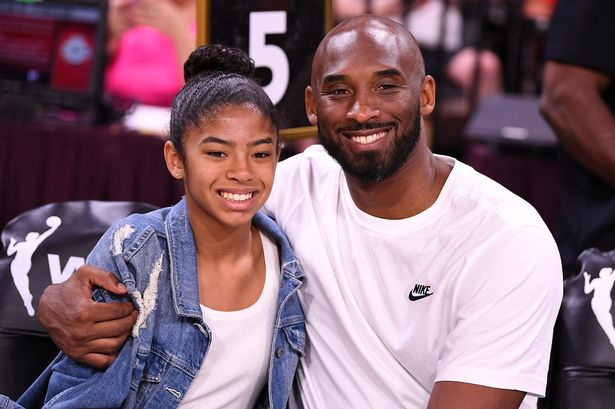 Model Chrissy Teigen wrote: "I cannot believe this is real. My god. Oh my god."
The Orlando Magic, who face the Los Angeles Clippers on Sunday night, announced they would observe a moment of silence in memory of Bryant.
They tweeted: "The Orlando Magic is deeply saddened to learn of the passing of Kobe Bryant. Our thoughts and prayers go out to the Bryant family, the LA Lakers and the other victims of today's tragedy and their families. We will observe a moment of silence before tonight's game."
Boxing legend Mike Tyson tweeted: "I mourn with the world. Lost a legend. No words. I'm messed up. RIP Kobe Bryant, Gianna and the rest of the passengers."
Bryant retired in 2016 as the third-leading scorer in NBA history, finishing two decades with the Lakers as a prolific scorer with a sublime all-around game and a relentless competitive ethic.
He held that spot in the league scoring ranks until Saturday night when the Lakers' LeBron James passed him for third place during a game in Philadelphia, Bryant's hometown.
For More of This and Other Sports Stories Subscribe to the Standard Epaper
LATEST STORIES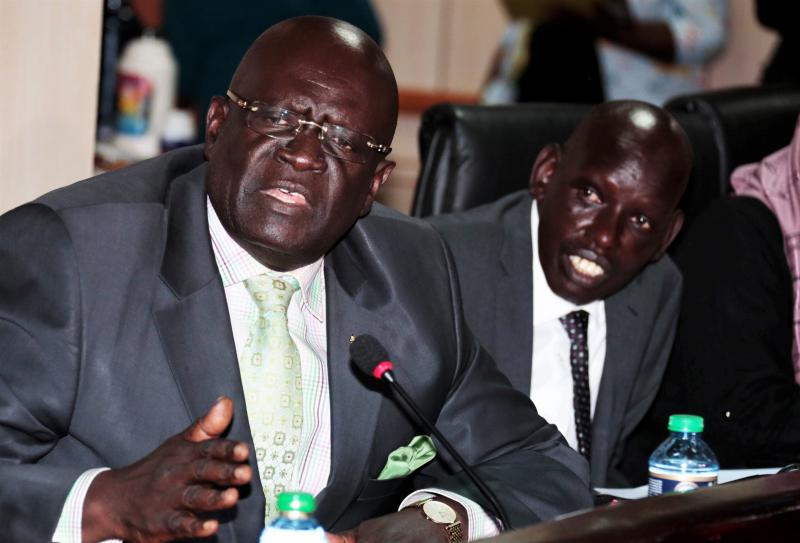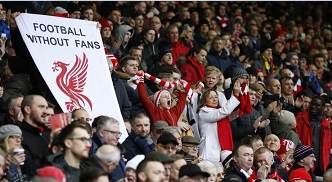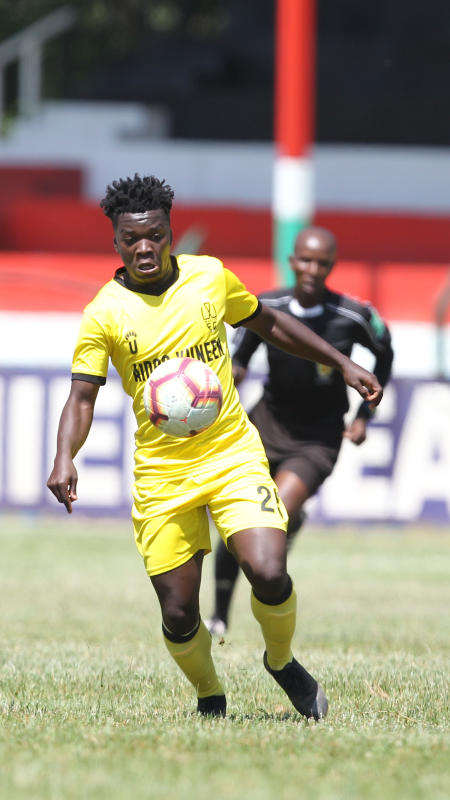 POPULAR HEADLINES