Fight against fall army worm goes mobile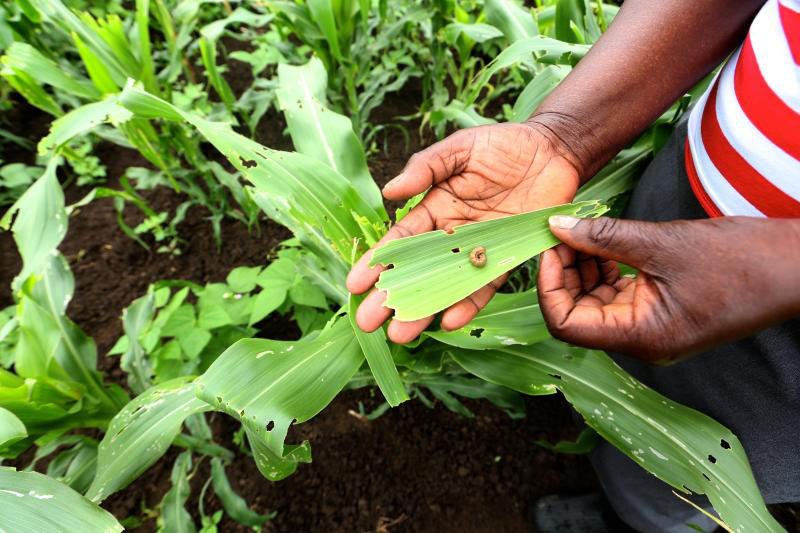 The government has launched a short text messaging service to help small scale farmers fight the fall army worm across the country.
The service will give millions of smallholder farmers free expert help and advice to tackle the devastating pest through mobile SMS text messaging.
Dr Johnson Irungu, Director of Crops Management, Ministry of Agriculture and Irrigation (MoAI) said the ministry has so far spent over Sh300 million in buying chemicals to fight the pest.
"Even after spending all that, farmers said chemicals were not working. We realised the farmers lacked proper knowledge for instance on when and how to spray their crops," he said.
Precision Agriculture for Development (PAD) has joined forces with the ministry, the Centre for Agriculture and Biosciences International (CABI), and Safaricom to provide the service, called 'MoA-INFO', to maize farmers throughout the country.
"We are now implementing the two-way platform on behalf of the ministry after developing a set of short texts about fall army worm covering various topics, among them monitoring, identification, non-chemical and chemical control measures and best practices," said Emmanuel Bakirdjian, PAD Country Director.
The organisation has already completed multiple rounds of piloting and testing of the SMS platform with 1.4 million farmers in Western on the Safaricom platform.
Sending and receiving messages is free.
To join the platform, Bakirdjian says you text the word 'FARM' for English messages or 'SHAMBA' for Kiswahili messages, then send to 40130. Once on board, the information has been customised to suit every farmer's need and all one has to do is answer simple questions for customised feedback.
Prof Hamadi Boga, the Agriculture and Research Principal Secretary said the ministry had to be smart in fighting the pest that has continued to be a threat to the country's food security.