Seedling machine guarantees farmers bumper harvest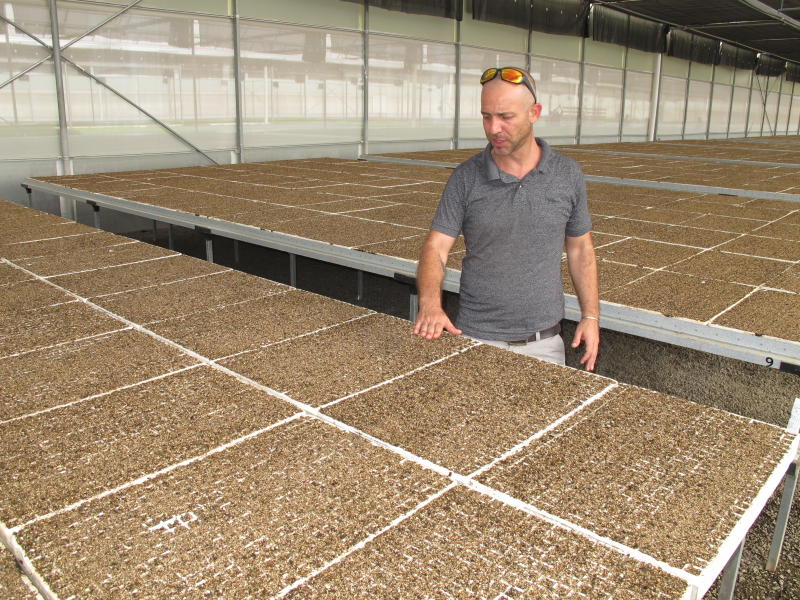 Two years ago, a frustrated youthful farmer from Israel sought to fix a problem bedeviling his production and income from farming.
Then based in Naivasha, Idan Salvy, had planted cabbages and tomatoes for over four years and could not explain why production was low.
"All this time, l kept wondering what led to low production. Later, l learned l was doing everything right, save for seedling," he told Smart Harvest.
Salvy said he used to purchase seeds and give them to people who propagated them manually.
Because of lack of machines, skills and poor handling, he ended up getting only 60 per cent of seedlings that were also of poor quality. This affected overall growth, resulting in huge losses.
Salvy embarked on research, seeking anyone who could make proper seedlings for his farming activities, without success.
He resolved to take up the challenge and fill the gap.
Coming from Israel, a country widely acclaimed for agricultural technologies, Salvy knew automated propagation technology was the solution to the seedlings problem.
But something stood in his way: He could not raise the millions of shillings to purchase the required machines.
He says going for bank loan was out of question, but he was optimistic the idea was good and would land him an investor.
After searching for a month, he met Elad Bouton, an investor who liked the idea and agreed to fund the seed propagating technology. The two found an expert in germination technology and struck a deal to work together.
They imported the machines worth millions of dollars, bought land within Naivasha Flower Business Park and started propagation of seedlings.
Automated propagation
Sitting on two hectares, the firm - Plantech Kenya Limited - is the only automated propagation unit in East and Central Africa. Bouton, the financier, is now the managing director.
He says the technology guarantees over 95 per cent germination rate and double returns on productivity for seedlings like cabbages, broccoli, melon, egg plants, tomatoes, capsicum, chilies, onions and all kinds of herbs like thyme, parsley, basil and cuttings.
He says seedling is the foundation in farming and once you get it right, everything is done.
Salvy, 38, the sales and marketing director at the firm, says initially, they didn't know how farmers would react to the latest seedling propagation technology.
At first, farmers thought the three were just out to make money.
They set out to demonstrate in four different areas - Rumuruti, Mwea, Kitengela and Loitokitok - the benefits of their latest technology and show farmers the need to use it.
In the four areas, they gave one farmer free seedlings for half an acre for demonstration.
"I advised the farmers to stick to their old farming methods, save for the seeds provided," says Salvy.
He says after the farmers realised a bumper harvest, their colleagues in the neighbourhood started asking about the secret behind the high yields. Soon, they started buying the seedlings.
That was two years ago. Today, the firm sells at least three million seedlings in a week not only to clients across the country, but also to those from neighbouring countries Uganda and Rwanda.
With a monthly income of at least Sh15 million, Salvy and his two colleagues are laughing all the way to the bank.
But Salvy says they have so far covered only one per cent of the market: "There is a huge gap in the seedlings propagation industry since millions of farmers still rely on manual growing of seeds."
To capture the remaining huge market, the firm has embarked on educating and empowering potential farmers on quality seedlings.
Today, they work with seed companies and negotiate for discount that trickles down to farmers.
Although they also propagate for other farmers who buy own seeds, Salvy says getting already propagated seedlings from them is cheaper.
Seedling cost
Most seedling varieties cost less than Sh2. For instance, a tomato seedling costs Sh1.6, while cabbage goes for Sh1.5.
During propagation, the machine is loaded with tray, each containing 442 holes.
The machine, which works like a conveyer belt, moves the trays and first puts peat moss (special soil from Israel) into each hole, and creates holes for seeds to be planted.
The seeds are then dropped into the holes and covered with vermiculite (minerals used as a moisture-retaining medium for growing plants), and finally irrigated and ready for germination room.
"We are using polystyrene and reusable trays because they are smooth and helps the roots of plants not to stick inside, making easy to remove the seedlings without damaging rooting system," says Salvy.
He says peat moss works best propagation since it has high water retention capacity and a lower drying duration that provides suitable aeration for root development.
The whole process takes less than 20 seconds after the machine is instructed by the computer.
Once seeds have been planted, they are taken to the germination room. Salvy says there are two germination rooms: cold room at 16 degrees centigrade that favours plants in cold areas, and a hot room of 30 degrees centigrade for plants meant for hot areas.
After two days in the germination rooms, they are taken to greenhouses to start germinating.
Transplanting
In the greenhouse, different crops take different number of days to be ready for transplanting. For instance, onion seedlings take 45 days, melon take 25 days and tomatoes 30 days.
Germination room guarantees uniformity in seedlings. "Uniformity helps the farmer to harvest all crops at once, making work easier," says Salvy.
He advises that people should look at good root systems and not the health of seedling leaves.
He says that without proper machinery, there will be less germination.
Salvy says the firm's next plan is investing in units closer to the farmers to save them from transportation costs.
They require farmers to book and pay 50 per cent of the cost before seedlings are propagated.
"If you want to make money, make markets look for you. Make your products be above everybody else's. That is how we do it here. We are not afraid of competition because it will force us to up our game for the benefit of farmers. We love that," says Salvy.
Nanjinia Wamuswa: [email protected]