The rise and fall of Embakasi Ranching Company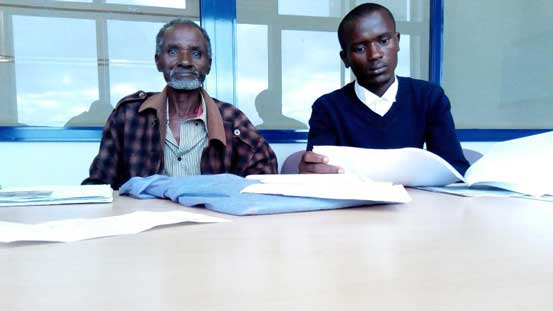 NAIROBI, KENYA: Mzee Samuel Ngenjura Muigai was tending to goats on his half acre plot in Makongeni at sprawling Embakasi Ranching farm when unexpectedly, armed goons struck.
In their orgy of violence, the hoodlums believed to be working at the behest of a politician, left behind a trail of destruction.
His house was brought down, crops destroyed, animals stolen. Muigai, now 85, was left nursing a broken left arm. His wife, Rahab Njeri, lost her eye sight during the September 21, 2004 attack.
Muigai, from Ting'ang'a village of Kiambu County, says he acquired the parcel in 1978 as a shareholder of the giant EmbakasiRanching Company, which was founded in 1975 with a focus on agriculture. But members were allocated parcels for farming as well as space for putting up a house.
Muigai was among the 13,495 original shareholders mainly from Kiambu and Murang'a. Many of them have since died, including city politicians such as one-time Embakasi MP, the late Muhuri Muchiri. The ranch's first chairman has a stadium and secondary school named after him in Ruai.
The late former Nairobi Mayor, Dick Waweru, unsuccessfully tried to vie for chairmanship, but was defeated by current chair, Mwangi Thuita, whom The Nairobian tried to reach without success.
So troubled is Embakasi Ranching Company that the Jubilee government recently directed that it issues all members with title deeds before winding up its operations forthwith.
For shareholders like Muigai, their lives were compounded when plots belonging to "financially" weak members and buyers were dished out to senior government officials in lands ministry, judiciary, registrar of companies, police service and provincial administration.
Muigai, for instance, learnt that his parcel, which he was allocated in 1990, was being claimed by a former Kangundo MP who allegedly bought the land from Nzioka Nzau, according to police records.
Muigai was arrested and charged with the offence of unlawful detainer for which he served a year at Kamiti Maximum Prison in Nairobi, but was released six months later.
He returned to the disputed parcel from where he unsuccessfully launched a legal fight against his accuser.
In 2015, Muigai was attacked in a ruthless raid and fearing for his life and that of the family, fled never to return. He now lives in a rented house in Ruai.
Muigai told The Nairobian that he was among the original shareholders of Embakasi Ranching Company. He had two shares, an equivalent of two plots measuring 100x100 each. That is where he settled before the forceful eviction.
Additionally, a member with two shares was entitled to two more plots of similar size as a "bonus". "But up to date I have never been shown the bonus plots," laments Muigai, despair written all over his face.
The peasant has moved from office to office is search of help. His hope now lies in the pending titling exercise spearheaded by Lands and Physical Planning PS Dr Nicholas Muraguri.
Many landowners and buyers affiliated to Embakasi Ranching are in a similar predicament. They acquired land but cannot dare set foot as the parcels have been occupied by strangers who have put up bungalows or maisonettes worth millions.
Others have not been shown their plots even after fully paying for them years ago. Then there are widespread complaints of multiple allocations and swapping of plots. Police and courts are overwhelmed with land disputes revolving around Nairobi's biggest land buying company.
Cautious land buyers have been caught in a complex web of deceit, greed and fraud.
Like Monica Kamau, children of desperate landowners have also been sucked into the mess that is Embakasi Ranching.
Monica is now trying to reclaim a plot that belonged to her father but has been given to the government.
Monica's father, an ailing Kamau Matega, was allocated the half acre parcel in 1982, which he fenced before returning to his rural home in Murang'a.
By then a big swathe was bushy, infested by wild animals. In the register, he was listed as the rightful owner of plot numbers C-60 and C-70.
After several years toiling in the village, Matega travelled to Nairobi on an inspection tour, but could not remember the exact location of his plot. The fence had collapsed due to years of neglect.
Managers and surveyors at the company were neither willing to help him, taking him in circles until Matega gave up and quietly retired to village life.
His daughter, Monica, 37, took over the fight. In 2016, she discovered that the Makongeni Administration Police and Chief's camps, complete with an access road stood on her father's parcel of land.
Her constant pleas to have the camps removed have fallen on deaf ears. "I come here but get no assistance. Nobody talks to us," laments Monica.
Her case and that of Muigai reflect the quagmire thousands of land owners and buyers find themselves.
Faced with ownership uncertainty, hopes of leading comfortable lives seem to dimming each passing day as the deadline for issuing titles fast approaches.
Dr Muraguri has put a May 1 deadline. The company will then be disbanded.
Sadly with complains of multiple allocations, swapping and encroaching on public utility, many people are not quite sure whether the plots they own or claim ownership, genuinely belong to them.
Zakayo Onkeo, 65, is one of them. Having acquired his three-quarter acre in 2005 in Utawala, he was shocked last July to learn that the parcel, on which stands his magnificent bungalow one side while the remaining part has a greenhouse, was being claimed by someone else.
Zakayo, who uses a crutch woke up one morning to find eviction papers sneaked into the compound. The matter was reported to local police and at DCI headquarters where similar cases are being handled by the Land Fraud Unit.
"As a family we are scared that someone from nowhere would come to claim my land disregarding all these investment I spent years putting up. A part from police, the matter is also in court," says Zakayo accompanied by his wife Yunia, a teacher at a local primary school.
Still in the same area, a university administrator is yet to come to terms with the loss of his one acre. He bought it for around Sh1 million only to be informed it belonged to two different persons.
"We are really suffering. We don't know who will clear the muddle at Embakasi Ranching where dishonest managers appear clueless," he laments.