My cow has developed habit of 'hiding' milk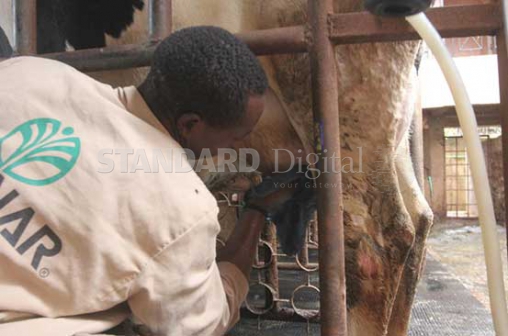 Majority of Kenyans travel to their upcountry home every festive season. Christmas to many of them is not Christmas if it is not celebrated in the village.
I am from Western and this year, I visited my uncle Jimmie in Butula, Evuariro village, where my mother was born and brought up. As expected, a cock was killed in our honour.
As we were enjoying the meal, Uncle Jimmie and his wife Namtsaman brought up an interesting conversation.
It was about their recently acquired dairy cross. The cow had given birth a fortnight ago to their delight.
From their cow, they get lots of milk – 15 litres a day which is no mean achievement in an area where farmers get as little as half a litre from their zebus.
So uncle and his wife Namtsama; vividly narrated how their dairy cross had started off on a high note but had cut the milk supply down six fold to just about two litres per milking.
Right diagnosis
According to them the cow had "hidden" the milk. They strongly believed so because they had observed that later on the cow releases the hidden milk to the calf which is now suffering from diarrhoea because of over feeding on milk.
Take a quick survey and help us improve our website!
Take a survey
Such observations by farmers are good but should never be used conclusively to arrive at a diagnosis a reason animal health professionals don't like telephone diagnosis.
You must insist on having a look at the two sides of the coin.
Because it was around three o'clock, I wasn't in a hurry and took my time to ask for questions to enrich my diagnosis.
To make sure I get everything right, I said nothing in reply because I wanted to see exactly how the cow is milked later that evening.
The clock ticked five o'clock and Namtsama started preparing to milk the cow.
I was waiting for that time eagerly to tie the loose ends of my story into a definitive diagnosis.
As she started the process, I observed her from a distance warm the water for washing the udder, lead the animal into the milking shade, give it some concentrates and green napier.
The animal appeared calm up to this stage, but trouble began when Namtsama tied two hide legs together with the tail and fastened this onto a nearby post.
From what I saw, I could tell immediately why the animal was 'hiding' the milk.
I rushed to the milking shade and advised Namtsama to unfasten the hide legs and give the cow more feeds and continue with the milking.
Trouble started
To her surprise, the cow yielded seven litres up from just two litres; now I knew this had set the stage for my explanation on why the cow was hiding the milk.
It is true cows can hide milk.
Milk letdown and its subsequent extraction through milking is a complex process that is under control of many factors.
For this to happen, two hormones are key – one promotes release of milk oxytocin (milk let down hormone) while the other adrenaline (the fight or flight hormone) hinders the process of milk let down.
When a cow is relaxed, happy and eating nutritious feeds and at a time that it is normally milked it releases oxytocin and thus more milk.
On the contrary, when a cow is traumatised, stressed and especially at milking its system produces adrenalin which locks the production of oxytocin and thus effectively hiding the milk.
Tying an animal's hind legs and its tail switch stresses the animal and thus cultivates favourable condition for release of adrenalin.
When for instance you fasten the cow's leg's, the milk is locked into the system but will be released later when the source of stress is removed.
This may happen at a time the cow is left alone with its calf. This as Namtsama observed, is dangerous to the calf as the excess milk will make it diarrhoea.
And that tells you why farm animal welfare is important in improving livestock productivity.
(The writer is a veterinary surgeon working with the Kenya Tsetse and Trypanosomiais Eradication Council –KENTTEC)
What Kenyans youths seeking employment should know
Many youths in Kenya are grappling with unemployment.This has pushed a number of people to take advantage of these youths who are seeking employment.There is a cartel that has emerged which print placard and display them everywhere with vacancies on them.