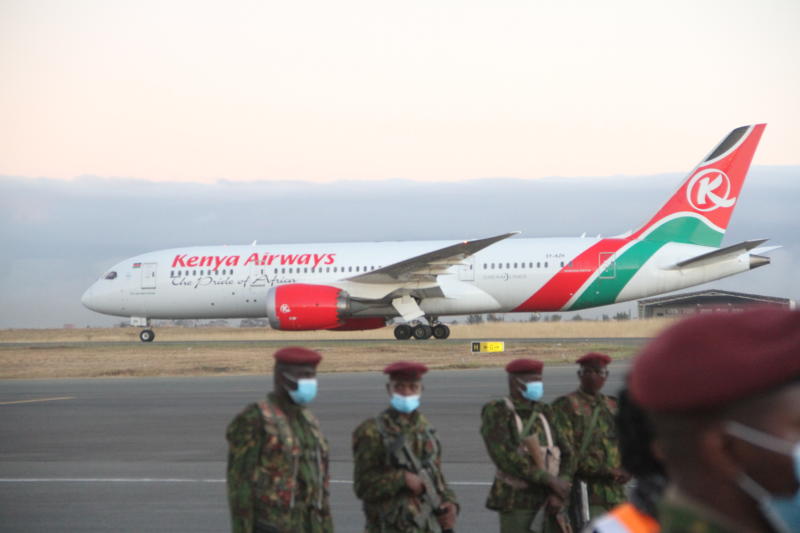 Kenya Airways revenues from cargo last year hit Sh13 billion, a major milestone for the loss-making carrier. This is a key indicator that the airline's efforts to diversify revenue streams and reduce heavy reliance on passenger revenue is paying off.
KQ's cargo business is the only revenue stream that has posted consistent growth over time, nearly doubling over a four-year period, rising from Sh7.22 billion in 2017.
The growth has been more evident over the last two years after Covid-19 pandemic hit, grounding KQ's passenger business – which has been its mainstay traditionally - pushing the airline to rethink its other areas to stay afloat.
It has increased cargo activities, including converting two of its dreamliners into cargo planes.
Earnings from cargo leaped 49 per cent last year to Sh13.43 billion up from Sh9 billion in the year to December 2020.
KQ converted two of its planes into cargo freighters in a bid to increase its cargo carrying capacity and remain afloat.
"Cargo tonnage on both passenger belly and freighter aircraft increased by 29 per cent closing at 63,726 tonnes against the prior year which closed at 49,419 tonnes," KQ said in its annual report for the year to December 2021.
"The use of the converted passenger aircraft has been a boost mainly for wide-body operations. The cargo business continues to focus on boosting the cargo product across the network."
In the annual report, the carrier's board said it reviewed and improved the KQ Global Cargo Strategy and a five year plan that is aimed at expanding the airline's air freight operations, reach and revenues.
"This also included the conversion of two B787-8 to freighters for cargo operations and the acquisition process for two B737-800F freighters on lease terms," said KQ.
The carrier also invested in a pharmaceutical handling facility at the Jomo Kenyatta International Airport (JKIA). The facility was launched in 2020, coming at a time when there was increased demand for handling of pharma products due to Covid-19 but KQ has in past said it is a long term investment that it had been working on before the pandemic.
Cargo revenues accounted for 19 per cent of KQ's total revenues of Sh70.22 billion, but on account of passenger revenues being still subdued by Covid-19 last year.
In addition to the cargo freighters, the carrier also uses passenger planes to ferry cargo. This too has been affected by Covid-19, with fewer passenger flights meaning the belly capacity is not available at the levels it was before the pandemic.
Despite the growth in the earnings and volumes of cargo moved, the carrier suffers inadequate cargo carrying capacity, giving its competitors an edge in the local market.
In 2020, there were more than 347,000 metric tonnes of cargo handled at JKIA with KQ handling just seven per cent of this.
JKIA was the second busiest in terms of freight on the continent, second to Ethiopia's Bole International Airport in 2020, according to the African Airlines Association (Afraa).
The Kenya flower industry, among the largest exporters, have in the past complained about the available capacity in the country. Through their lobby the Kenya Flower Council (KFC), they have pushed for other carriers to increase cargo carrying capacity in and out of Kenya but say the government has been reluctant to give foreign carriers more carrying capacity in a bid to protect KQ.