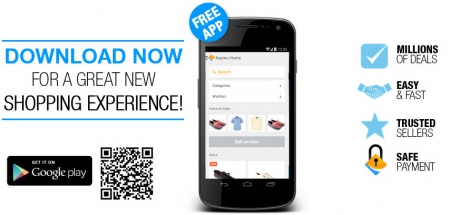 NAIROBI, KENYA: Despite reports that consumers still worry about security and privacy when it comes to mobile commerce, it turns out that they are not letting those fears slow them down.
One new study by Juniper Research predicts that "just over two billion mobile phone or tablet users will make some form of mobile commerce transaction by the end of 2017, up from 1.6 billion in 2014."
The study "Mobile Commerce Markets: Key Sector Strategies, Opportunities and Forecasts 2014-2019," predicts that in a number of markets across the World, mobile devices will account for more than half of electronic commerce within five years.
In Kenya, entrepreneurs are quickly shifting their strategies to tap into the growing mobile commerce market.
Read More
A number of companies are launching various mobile apps to make it easier for consumers to order items from various retail outlets.
"Many Kenyans now own mobile phones compared to five years ago, and we are trying to reach this population with services that makes things like buying and selling much easier," says Olivia Moraa, Kaymu Media Relations.
"What we have done is to create a mobile app for blackberry and android phones to enable Kenyans easily buy and sell any product on the go from their mobile phones," she says.

The Kaymu mobile app is available for download on Android devices from the Google Play Store.
The mobile app is designed to make online shopping in Kenya even easier and more convenient, with features that enable sellers to list products and buyers to select from a wide variety of products at a glance.
The app offers a wider product assortment, fast and intuitive navigation, and easier buyer and seller account management.
According to Aleeda Fazal, Managing Director of Kaymu Kenya, "Mobile marketing is revolutionising the buying and selling process in Kenya. With people conducting transactions via messaging apps like Blackberry Messenger and WhatsApp. The launch of the Kaymu mobile application on different platforms will provide an even more structured platform for sales to be conducted on the go".