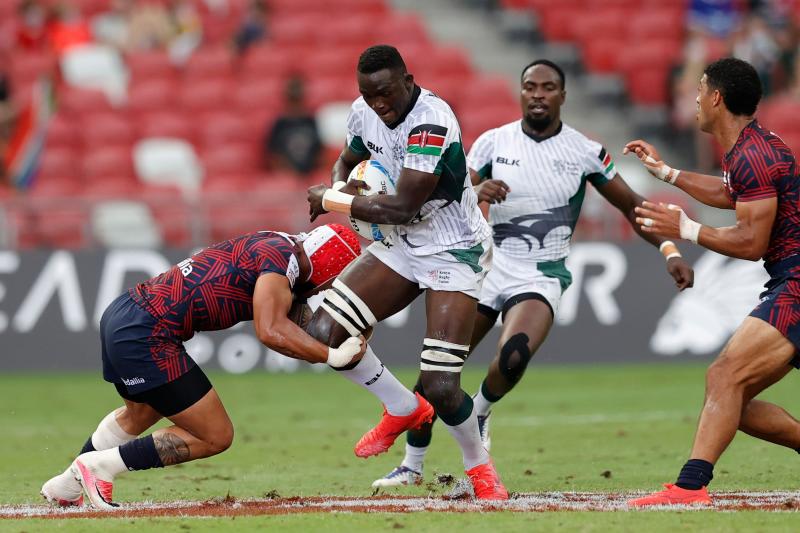 Shujaa failed to proceed to the quarter-finals of the World Rugby Sevens Series for the fourth time in a row as Kenya capped off a poor weekend show with a last place finish at the Vancouver Sevens in Canada.
Kenya Sevens picked only a point during the sixth leg of the World Series in America after losing 24-7 to Spain in the 13th place semi-final.
Two weeks ago, Kenya also dropped to Challenge Trophy at the previous leg of Singapore Sevens where they lost in the semi-finals to collect five points from the Series.
Kenya has struggled to win matches since the beginning of the year where they have failed to go past the group stage in their last three legs.
Innocent Simiyu's charges collected one point in Malaga, eight points in Seville, five in Singapore and only one in Vancouver.
In Canada, Shujaa lost their two Group A matches against immediate Singapore Sevens champions Fiji and England to miss out on the quarters.
Despite kicking off the pool matches with an inspiring 19-17 win against United States of America, Kenya went down to Fiji 38-7 before losing to England 19-12.
In the opening match against USA on Saturday night, Kabras Sugar's Kevin Wekesa touched down to give Shujaa a 7-5 lead after cancelling out Malachi Esdale's touchdown inside the opening two minutes. Dubbed the next Andrew Amonde, Wekesa bagged his second try of the game to extend Kenya's lead to 12-5 at the breather.
In the final half, a resurgent USA side came out guns blazing as they led 17-12 through Kevon Williams and Ben Broselle's tries before Bush Mwale sealed Kenya's first win with a late try.
In the second match, Alvin Marube scored the only try for Kenya as Innocent Simiyu's charges suffered a humiliating 38-7 defeat at the hands of Tokyo Olympic gold medalists Fiji.
Wekesa and Mwale returned to the score sheet in game three against England but it would not be enough as Kenya lost 19-12 to the Englishmen.
Interestingly, Kenya, USA and England all finished with five points with one win each but it's England, who claimed the last slot for the Main Cup on better aggregate.
In the ninth place quarter-finals, Billy Odhiambo and Nelson Oyoo were on target but Shujaa lost 21-14 to Ireland as Wekesa scored the only try of the game for Kenya in their 24-7 defeat to Spain in the 13th place semi-final.
Kevin Wekesa finished as Shujaa's best player with four tries followed by Bush Mwale with two tries.
Meanwhile, Argentina beat Fiji 29-10 to win their first World Rugby Sevens Series title in 13 years.
South Africa who finished fifth continue as Series leaders on 111 points.