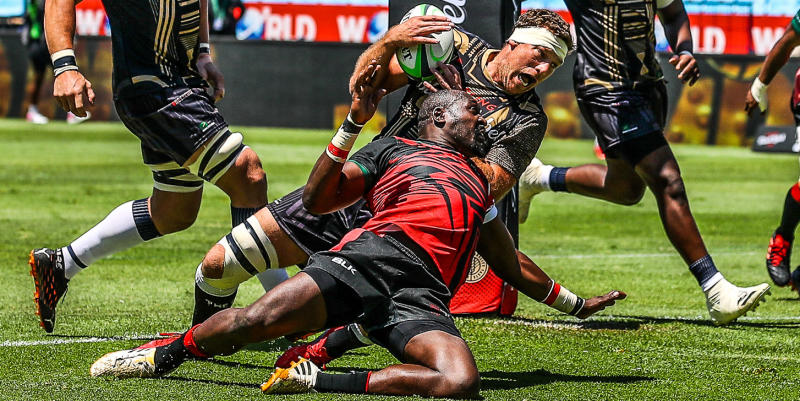 Kenya Simbas will on Saturday kick off the 2022 Currie Cup First Division campaign against Valke Falcons at the Bosman Stadium in Brakpen, South Africa from4pm (EAT).
Simbas departed on Thursday for South Africa where captain Dan Sikuta is looking forward to help Kenya not only win matches but also improve their relationship with South Africa Rugby.
"We are not only looking forward to win games. We want to improve not only the team but also lives of players through building good relationships with the clubs and union over there."
"Our goal is also to use the tournament as a stepping stone to helping the team ready for the World Cup qualifiers aw we seek to qualify for the global games next year," said Sikuta who doubles as Kabras Sugar captain.
Sikuta will captain the squad alongside Impala's Elkeans Musonye and KCB's Darwin Mukidza.
Menengai Oilers quartet Edward Mwaura, Clinton Odhiambo, Beldad Ogeta, Geoffrey Ominde are set for their debut in South Africa.
Other players set to make their debut include Kenya Harlequin' Brian Waraba. Coleman Were, Oliver Mangeni are back to the squad.
Brian Ndirangu and Collins Injera are expected to link up with the side later in the campaign.
Besides Kenya and Georgia, Zimbabwe have been invited for the competition that will end on June 25 this year.
Kenya will join seven other teams from South Africa in the competition that starts on Thursday.
The other teams are defending champions Leopards, Down Touch Griffons, Valke Falcons, Boland Cavaliers, Eastern Province Elephants, Border Bulldogs and South Western Districts (SWD) Eagles.
Carling Currie Cup Fixtures
Valke vs Kenya Simbas- April 9
Kenya Simbas vs Zimbabwe Goshwaks -April 23
Downtouch Griffons vs Kenya Simbas- April 30