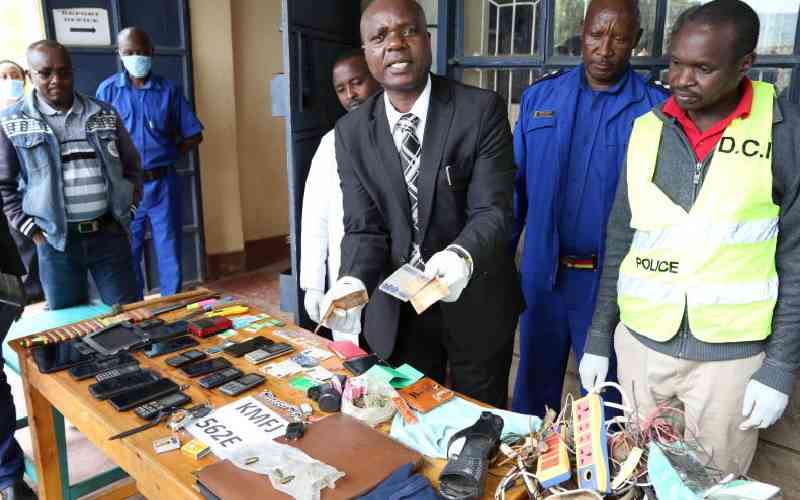 A suspected serial killer and his five accomplices linked to the gruesome murder of three women in Mawanga Estate, Nakuru have been nabbed after a stealth operation by detectives.
The arrest of the prime suspect in Kisii and subsequent arrest of his accomplices in Nakuru was courtesy of a mobile phone he stole from a victim they killed and burned last year. Nakuru County Criminal Investigations Officer (CCIO) Anthony Sunguti said the suspect was found in possession of the mobile phone that they had been tracking.
"A house girl was killed and burnt in her employer's house in an incident reported in December vide OB number 18/02/12/2021. We have been tracking her phone since then," said Sunguti.
The phone belonged to the late Beatrice Akinyi, 21, who had been employed by Ruth Waithera at her residence Kwa Buda Estate which borders Mawanga Estate. Akinyi's body, which had been burnt beyond recognition, was found in the rubble a day after the house was set ablaze. At first, Akinyi had been suspected to have taken off after the incident.
The CCIO said that following the recovery of her body, the police placed her phone on the radar but could not trace it until June 26 this year when it surfaced while under use by a different person.
"The phone was instrumental in our operation. Since December last year, the suspect only switched it on last week while in Nakuru but switched it off afterwards. We later traced it to Kisii County," said Sunguti.
Sunguti said the suspect was arrested in possession of the phone in Masimba area and revealed to the police that he had sought refuge in Kisii to evade the police.
"He admitted to having killed the three women and named his accomplices whom we arrested in a morning raid on their residence in Kivumbini Estate within Nakuru town," he said.
"We are tracing two other suspects whom the six have named as part of the group involved in the Mawanga killings. We believe they are all part of the larger Confirm Gang," said Sunguti.
He added that the rental house where the five other suspects were arrested has portrayed them as criminals armed in a similar manner as members of the Confirm Gang. Earlier this week, the police revealed that they had collectively recovered 436 phones, 40 laptops, 61 daggers, 6 swords, 15 machetes, 3,367 rolls of bhang, heroin sachets and 10 motorcycles from 128 suspected members of the Confirm gang.
Sunguti said that they believe the six are behind the killing of Grace Wanjiru, 21 killed on June 15, Susan Wambui, 36 killed on June 21, and Diana Tasha, 25, killed on June 24. "We also recovered various items which they used to disguise themselves as employees of Kenya Power to gain entry to private property before attacking their victims," he said.
Tasha, a daughter to All Nations Church Bishop Jotham Opicho was killed at her parents' house and body found in her bedroom under a mattress which the gang intended to set on fire.