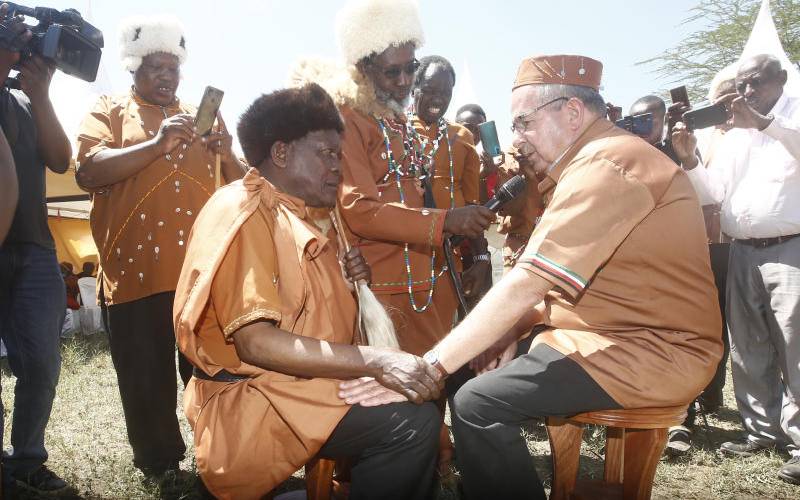 American Catholic Missionary William Charles Fryda is now a member of the Agikuyu community under the Anjiru clan that descends from the community's eldest daughter.
Fryda will now be known as Kiarie, son of Waweru after he was on Saturday inducted into the community in a traditional ceremony held in Gilgil, Nakuru County.
During the ceremony, he was accepted as a son to his new adoptive Kikuyu family of one elder, Waweru Ng'ang'a, who also lives in the area.
Dr Fryda shot to the limelight following a seven-year battle with Assumption Sisters of Nairobi over the Sh3 billion St Mary's Hospital-Gilgil. He lost the facility to the Nuns after a court ruled in their favour.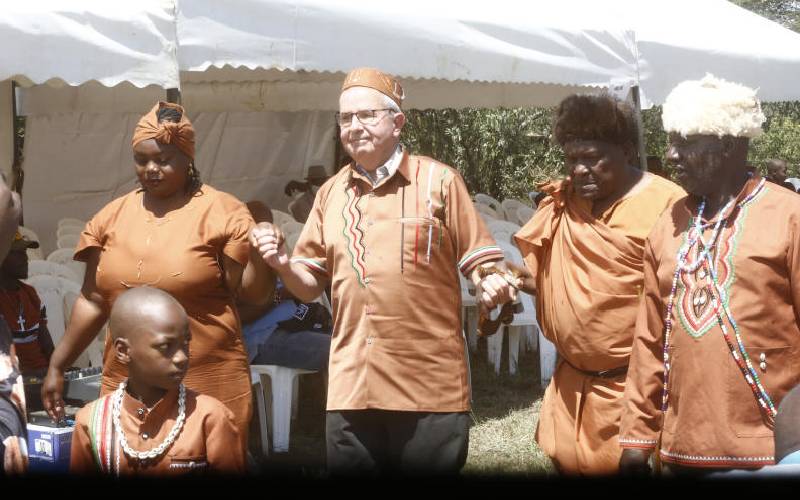 Two years ago he established another facility, St Joseph's Hospital which also includes a nursing college bordering the previous facility.
An elaborate ceremony was conducted by Kiama Kia Ma, the cultural wing of Kikuyu Council of Elders. The event caught the attention of a section of residents who witnessed the rare event.
Escorted to the venue by an elder and a group of ten women, Fryda's arrival into the family was announced with five ululations as was done under the Kikuyu traditions.
On arrival, he was received by his adoptive father, Mr Waweru and his wife as he made a request that he be accepted as one of his sons.
"I am requesting you to allow me be part of your family. I want you to be my parents, I want your people to be my people," said Fryda as Waweru accepted him, convinced that he had no bad intentions.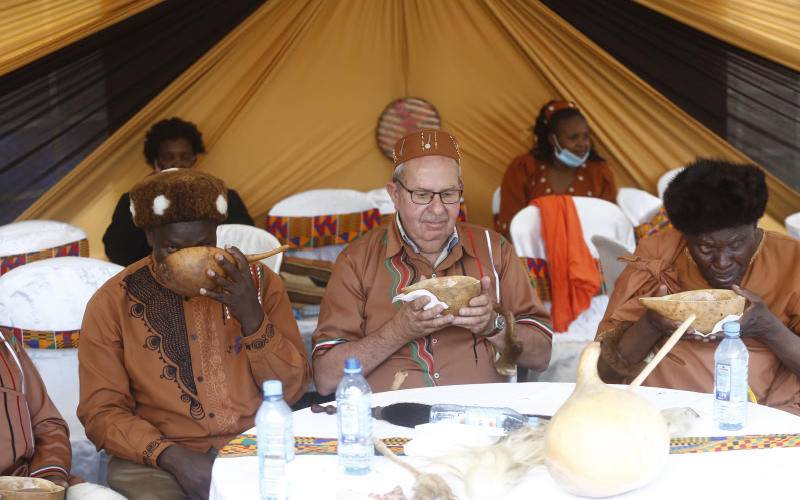 After taking him into a symbolic hut, he emerged donning traditional regalia with a cord made of sheep skin (Rukwaro) tying his left hand to the right hand of Mzee Waweru and sat on two three-legged stools.
A woman elder acting as a midwife joined in with a sharp knife to cut the cord symbolizing the separation of a child from their parent at the actual birth.
"I promise to respect you as my parents. I vow that I will never do anything to harm you, your family or your property," said Fryda.
"I accept you into my family. I promise to treat you like any of my other sons. I shall never do anything to harm you," Waweru responded as the witnesses celebrated.
The two then shared pieces of soft roasted meat as a sign of their generosity to each other. Like his father, Waweru applied cleansing ash (Ira) on Fryda's forehead, hands and feet.
"This is to signify that he has been accepted and cleansed of any curse that may be holding him back. We also apply castor oil on his hands to make him shine and succeed in what he touches and where he steps his feet," said Ngatia Muriuki, the council's coordinator in Gilgil.
Waweru celebrated his new son as a man of the people who had made an impact in the health sector having founded one of the most affordable health facilities in the country.
"My son Kiarie (Fryda) has done a lot for the country. Many Kenyans who have received services at St Joseph's Hospital have a positive testimony to tell. His support to the community around him is immeasurable," said Waweru.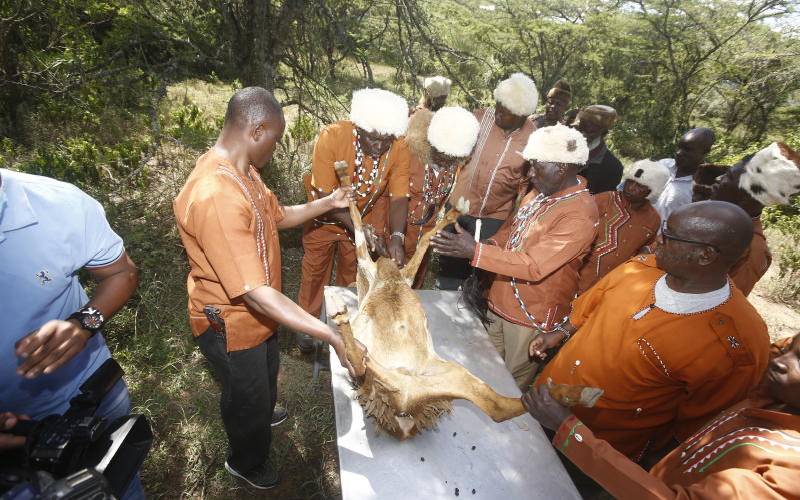 Fryda who came to Kenya with his late parents in 1991 says that he has no intentions of moving back to America and had made a resolution to permanently reside in Kenya.
"I am very happy to have people I can call my own. My biological parents taught me that all people are the same regardless of their race. It feels special to finally be part of the Kenyan community and especially the Agikuyu community," he said.
He explained that he draws his strength for mission work from the ideals instilled in him by his parents who he described as ordinary people.
"My father was a cowboy and my mother was a teacher. They were ordinary people. It is from them that I learnt that service to humanity brings satisfaction at heart," said Fryda.
Elder Ngatia explained that Fryda is now free to go through other traditions as a member of the Kikuyu community.
"He is now our son and in a position to move up the ladder and in the future become a Kikuyu elder. He has a name, a clan and an age set that he can identify with," said Ngatia.
He said a similar ceremony can be conducted for a person who has been rejected by their family for varied reasons and needs another family to identify himself with.
"A person who falls out with their relatives or has been excommunicated often lands into misfortunes. Such a person is free to identify an elder whom they can call a father to sever their ties with the previous family or community," said Ngatia.