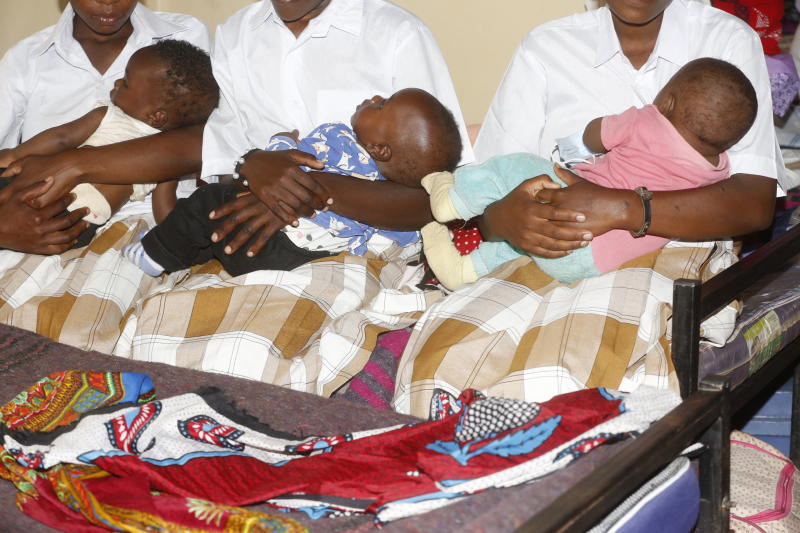 Jessica Wangui (not her real name) peruses through a Chemistry book leisurely while keeping an eye on her two-week-old baby who is peacefully napping.
Jessica is 16. Her newborn baby is the newest addition in the dormitory that hosts 55 other teenage mothers and their babies.
Across her bed, Eunice is breastfeeding while Lucy is burping her four-month-old baby.
In a "normal" school, it would be time for games, but at Prestige Teenage Mother's School in Subukia, it is nursing time.
"I am happy here. There is no stigma. I never imagined I could ever find a place as peaceful as this after a stressful pregnancy as a student," says Lucy.
Outside the dormitory, Sheila* cuddles a four-month-old baby while another is strapped on her back as she chats with Dorothy who is washing her clothes.
Menial jobs
They are both 17, juggling studies and motherhood, a duty that knocked on their doors earlier than they ever anticipated.
Dorothy's case was one of sheer luck when she came across the school while looking for menial jobs around Kinanda area.
The day before she enrolled in the school, Dorothy walked close to 40 kilometres from Gilgil to Subukia where the school is located.
"My parents separated when I was very young. Both went separate ways and each re-married. Their new partners have been hostile to me.
"We lived with our grandmother who is also struggling and cannot cater for all our needs. When I got pregnant, my aunts told me to look for a place to go," Dorothy says.
Susan's case is equally sad.
After completing her KCPE examinations, she had nowhere to go with her four-month pregnancy.
"She was impregnated by a father of seven. She is only 15 - among the youngest to join this school besides two other Class Seven learners with children," Gladys Kemunto, the headteacher said.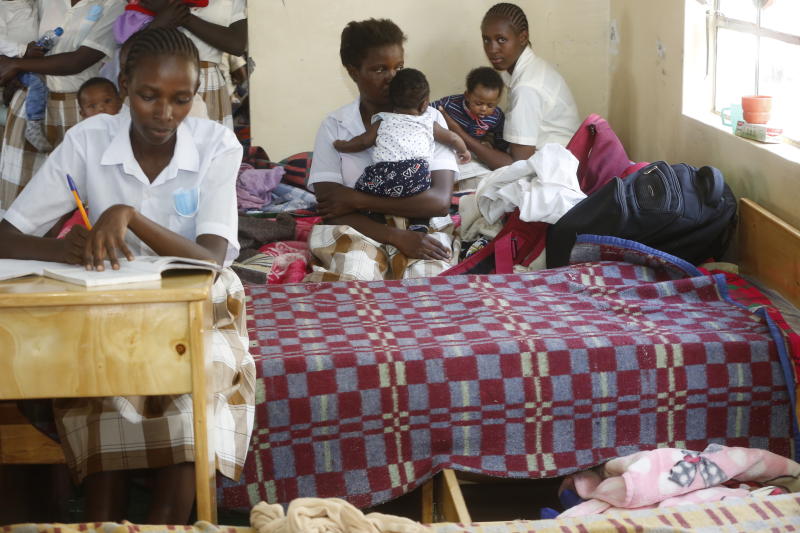 While the school opened doors in January this year, it has documented tens of cases of teenage mothers trying to survive with their babies.
"All these are defilement cases because these girls are minors. Majority were defiled by relatives, others by strangers and others engaged in sex in exchange of food or sanitary towels. These cases all date back to Covid-19 pandemic period," Kemunto says.
Jennifer from Kajiado, for example, is a teenage mother of a 7-month old who was forcefully married off while in Form Two.
"I always wanted to study and become a neurosurgeon but I was married off. At some point, I wanted to commit suicide.
"I had planned to end both my life and my child's life when the local assistant chief contacted me and brought me to this school. I am grateful for this chance," Jennifer narrates.
According to Jacinta Ndegwa, chairlady of Mothers Without Borders international, the community-based organisation that runs the school, the idea of opening such an institution followed the rising number of teenage pregnancies.
The girls, Ndegwa said, mostly ended up dropping out of school. The cases also hampered the Ministry of Education's policy that aims at achieving 100 per cent transition. Ndegwa is also a member of Kenya Women Teachers Association.
"Almost every year during the national examinations, there are girls who make the headlines while doing their examinations in maternity wards, or those who went into labour during exams.
"I wanted to know where those girls end up only to realise most were stigmatised and became outcasts," Ndegwa said.
She said that the cases intensified during the school closures as a result of Covid-19 pandemic where teenagers got pregnant.
"We have to do thorough counselling for these girls who are very vulnerable because those who sired the children with them disappeared. The fathers are either relatives, strangers, people they know and other schoolmates," said Ndegwa.
And while the school is already full and lacks space for additional admission, she says there are more than 200 pending applications from teenage mothers who are in dire need of refuge while studying.
"We started with only 13 girls and, over time, the numbers grew. These are the girls who have been forced to drop out of school to look for menial jobs to fend for their children and all they need is a safe space," she added.
Isabella Mbugua, the area nominated MCA has been doing counseling for the girls since they reported to the school.
She says while the majority of the girls are from poor backgrounds who in some cases were pushed by circumstances to engage in sex in exchange of basic needs, some are cases of parental neglect.
While schools remain closed for the holidays, for the young mothers seeking refuge here, it is a relief to be in the institution since many of them have nowhere to go.
Catherine Nuthu, assistant Chief, Munanda sub-location praised the new development for a rescue centre saying this offers another chance for the teenagers.