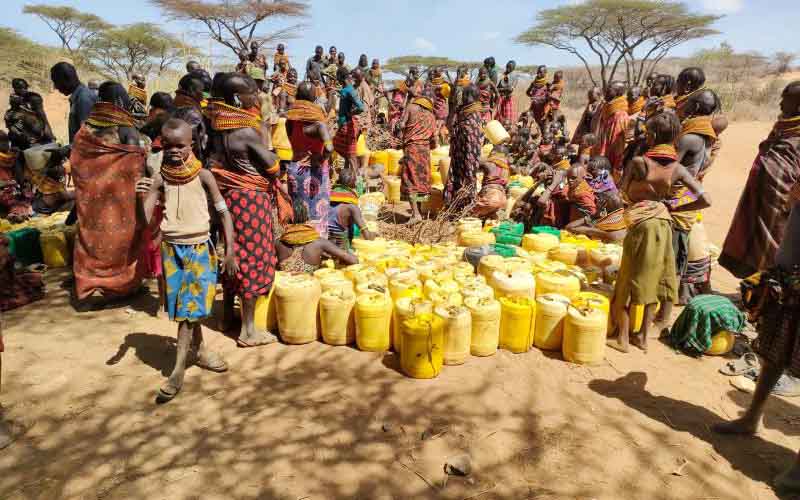 Lack of pasture and water shortage due to prolonged drought has left many villagers devastated.
The situation has left livestock starving and with little water to drink in Nachola, Bendera, Ngilai, Lomerok, Lonjorin, Nyiro and Marti.
Authorities say that some 200,000 people are in dire need of food and water.
"The water shortage is alarming," said Samburu North Deputy County Commissioner Jackson Oloo.
He added: "The pastoral population living in the hard to reach areas are the worst affected. Pastoral families in the sub-county have decided to move in search of water for their animals."
Lomekoyana Mule, a resident of Lomerok, said people from different areas have to spend the night in the queue in order to get water the following day.
"The borehole is not yielding enough water, we have to come here in the morning to fetch water from 10am. And by noon, there is no water in the borehole. People are forced to wait and even spend the night on the queue at the borehole," he said.
Moita Elimu, another resident, said that the drought had led to depletion of water and pasture, leading to the death of animals.
"The situation has exposed many families to hunger and thirst," he observed.
Nachola ward representative Lawrence Lorunyei called on the national and county governments to speed up distribution of relief food.
Recently, President Uhuru Kenyatta flagged off relief food to save hunger-stricken families across the country.
The county's chief officer for special programmes, Daniel Lesaigor, said that the prevailing drought conditions in the region had reached an alarming level.
"It has become an emergency," said Mr Lasaigor.
He added that the County Government of Samburu has so far procured relief food supplies targeting vulnerable households across the 15 wards.