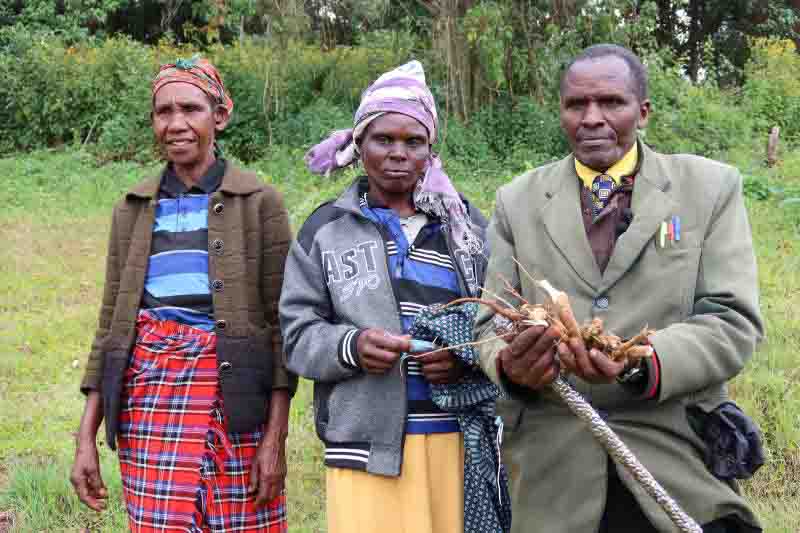 Eveline Langat rummages through the bushes along a trail within the forest at Kapkembu, South-Western Mau, as she chats with a Kenya Forest Service officer. Once in a while, she pulls twigs and stuffs them in a bag, an activity she has engaged in almost her entire life as a traditional medicine woman.
Eveline is from the Ogiek community and can barely recall the times she has been to a hospital. In her 50s, she has grown to learn the traditional art of collecting herbs in the forest, particularly those targeted at healing children and women. "As a traditional medicine woman, this is my job. I come here to collect herbs almost every day. I have customers across several villages who require my services," Eveline says.
Like Eveline, Elizabeth Busienei is a traditional medicine woman, an art she has mastered for more than 70 years while living near the Mau forest. With age, her experience and prominence have been growing too.
"In the Ogiek community, women, particularly, deal with children and women ailments while men deal with other diseases affecting men and women too. While growing up, there were no hospitals around and the only health facility we knew was the forest. There is a variety of medicinal trees that treat different ailments and we have never doubted them," Busienei said.
But unlike the rising number of traditional medicine women hawking their herbs in the streets, the Ogiek believe they are sacred and should be kept private. "Our tradition does not allow us to show these medicine to anyone. We do not hawk them; we only administer the medicine to people who personally seek the services. If one hawks them in the streets, the medicine will fail to work on a patient," she adds.
Interestingly, just as in modern medicine, the women say the herbs are dispensed in several ways. There are those that are boiled and a patient drinks the mixture as prescribed, while there are those whose leaves are burned and charred remains grounded into powder and those that even require a patient to take a steam bath.
The medicine sometimes can be a single herb or a mixture of herbs depending on the disease and sometimes includes a mix of honey or even milk.
"There is a special kind of honey which is sourced from underground. It forms part of traditional medicine. There are also parts of the natural honey which is extracted and used as part of the medicine. Some medicine also requires someone to take them alongside milk," Busienei said.
Treated ailments
The ailments the traditional medicine women treat include asthma in children, cough, common cold, measles, diarrhoea among other childhood diseases.
Women mainly have sexual health reproductive problems, asthma among others. Children are treated at a cost of Sh1,500 while adults are treated for Sh2,500.
While Eveline and Busienei have mastered the art of dispensing traditional medicine to women and children, Richard Cheres use traditional medicine to cure ailments affecting men and also women. "The way this medicine is dispensed require a skill. We have so much faith in these herbs and so should the patient. It has worked for us. We source almost 85 per cent of the herbs here, however, some trees had started disappearing," Mr Cheres said.
The disappearance of indigenous trees in some degraded areas, the community said, is attributed to destructions encroachment that was witnessed in the South West Mau.
To combat the challenge that was becoming a threat to the preservation of the traditional art of medicine dispensation, the communities pulled up efforts with Kenya Forest Service and Rhino Ark, a conservation organisation to restore part of the degraded areas.
"Besides being a critical forest for the community, the forest is also a key water tower and a source for many rivers that flow into Lake Victoria. The restoration of the forest has really improved with communities now championing for its conservation and since 2017, over 750 hectares have been rehabilitated in the entire South West Mau," Alphonse Rotich, Fence manager at Rhino Ark said.
Already, the communities that include beekeepers, traditional medicine men and women, youth and religious leaders have since restored 10 hectares in Kapkembu area alone.
"Our aim is to bring back the indigenous trees that we had lost especially the medicinal ones. Almost every indigenous tree has medicinal values and that is what we have been depending on through generations," Joseph Barno, a bee-keeper said.
In 2021, Barno harvested 600kg of honey, a drastic increase following the fencing of part of the forest and rehabilitation, a situation that has reduced cases of destruction and hunting within the forest.
In the programme, the community also tends to the trees as well as weeding them, a move which the Kenya Forest Service said has improved the survival rates of the trees.
"The kind of partnership has seen a good relationship between the authorities and the communities because they also benefit from this water tower. Survival rates of the trees are also higher," George Kairu, a KFS officer said.