Group evicts developers from prime college land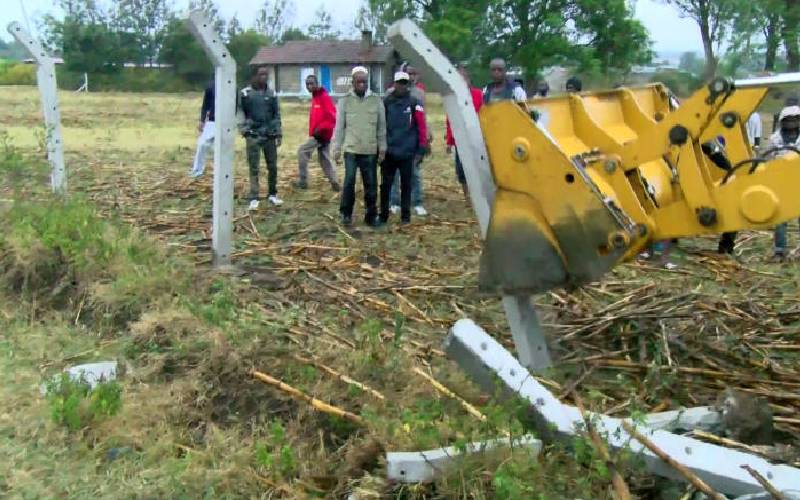 Residents forced private developers and their workers to flee from a five-acre piece of land they had fenced off in Nakuru.
The residents claimed the developers wanted to occupy the land belonging to the Agricultural Training Center (ATC) adjacent to Ngata Estate. After the developers had fled the site, the residents brought in a bulldozer and brought down the fence, vowing to not to allow public land fall into private hands.
Jimmy Wagakabu, a civil rights activist, said the institution's land risked being grabbed.
"Land grabbers have taken control of several public plots. They are targeting ATC land since the institution does not attract much public attention," said Wagakabu.
The government, through the Ministry of Education, certified the ATC as an agricultural training and vocational training centre in October 2021.
"This was a well-choreographed grabbing attempt by a few individuals who subdivided the five-acre land and started fencing it off. The college has not sold any of its lands," said Wagakabu.
The residents called on the government to investigate the matter and bring the culprits to book.
"We are left wondering if the government has turned a blind eye as individuals grab public land in the full glare of citizens. We need effective systems and a swift response to guard public property," he said.
He claimed some grabbers has title deeds whose authenticity was questionable.
"The college has been in existence since independence. How some developers reportedly acquired title deeds to hive off part of the land calls for investigations by the Directorate of Criminal Investigations," said Wagakabu.
Assumpta Wangui, a resident, regretted the grabbing would have gone unnoticed if the public had not raised alarm and acted on their own to stop the developers.
"Agriculture is a critical sector and this institution was set up to improve productivity and research. We must jealously guard it if we are committed to having quality and sufficient food," said Wangui.
She claimed some of the alleged grabbers enjoy links with persons in government who protect them.
"The Ministry of Lands should conduct an audit on public utilities in Nakuru West. It is unfortunate that people entrusted with government offices have turned to be the real threats," said Wangui.
Joseph Okiki, a resident, called on Lands Cabinet Secretary Farida Karoney to ensure the safety of the public land.
"The suspected grabbers may use title deeds in other ways to benefit themselves. The CS should establish if this is a matter of double allocation and if it is the case, lets know the people behind it," said Okiki.
Speaking to The Standard, Nakuru County National Lands Commission coordinator Frank Kibelekenya said the land was public and any claimants should be dismissed.
"The land has not changed hands from ATC. Anyone who claims to own it must be relying on falsified documents. We are already investigating the matter to establish the faces behind the grabbing," said Kibelekenya.