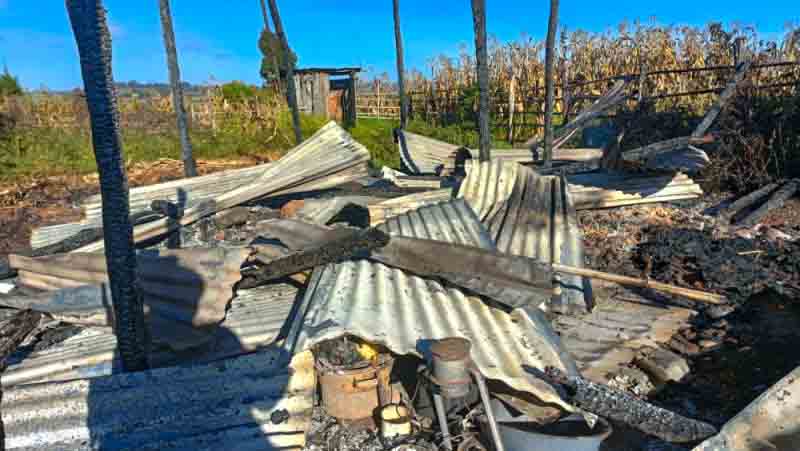 Police in Nakuru are holding a 40-year-old man in connection with the death of his wife and their three children when their house went up in flames on Saturday morning.
Alice Njeri, 32, and her children Francis Mwangi, 9, Lucy Nyambura, 6, and Samuel Kamau, 3, were burnt alive during the 3am incident that left residents of Kapsita village in Elburgon, Molo, in grief.
Speaking to The Sunday Standard, Nakuru County Police Commander Beatrice Kiraguri said police were alerted by residents on Saturday morning, who reported that a house was on fire with people trapped inside.
"We got a call from a resident of Kapsita Village in Elburgon at around 3am requesting for assistance to rescue people they suspected had been trapped inside a burning house," said Kiraguri.
The county police boss explained that efforts by the police and residents to put out the fire were futile, leading to the deaths of four people, including a woman and her three children.
"The fire was so fierce that it jeopardized any attempts made to rescue the victims. When the fire was put out, four bodies were found burnt beyond recognition. They were removed to the morgue," said Kiraguri.
The residents suspected foul play after they found out that the man of the house, who had been at the scene earlier, had fled, leading to his arrest as the prime suspect in the incident.
"On realising that it was the man's house that was on fire and he was fleeing towards Molo town, police and the residents pursued him and managed to catch up with him. The man is now in police custody and is assisting us with investigations on the incident in which he is a suspect," said Kiraguri.
She called on residents to seek counseling services, noting that the incident would have been avoided if the couple sought help earlier.
"It is saddening that we have lost innocent lives over what could have been petty differences. This calls for our people to be vigilant in identifying signs of mental illness among their close associates," said Kiraguri.
Francis Gitau said they had offered the family to live on their property for free, but blamed alcoholism for the incident.
Gitau said the suspect had turned to alcohol abuse, which caused differences between the couple that often turned violent.
"I am in shock that the woman and her children whom I knew well are no more. When we offered them the house, they were living as a happy family. Trouble started when the man recently started a drinking habit," said Gitau.
Beth Wangui, a resident, said they heard loud screams from the house and thought it was the couple's normal fights after the suspect returned home from a drinking spree.
"The screams were heard for a short while at midnight but we didn't think it was serious after the woman went silent. I was shocked after we heard neighbours rushing to the house to put out a fire hours later," said Wangui.