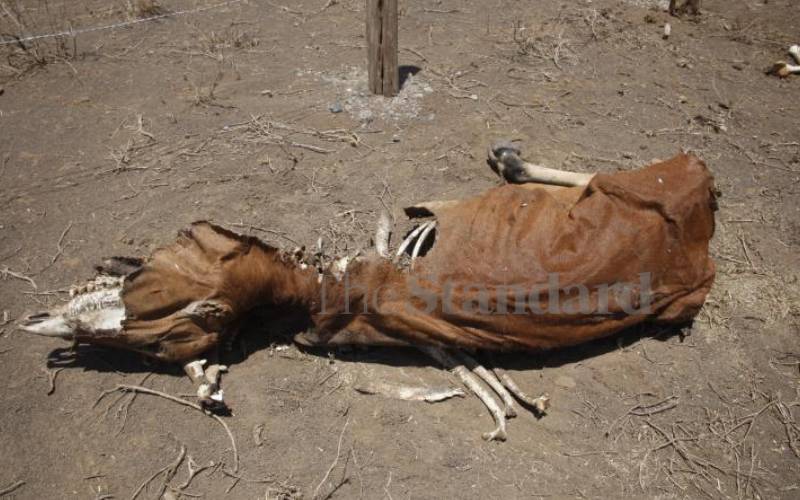 Thousands of residents in Kajiado County are starving following prolonged drought coupled with the effects of the Covid- 19 pandemic.
More than a million cattle are also at risk of starvation and require urgent feed and water.
The most affected areas are Mailwa, Lenkisim, Poka, Imbirrikani, Purko, Maparasha, Shompole, Mosiro, Dalalekutuk, Mile 46, Meto, Ildamat, Kitengela West and settlements surrounding Isinya.
Deputy Governor Martin Moshisho has confirmed that a huge population in the area is affected since the drought had reached a crisis level.
"A large number of people in rural areas cannot afford to put food on the table. Our animals are now dying due to lack of pasture and water," Moshisho said.
He says it is an emergency that requires an urgent solution to avert the deaths of residents.
''We need food for more than 50,000 families because the situation is out of hand. This is why we are also appealing to the National Government to step in and boost our food distribution efforts," said the Governor.
He added, "We had to do a round-up in all the wards. We will also target People Living with Disability ( PWDs) who are also affected."
Former Kajiado West MP Moses Sakuda has also appealed for relief food from the government.
He says over the years, the Maasai herders have been crossing in and out of neighbouring Tanzania in search of pasture and water for their livestock.
"The situation is dire. Women and children were left at home as the livestock moved out in search of grass. They cannot even get access to goat's milk," said Sakuda.
He said many families in Kajiado West and Central constituencies can hardly afford a meal, and hundreds of cattle have died over the past six months due to lack of pasture and water.
A big number of herders have crossed over to the neighbouring country Tanzania searching for pasture. "I have lost more than 20 cows to this drought. The animals were all that I depended on in my life. I am wondering what to do next," said Joshua Ole Salami, a resident of Mosiro in Kajiado West sub-county.