MPs petition Parliament to probe use of machines in tea harvesting
RIFT VALLEY
By Nikko Tanui | Dec 10th 2021 | 2 min read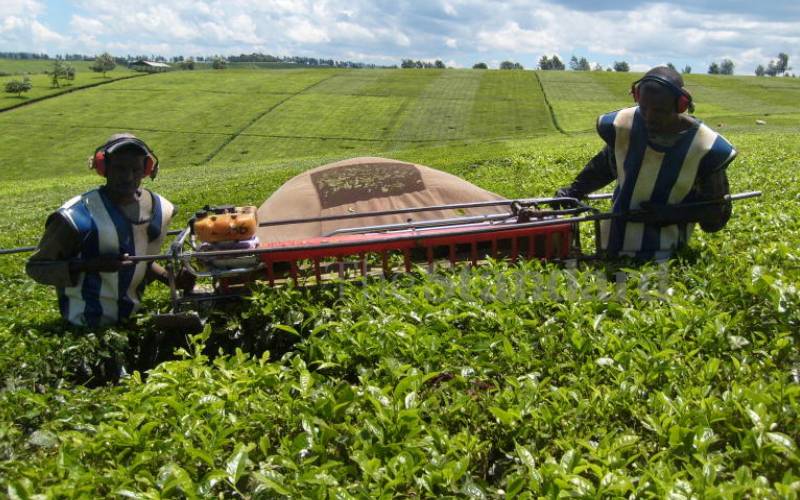 Some MPs from tea-growing counties of Kericho and Bomet have petitioned Parliament to probe the use of tea harvesting machines by multinational companies.
MPs Sylvanus Maritim (Ainamoi), Nelson Koech (Belgut) and Joseph Limo (Kipkelion East) want the National Assembly Labour and Social Welfare Committee to investigate whether the machines comply with safety and health regulations and are in line with the Safety and Health in Agriculture Convention, 2001 (No 184).
The regulations require, among others, that workers be informed and consulted on safety and health matters, including risks from new technologies.
The petition comes in the wake of reports of several incidents of injury.
Jacob Ombele, for instance, is nursing burns he suffered when a tea harvesting machine he was operating exploded three months ago.
"The committee must inquire and ascertain whether the machines are in line with ILO convention 184 on safety and health in agriculture," said Maritim.
"The committee should also recommend to the Ministry of Health and the Kenya Bureau of Standards (Kebs) to formulate and periodically review a coherent national policy on safety and health on tea plantations."
Maritim said Parliament must also inquire about the possibilities of the hazardous effects of mechanised tea on the quality of Kenyan black tea.
Koech said the deployment of heavy machines has caused a sudden slump of the local economy by an estimated 20 per cent.
Tea is a top foreign exchange earner and is estimated to employ over 200,000 workers directly.
"If the multinational tea firms want to deploy tea harvesting machines, it should be only for 30 per cent of the work and 70 per cent left to the pickers," said Koech.
He said the National Assembly should also recommend the mandatory maximum percentage of tea plantations that multinational tea firms must harvest mechanically to avert further job losses.
"The National Assembly must review existing legislation and policies on the mechanisation of tea harvesting to provide a framework to regulate heavy mechanisation of tea plucking to safeguard workers' livelihoods," he said.
The MPs also want the National Assembly to inquire about alleged breaches of labour laws and human rights abuses by multinational tea companies against tea workers.
Limo said whereas technology in the tea sector is welcome, it should be handled carefully lest it leads to destruction of the economy of tea-growing counties.