Water authority vows to repossess encroached riparian land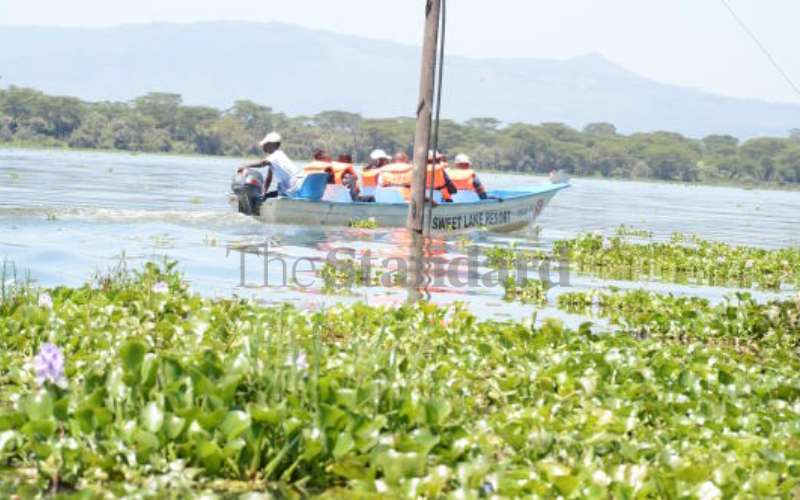 The Water Resources Authority (WRA) has announced a crackdown on persons and institutions that have encroached on riparian land around Lake Naivasha.
The authority said it had marked all boundaries around the water body ahead of the exercise that will involve other government agencies. The authority has also termed null and void any title deed issued for land around the lake.
Already tens of acres of the riparian land are under cultivation by flower and vegetable farmers, while a number of hotels have been constructed on the disputed land.
According to David Mumo, who is in charge of the authority in the Rift Valley basin, the contested public land was out of bounds for any activities.
He said the authority had marked beacons on 1892.8m above sea level, which was the official gazetted boundary under the protection order of 2012. "Any activity beyond this boundary is illegal and anyone who has a title deed on the land should discard it as it is illegal," he said.
Speaking in Naivasha during a stakeholder meeting on the current status of the lake, Mumo expressed concerns over continued encroachment of the riparian land.
He warned that water could reoccupy its space, and pointed to the current rise of its levels in several lakes in Rift Valley.
He said 17 schools had been closed around Lake Baringo due to rise in water levels that also affected some government offices. "County physical planners should work with our officers before allowing developers on riparian land," he said.
Lake Naivasha Water Resource Users Association chairperson Enock Kiminta said land around rivers was also under threat. He cited River Malewa, which is the main source of water for Lake Naivasha, as one under threat due to increased human activities.
"We have seen tens of women washing clothes along River Malewa on a daily basis and this is making it hard for aquatic insects to float on the surface," he said.
Kiminta noted that research had proven that detergents bind up oxygen to form bubbles adding that this could starve fish and other insects off oxygen.
"Pollution is a major challenge in this basin mainly due to the poor sewer system and mushrooming of informal settlements," he said.