Lack of internet access holds up school's digital literacy project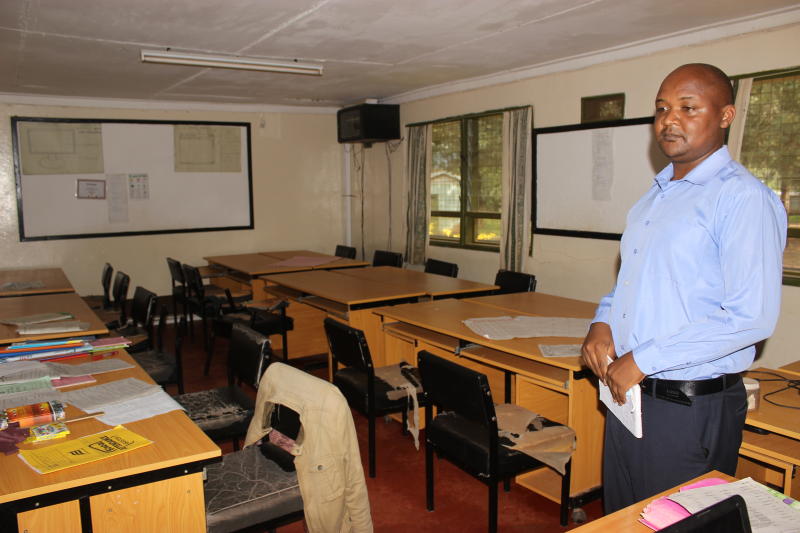 When the government introduced the Digital Literacy Programme in primary schools in 2016, Fluorspar Primary School in Elgeyo Marakwet County was among the pilot institutions.
However, barely five years later, the once esteemed institution is a shell of its former self.
School amenities are run down, ceiling boards in most classrooms are falling apart, and the computer laboratory has been shut down indefinitely due to lack of internet connectivity.
According to Amos Orina, the school headteacher, trouble started when the Kenya Fluorspar Company, located just two kilometres away, wound up its operations in April 2016 and later withdrew their sponsorship for the school.
In its heyday, the mining company pumped millions of shillings into development of the day and boarding primary school, which was one of its successful Corporate Social Responsibility projects.
Even after ceasing mining operations in 2016, the company continued to support the school for the next two years.
However, in 2018, it officially withdrew sponsorship and the school was transferred to the Ministry of Petroleum and Mining as a private institution.
Orina said the population of the school has dropped from 270 pupils in 2019 to 215 this year, following the financial woes it is facing.
"But the saddest thing is that all our teachers and support staff have not been paid salaries since 2019 because of the confusion," he said.
"Our ICT systems are down, and digital learning collapsed due to lack of maintenance. We have no money for maintenance."
According to the school management, the digital equipment has not been used since 2019 because the school has not paid electricity bills. Deputy headteacher Lydia Kipyego said teachers are struggling.
"Things are bad. We have a huge electricity bill and teachers depend on parents for everything, including food. We hope that a solution is found soon," she said.
School's Parents Association Chairman Hosea Toroitich said the institution was abandoned following a delay in changing its registration status from a private institution under the Ministry of Mining to a public learning facility under the Ministry of Education.
"The school has been abandoned. We are asking the Ministry of Mining to return and rescue our institution from collapse," Toroitch said.
He said parents have made several attempts to seek help from the Ministry of Mining, but they have been told the school is under the Ministry of Education. Toroitich said parents have been paying teachers Sh5,000 every month for upkeep.
"We have 35 workers, including teachers, who were handed over to the Ministry of Mining during the transition. They are now demoralised because they depend on meagre monthly tokens from parents," he said.
Elgeyo Marakwet County Director of Education Kituyi Masibo said the process to convert the school to a public institution has started, but is yet to be completed.
"Fluorspar Primary School is a private institution, and we can't do much at this point. I have sent a team to assess the situation and make a report," Masibo said.