Gideon to take action on stalled dam project as he warns cartels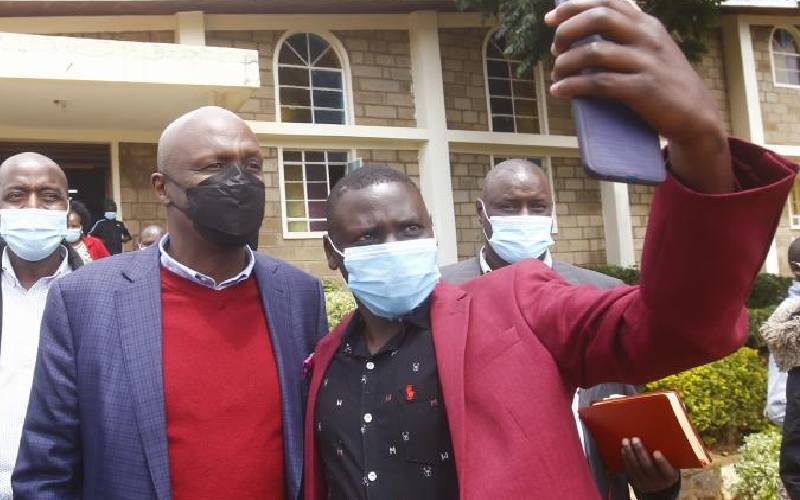 Baringo Senator Gideon Moi has put on notice cartels behind the misappropriation of Sh1.8 billion meant for the construction of Kirandich water dam.
Speaking during a church service at AIC Kabarnet, the Kanu national chairman said the perpetrators should be prepared for legal action.
"Those behind the stalling of the dam and embezzlement of funds meant for phase II of the project will face the full force of the law. That is unacceptable and will not be tolerated," Gideon said.
He promised residents that he would personally follow up with the National Government to ensure the project was completed.
The construction of the dam was meant to resolve perennial water shortages in Kabarnet town and its environs. Construction of Kirandich dam phase II was commissioned by the late President Daniel Moi in 2001.
In 2015, the Italian government advanced a Sh1.8 billion loan facility to the government for the project. It, however, remains incomplete.
The Kirandich water supply phase II was an extension of the first phase, which involved the construction of the dam, water treatment plant, two pumping stations, two water tanks and a distribution pipeline.
A sewerage and waste management system for Kabarnet town valued at Sh700 million was also to be established. At least 65,000 people were to benefit from the project, but it stalled three years ago. The senator has assured the people that the project will soon resume.
Gideon was responding to a plea by Kabarnet residents through their MCA Ernest Kibet, who called on him to intervene as the project was yet to be implemented fully.
Kibet said though water was an essential commodity, locals were still grappling with shortages. He said the situation was so dire that residents had staged a demonstration last week.
Last month, Labour CS Simon Chelugui said funds for the construction of phase two of the dam were a tied credit facility from the Italian government.
Chelugui said being a conditional grant, the financier was providing both the money and the contractor.
The former Water CS said the government had no power to determine the contractor.
"We were not able to change the contractor and this is the biggest problem we still have in Kirandich Dam phase II up to date," he said.
The CS said the Italian government had given a Sh2 billion advance for the construction of phase II of the dam and the money was available until March 2022.
On the Covid-19 pandemic and measures instituted by the Ministry of Health to stem its spread, Gideon asked residents to be cautious and adhere to the set guidelines.
"Covid-19 is real. Let us be cautious and follow the set guidelines by the Ministry of Health as there is a surge in numbers and a new variant reported," said the senator.
He called on the church to be at the forefront in educating the people on the dangers posed by virus.