Museum becomes second home for Australian painter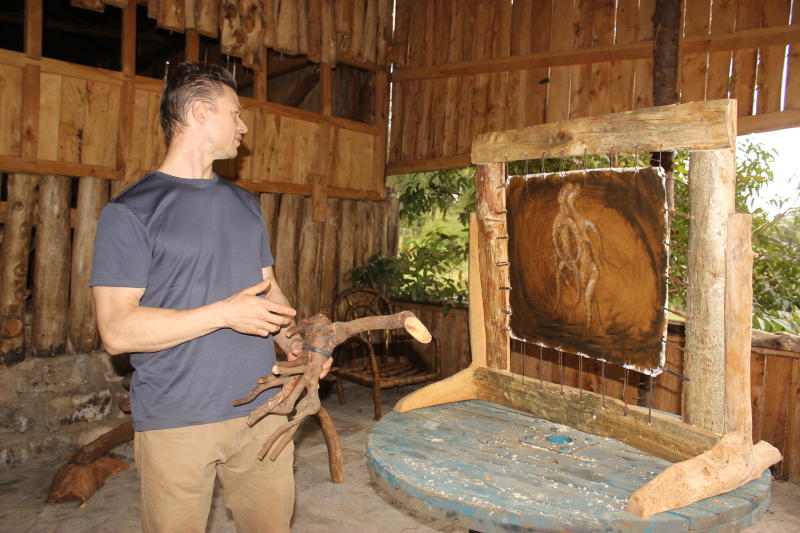 When Aaron Stewart, an Australian painter, left his country about two years ago for Kenya, his sights were set on drawing and painting the Kenyan culture and nature.
But he ended up in a museum in a remote village in Ainabkoi, Uasin Gishu County, where he helps preserve what he calls "the mystery of nature".
Stewart first settled in Nairobi for six months before moving to Eldoret where he fell in love with the local culture and was even nicknamed Kiprop.
Apart from traditionally prepared sour milk (mursik) and cooking millet flour ugali, Stewart found another love in an eco-park located in woods within Ainabkoi.
The private entertainment spot, Amazement Park, is located in a forest, three kilometres off the Eldoret-Nairobi Highway, but has a museum where the owner, Nick Koimur preserves natural tree sculptures.
Since May, the museum within the park and lodge has captivated Stewart's attention, and has become his second home.
In Amazement Park, cottages are built under tree canopies, 15 metres above the grounds.
Stewart was attracted to the museum, a brainchild of Koimur, a nature lover who effortlessly spots shapes with similarities to wildlife and human beings.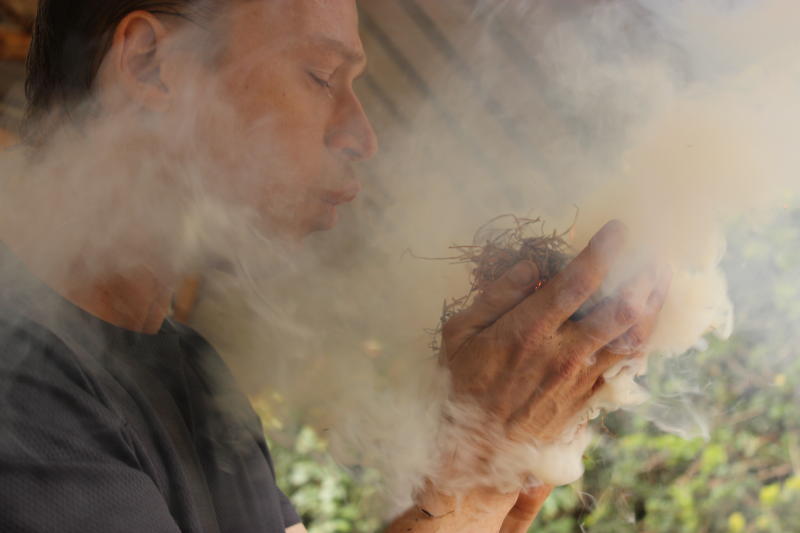 After spotting unique shapes, Koimur, a former high school teacher, starts the process of preserving them in a museum located in a bush park he established about a decade ago in Ainabkoi.
His Amazement Park has cottages on top of trees, and within it, is the museum that has been thriving for at least two years now.
Stewart says he fell in love with the museum and park on his first visit to the place, where guests sip coffee and soft drinks on top of trees.
"One of my friends told me about the park and I came all the way to visit. discovered the site preserves pieces of wood that explain the relationship between nature and humanity. I liked the place, and today I make drawings from the unique tree shapes," Stewart says.
In one corner of the museum, lies a tree trunk with the shape of a crocodile, an eagle on another end and human shapes.
In another section, tree-shaped figures of a male and female human with physical deformities stand.
"The natural forms on the wood are recognizable symbols that express the relationship between nature and humans," Stewart says.
He says he became interested with the similarities in tree shapes and other forms of nature.
"Tree shapes pass messages to us. They tell you more about the effects of strong winds and climatic conditions and that is why preserving them is important," the Australian says.
He continues: "The language of the shapes is a visual language that anyone on the planet, including people from my home country, Australia, can relate with. It is a valid discussion. I am considering inviting him (Koimur) to Australia so that we can learn from him because we don't have museums like this."
Stewart has been accompanying Koimur in th eidentification of shapes in nearby forests and private farms.
Koimur says he is now in partnership with the painter, to preserve the shapes in two forms - in wood and paintings.
"The museum is a manifestation of nature in terms of occurring shapes, without our influence in shaping it. I see shapes that are of interest to my eye. I bring a three-dimensional object and Stewart translates it into two-dimensional (a painting)," Koimur says.
In one of the farms in Ainabkoi, the duo spot a tree that they claim, according to their eyes, has the shape of an elephant, and they have been negotiating for a better price.
"The museum is like a sanctuary where you come to be educated on the basics of nature and you leave with a good understanding of it while appreciating its mystery," Koimur says.
According to Koimur, the museum helps children to learn the value of nature.
He says more than 100 schools have visited the museum in recent years, and their students have ended up planting more trees and coming up with paintings of nature in their institutions.
"Guests come here to refresh and reorganise. It is beyond the traditional visits because this is a knowledge-based museum that is going into art galleries. It is away from safaris and coastal tours," Koimur explains.