Where locals dance with death to remain close to their ancestors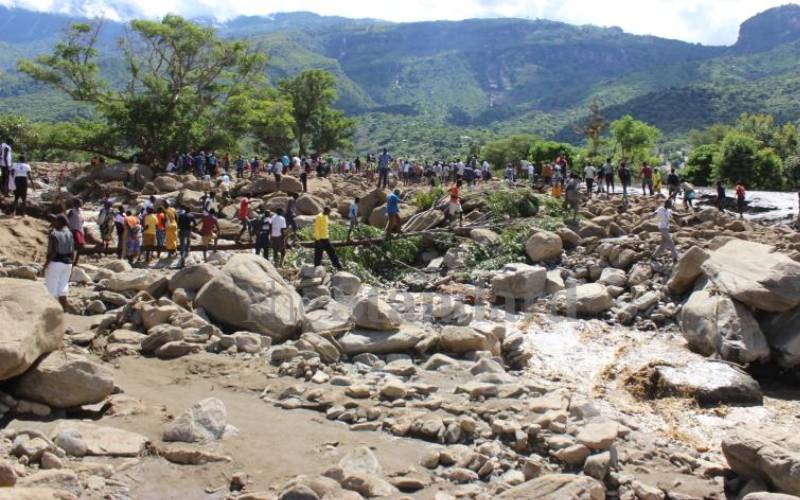 It is scenic, with imposing rocks sitting on loose soil, but whenever it rains, agony over a trail of deaths resulting from landslides sweeps the beauty.
The Kerio escarpments and West Pokot Hills in Elgeyo Marakwet and West Pokot respectively have recorded the worst landslide calamities since the 1960s, with proposals to resettle residents living in the risky areas bearing no fruit.
Silas Yeko from the hilly Nyarkulian village in West Pokot, which was hit hard by a series of landslides that killed at least 40 people in November last year is already back to his home.
He returned to the home barely three months after surviving the deadly landslide to have ever happened in his county, and after living in a camp at the nearby Nyarkulian Primary School.
The Kenya Red Cross Society and the national government helped Yeko and more than 150 other people in West Pokot to rebuild houses either buried or swept by running waters and debris.
Death traps
Like Yeko, Daniel Chuiti, from the Kerio escarpments, never left his house in Turesia in the neighbouring Elgeyo Marakwet County after surviving a landslide in December 2019. Since 2019, over 70 people have been buried alive by landslides. But locals return to the death traps, with the hope that another rainy season will not result in a landslide.
The latest tragedies locally were the landslides in Kiphumwa, Liter and Chesegon areas on the border of Elgeyo Marakwet and West Pokot counties on April 18, last year. At least 23 people were killed. The bodies of at least 15 others were never found.
According to the government, relocation of locals living along the escarpments stretching to about 70km and an estimated population of more than 100,000 people is difficult.
Reports dating back to 1997 propose relocation of residents to parts of gazetted forests and converting the landslide-prone areas to forests. The proposal is now facing challenges after the Ministry of Lands said it was difficult to degazette forests to pave way for resettlement.
At the same time, locals living precariously in the risky area have told authorities that they are not ready to be resettled in areas outside their sub-counties for fear of losing cultural ties with their clansmen. "No one here wants to be resettled anywhere farther than a kilometre from the homes buried by landslides. We want to be closer to our communities. It is our hope that landslides do not occur again," Yeko, who hails from West Pokot, told The Standard.
Landslides rocked at least six villages along with the villages of Turesia, Muskut, Ngobisi, Kobokbok, Soiyo and Kocholwo, sweeping through maize and coffee plantations in December 2020, but locals said they were not ready to move out because they had no alternative land.
A landslide that swept through a five-kilometre stretch swept the only bridge, cutting access to and out of many a village. "We fear that more landslides may happen again, but we have no alternative to relocate to," said Daniel Chuiti. Lynette Jepchirchir says there was a proposal to relocate residents in 1997 after landslides, but it is yet to be fulfilled.
Ms Jepchirchir said her uncle's house was swept by the morning landslides moments after the family had just left. "We urge the national government to ensure locals are relocated as soon as possible. We have pleaded for a long time, but a lasting solution has not been forthcoming," she says.
A resident only identified as Vasco, who lost his elderly father in the same landslides along the Elgeyo Marakwet-West Pokot border says his family is now back to their house in the areas hit by disaster. Their only hope is that a tragedy of the April 2020 magnitude does not recur. "I wish not to talk about this issue. Those who perished were buried in a mass grave because only the body parts of the victims were recovered during the search. This issue brings bad memories, and we wish to forget it," Vasco says. Elgeyo Marakwet County Commissioner Ahmed Omar says over 240 families in areas where landslides have been recorded have been listed for permanent resettlement, which is underway. "We have forwarded names to the responsible ministries... It is a process, but eventually, residents will be resettled," the commissioner says.
Last month lawmakers from the region piled pressure on Lands Cabinet Secretary Faridah Karoney to expedite the proposal to resettle people in sections of local forests and convert the landslide-prone escarpments into forests.
Marakwet East MP Kangogo Bowen recently told Ms Karoney, who was on an official tour of the area: "It is startling that an area, almost half of a division, was gazetted as a forest and people pushed to live in landslide-prone escarpments.
"We lost 30 in a landslide last year and only five bodies were recovered and buried because our people were evicted from Embobut Forest and forced to live in escarpments. We want part of the forests degazetted so that our people are resettled."
Keiyo South MP Daniel Rono said 60 families were evicted following El Niño rains in 1997 and moved to a camp in Kapkitony where they are to date. The families have increased to 300, he claims.
Prayers
Ms Karoney was, however, non-committal on the issue, saying the ministry would balance between conservation and resettlement. "We can't degazette a forest without cabinet approval. The Ministry of Lands and Environment are handling the issues."
The Kerio Valley Development Authority has previously proposed the growing of mangoes and bamboo by locals along the escarpment to hold the soil together and minimise the chances of landslides in case of heavy rains.
The proposal was made after the April 2020 landslides, with KVDA offering to provide the bamboo and mango seedlings. The first landslides hit the area in 1960, but the frequency later went up as the population on the communal land increased and more land was tilled.
The community has been conducting prayers to prevent the recurrence of landslides. A number of the locals believe the landslides are a result of bad luck and pray that their god never forsakes them. "When we lose people in landslides, and their bodies go missing like happened last year, we conduct prayers to ward off bad spirits. We believe our ancestors are angry and we try to appease them," said Kipkemoi Yator. After the prayers, they feel comfortable enough to return to where their homes once stood, and start rebuilding.