Protests as body of missing girl dumped near state agency staff quarters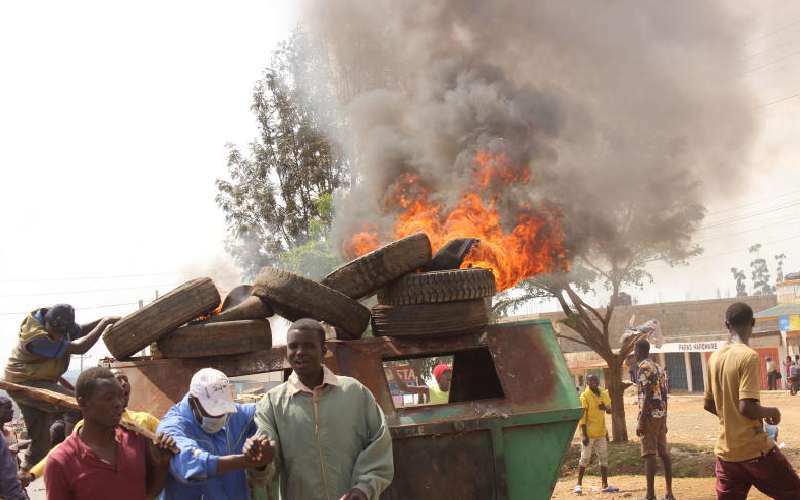 If a maize plantation near the staff residence of a state agency would talk, it would tell the horrific ordeal that Linda Jerono faced before her cruel death.
Jerono, 13, had gone missing from her aunt's home in Moi's Bridge town, Uasin Gishu County last Friday before her lifeless, mutilated body was discovered in a maize farm near the staff quarters of National Cereals and produce Board by workers yesterday.
The teenager sat the 2020 KCPE exams at Little Dreams in Eldama Ravine, Baringo County and was expecting to join secondary school.
She traveled to Moi's Bridge on Sunday June 6, with her aunt Nancy Chebet, an NCPB employee, just five days before her disappearance.
Her body was discovered in a maize plantation the same day Form One selection was being announced.
On the day she went missing, Jerono left home at 11am for a salon within Moi's Bridge town, but she didn't reach the hairdresser's shop, sparking fears among her relatives and prompting an agonizing search that ended with the shocking discovery of her mutilated body.
The discovery of the body sparked outrage and protests by irate Moi's Bridge residents who claimed Jerono's death was the ninth case of disappearance of teenage girls whose bodies have been found dumped in maize plantations and bushes.
Her aunt said her niece left the house at 11am on Friday and was to meet her at her workplace before going to the salon, but she failed to show up, prompting her to call her husband.
Chebet said she brought Jerono to Moi's Bridge like she has been doing school holidays, only for her to disappear and her body discovered about half a kilometre from her house.
"I often bring my niece here (Moi's Bridge) so that I get time to mentor her. We don't have parents and I play the role of the grandmother," Chebet told The Standard.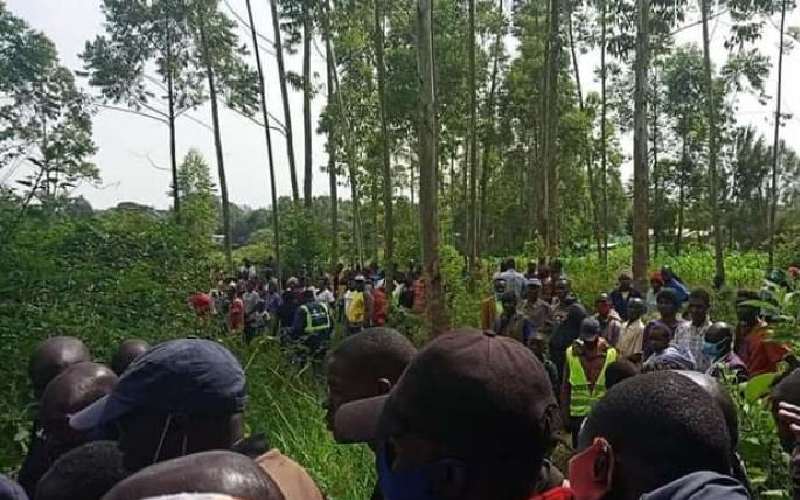 Jerono's killers, audaciously dumped her body less than 20 metres from government residential houses and about 150 metres away from Moi's Bridge assistant chief, Eliud Kositany's home.
The deceased's teenager's father Harrison Kinyua said members of his family had not slept since Friday when his daughter was reported missing. She had scored 288 marks in Primary school, the father said.
Kinyua said he arrived in Moi's Bridge at 2am on Saturday after he was informed that his second-born daughter was missing.
"I loved my daughter so much. She was polite and intelligent. I hope I will get to know her killers and why they took away my daughter's life," Kinyua said.
"Linda (Jerono) loved my sister because she is her mentor. She is my children's mentor."
The discovery of the body at 9.30am yesterday sparked violent protests.
In CCTV footage captured at a petrol station near her aunt's house, Jerono is seen following a man donning a red T-Shirt and gumboots, towards the maize plantation where she was found dead.
Locals engaged police after the body of the missing girl was discovered that brought business in Moi's Bridge town along the busy Eldoret-Kitale to a standstill as angry locals engaged police in running battles.
The irate locals barricaded the highway by burning tryes while hurling stones at Moi's Bridge police station for several hours. The crowds of angry youth were dispersed at 2:30pm but returned barely 20 minutes later, demanding justice for the families who have lost teenage daughters in the last two years.
The police were forced to use tear gas canisters and shooting in the air to disperse rowdy crowds but to no avail.
Moi's Bridge police officers were forced to seek reinforcement from their counterparts attached to Matunda and Eldoret Central Police Stations as the running battles intensified.
The youth camped outside until 5.30pm when they were calmed by Uasin Gishu Governor Jackson Mandago.
"We believe that this is a cult. We have lost nine girls in the last one and half years. We want the police to review the CCTV footage and produce the culprit," a resident Maurice Oduor said.
Soy sub-county police commander Nehemiah Bitok said the police are reviewing the CCTV footage as they hunt the suspect.
"The CCTV footage is part of the leads we are exploiting. We are also urging the public to come out with crucial information that will help unmask the killers," Bitok said.
The police commander said the deceased girl may have been sexually abused before she was murdered.
"She had injuries all over her body. The body has been taken to a mortuary in Kitale for postmortem," he said.
"I came to the station recently and I have been informed that there have been several other similar cases."
He said the youth who attacked Moi's Bridge police station were demanding the release of a suspect.