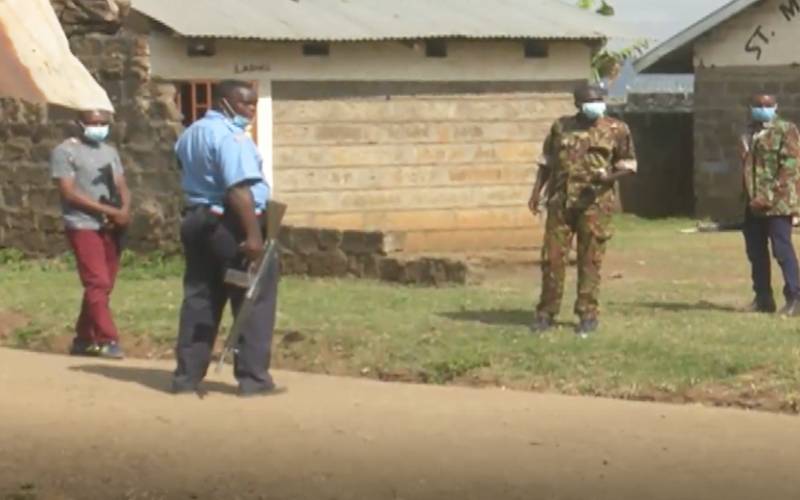 Drama erupted in Nakuru on Friday afternoon as police pursued a murder suspect who had escaped custody after breaking handcuffs and beating up law enforcement officers.
Francis Mwangi, 40, is accused of fatally shooting a 30-year-old woman, Teresia Wanjiku, at Nyamaroto area on Thursday evening, June 10.
After committing the act, Mwangi is alleged to have fled on a red motorcycle of registration plate KMFM 762S. It is said he had hired the motorbike at around 6:30pm Thursday.
Police and area residents widely circulated pictures of the motorcycle on social media, asking users to report to any nearby police station should they spot the bike.
On Thursday night, boda boda riders at Kikopey in Gilgil spotted Mwangi riding the motorcycle.
They, thereafter, cornered and attempted to lynch the suspect, who was rescued by police.
It is alleged Mwangi was escaping to Nairobi.
"The operators nabbed him at 10pm after identifying the motorbike through its registration plate number," Gilgil Sub-County Police Commander John Onditi told The Standard.
Mwangi was, thereafter, handed over to police in Nakuru East.
He was allegedly found in possession of the murder weapon, a Browning Hi-Power pistol.
At around 1:30am Friday, the suspect, who had been detained at a Nakuru East police post, complained of head and chest pains.
While being escorted to the Nakuru Level 5 Hospital by two policemen, the suspect became violent toward the cops, beating them up before breaking handcuffs and running to an unknown destination.
"He jumped out of the moving vehicle and fled," police said.
Nakuru East Sub-County Police Commander Phanton Analo told The Standard the suspect was on Friday afternoon spotted by locals at a house in White House estate.
Police were alerted, and while rushing to the said-house, the suspect, who had gotten wind of what was about to happen, ran into Nakuru Boys' High School compound.
Police pursued Mwangi to the institution, where he was arrested.
Irate residents flocked to the school to lynch the suspect, forcing police to fire into the air to disperse the crowd.
Mwangi allegedly shot Wanjiku, a Nakuru East businesswoman, in the head at close range at 7pm Thursday.
"The cause of the fatal altercation between the two remains unclear yet," Nakuru East police boss, Analo, said.
Residents rushed to the scene where the gunshot sound was heard, but Mwangi managed to escape on a hired motorbike.
He is alleged to have collected the spent cartridge before fleeing in an attempt to interfere with subsequent investigations.
Nyamatoro residents on Friday afternoon torched Mwangi's house items.
Police say he will be arraigned on Monday, June 14.