Vandals destroy road signs and guardrails leaving death traps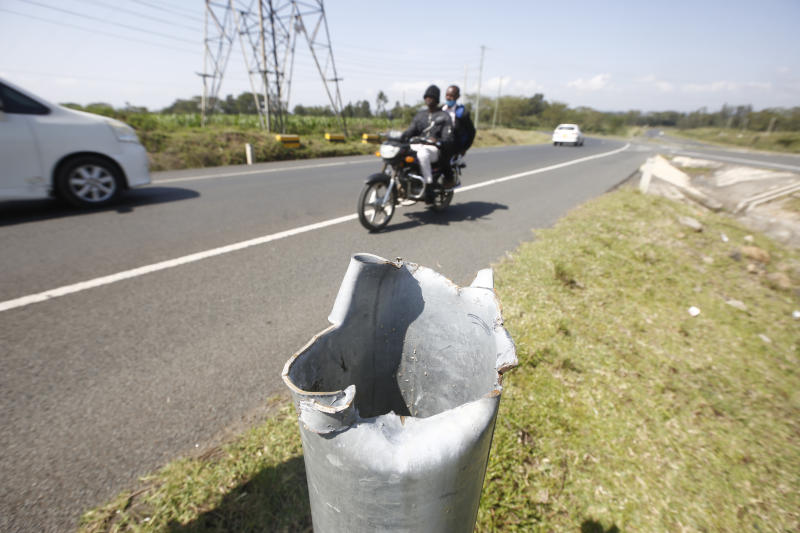 On the night of May 12, appetite for quick cash saw three men embark on a tricky mission, to vandalise road signs on a road in Gilgil, Nakuru County.
The vandals, who included a former police officer, were so daring that they were committing the offence near the 5KR Barracks. They were spotted by a Kenya Defence Forces soldier who fired in the air to scare them away. They did not budge. The soldier was forced to open fire and the former police officer was not lucky. One of his accomplices was arrested while the other one sped off.
Gilgil Sub-county Police Commander John Onditi said they were shocked that the suspects decided to commit the crime near a protected area such as barracks and warned that they will deal firmly with those destroying road furniture.
But this was just one of the cases of vandalism that are being witnessed across the country exposing motorists and other road users to the risk of accidents that can easily be avoided.
"Almost every week we receive alerts on ongoing vandalism of road signs and guardrails. We have managed to foil some of the thefts," said Onditi.
In January, Kenya Urban Roads Authority (Kura) Director General Silas Kinoti revealed that in the last quarter of 2020, the agency lost road furniture worth Sh500,000 through vandalism.
"The authority is committed to ensure all road furniture is in place. However, it is disheartening that some people are destroying facilities meant for the good of the public," said Kinoti.
Until recently, road signs and street lights had been an easy target for vandals. However, the thieves have now moved to guardrails and this is putting many lives at risk.
Molo MCA Michael Karanja noted that thieves have stolen 300 metres of guardrails along the Molo-Olenguruone road.
"On one side of the road is a quarry that is over 60 feet deep. The thieves recently stole guardrails on the entire stretch. The area is very risky, especially when it rains," said Karanja.
At Kapsita along the Njoro-Molo road which has several sharp bends, over 150 metres of guardrails have been stolen on both sides of the road.
"They are yet to be replaced. This has made this area very risky, especially because of the nearby river. Only the concrete pillars that held the guardrails in place remain," said Molo MP Kuria Kimani.
Two years after its completion, the Njoro interchange on the Nakuru-Eldoret Highway has just one signpost after the rest were stolen. Half of the street lights are also gone.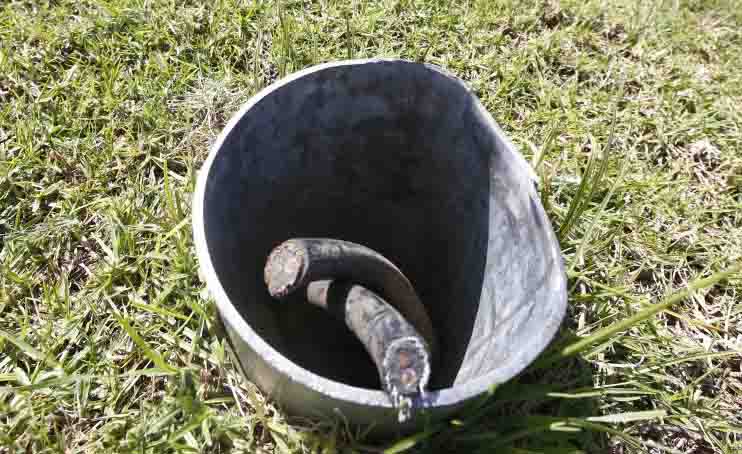 David Wamathingira, who chairs an association of Njoro and Molo matatu operators, said the interchange has become risky especially for pedestrians.
"This area had over 10 signposts. All are gone. At least 17 street lights on the main highway have also been stolen," said Wamathingira.
The area around Subukia escarpment has also turned into a death trap after all the guardrails and road signposts were either vandalised or stolen.
There are no road signs on either side of the road leading into Subukia town.
"Last month, a police vehicle veered off the road and landed into a nearby farm. Four police officers were injured. Guardrails at that stretch of the road had been destroyed by another vehicle before they were stolen. Kenya National Highways Authority (KeNHA) has since replaced them, which is encouraging," said Nelson Gitonga, a Subukia resident.
KeRRA Nakuru regional engineer Joseph Maina said most cases of vandalism and theft of road furniture have been reported in Molo, Njoro and Naivasha.
"All guardrails and nearly all road signs have been stolen between Molo and Muchorwi. We have since replaced the guardrails which was a very expensive project. Newly installed road signs on Moi South Lake and Moi North Lake roads in Naivasha have also been stolen," said Maina.
Kura has blamed theft of guardrails and signposts on the growing demand for scrap metals. "Most of the stolen road furniture have no use in homes. They end up in scrap metal markets," said Maina.
"Aluminum, the main material used in making road furniture, is relatively expensive. That is why it is targeted by scrap metal dealers," he said.