Head teacher accused of throwing baby into fire surrenders to police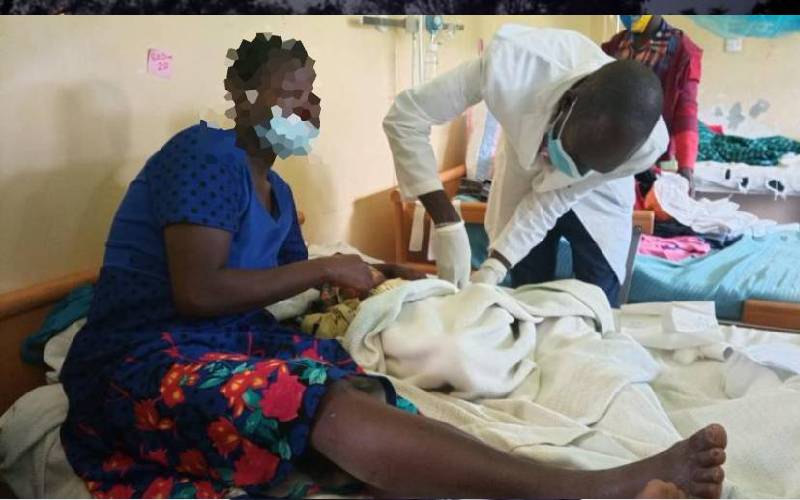 The headteacher who has been on the run after throwing his five months old baby into the fire has surrendered to the police.
The 47-year-old teacher from Baringo County surrendered himself to elders at Ngaratuko village who later handed him the local police on Monday night.
This brings an end to his two-week manhunt by police after the incident happened.
the suspect is said to have committed the offense after accusing his wife of infidelity.
Baringo North sub-county police commander Fredrick Odinga said the suspect was escorted to Loruk police station where he was booked.
"The suspect is in our custody, he surrendered himself to village elders who in turn escorted him to the police station," Odinga told the Standard Digital.
The suspect is expected to be arraigned in court later today.
The teacher is alleged to have thrown the infant into the fire after he had a quarrel with the wife.
In his statement to the police, he denied the allegations and turned the blame on his wife.
The baby has been receiving treatment at Baringo County Hospital after sustaining severe burns.
According to the baby's mother, her husband had accused her of siring the baby outside their marriage.
"My husband who I have been married to since 2002, believed that the child was not his," she said.
She said soon after giving birth to the child, she was banished from her matrimonial home and forced to seek refuge at an external kitchen where the attack happened.
As she went to the main house to fetch utensils so that she could serve the husband with a meal, she heard her baby scream.
"I rushed back into the kitchen, forced the door open only to find the baby in the fire. My husband was armed with a panga as watched as the baby burn," she said. "I fought my way into the kitchen to rescue the baby from the fire. He sustained facial injuries."
After rescuing him, the mother says she went to report the incident to the assistant chief who only ordered the man to ensure that the child receives treatment.
The baby was taken to the hospital on Monday where an officer from the children's department, Irene Chepkwony, reported the incident to the police.
"I have visited the minor. It is unfortunate that a father trusted to take care of children turns against his own child," Chepkwony said.
She challenged parents not to vent their frustrations on innocent children, adding that the issue of paternity can be addressed through a DNA test.