Proof of land ownership only barrier to IDPs' peace of mind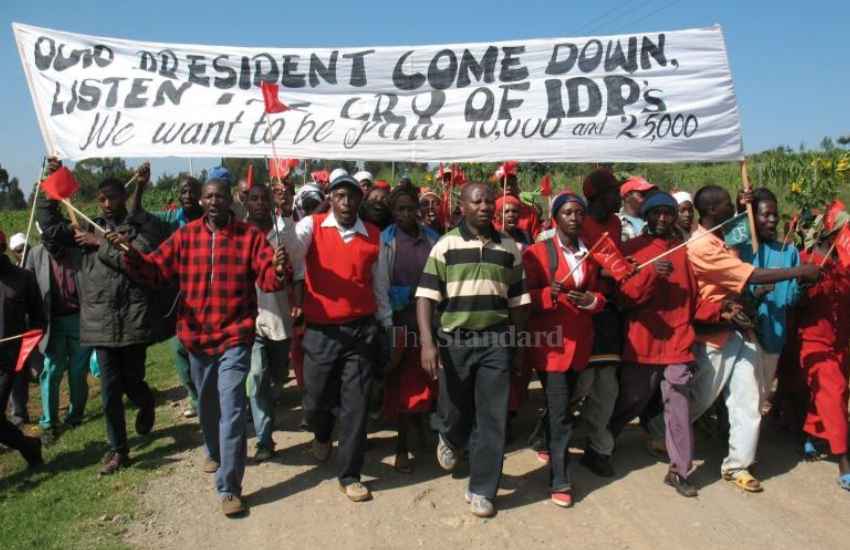 The 1,557 families the government allocated land at Wiyumiririe in Laikipia East fear losing the properties as they cannot prove ownership.
The properties lack green cards because the titling process is yet to be completed years down the line.
A green card is a document that holds the original records of all transactions relating to a piece of land. A green card serves as a reference document for a given piece of land. Without a green card, one cannot claim to be the legal owner of a property, even if they have a title deed.
The land at Wiyumiririe had been turned into an Internally Displaced Persons (IDPs) camp following the 2007 post-election violence.
After living at the camp for four years, the government would purchase the 50,000 acres, which it distributed to the IDPs.
Each family, according to Jane Muthoni, a beneficiary, was allocated two and a half acres. The families were issued with title deeds two years later.
And due to lack of the green cards, the families say, they are unable to sell the land or use as collateral to secure loans because they cannot prove ownership.
Ms Muthoni, a mother of seven, said she sensed trouble in 2018. Her son had passed the Kenya Certificate of Primary Education examinations, but she did not have money to send him to secondary school. She opted to use the land title as security to secure a loan from a local bank.
"I was happy, and all of us were, when the government gave us title deeds. At least we would stop living as IDPs," said Muthoni, who lost all her property at her home in Molo, Nakuru County, at the height of the violence that followed the bungling of the 2007 presidential election.
Muthoni and her children first move to Nakuru's Afraha Stadium, where those who had been displaced were lived, before they were moved to Laikipia East.
The story of the 65-year-old Muthoni, and which is shared by several of the households at Wiyumiririe, is one of misery and desperation. The families say they fear a day may come when they will be evicted.
"My son was to join a national school after excelling in the exams. I depend on maize farming, but things were tough that year as my crop had failed due to dry weather. That is why I decided to apply for a loan," said Muthoni.
She added: "I travelled to Nyahururu Town armed with the title deed. I applied for a Sh100,000 loan. The title deed was my guarantee."
Muthoni said the bank advised her to return after two days. She expected that the loan would have been processed within this period.
"I was shocked when bank officials said the loan could not be processed because they were unable to conduct a search to establish ownership of the land, as it did not have a green card," she said.
They had to forfeit her son's place in the national school and do with a local one.
And now, some of those who were allocated the land are a worried lot.
Those The Standard spoke to said they were not happy with the way things turned out.
John Njoroge said he wanted to sell his property last December and relocate to his father's land in Limuru but could not.
The father of three said he had found a buyer who was ready to give him Sh500,000.
"The buyer had money ready, but when we went to the Lands office in Nanyuki, I was told I could not sell the land since it did not have a green card. I am still here struggling to feed my children when my family could have been better off in Limuru. Yet I cannot leave the land here," he said.
When Rose Gakenia incurred a hospital bill of Sh67,000, she knew she would use the title deed to get a loan.
"Well-wishers came to my rescue after we had spent three months in hospital. I had banked my hopes on the title deed to rescue me, but I was unable to take a loan using it as collateral," said Gakenia.
John Kirimi had plans to invest in dairy farming and knew he would get a loan against his land.
"I had already put up the cowsheds and the hay store. I wanted to get loan of Sh300,000, using my title deed as security, so I could purchase three dairy cows. This failed and until now, the cowsheds lie idle," he said.
Jane Nyokabi wanted to obtain a loan to start a business, but the title could not help her.
Peter Kariuki, the local community's chairman, said they had visited various government offices to have the matter addressed, but in vain.
"We appreciate the government efforts to settle us after we were displaced during the violence. However, giving us mere papers as title deeds is quite unfortunate," said Kariuki.
He appealed to the government to settle the green card matter.
Laikipia Lands Department registrar Pamela Mutegi said there were some hitches in the issuance of the green card.
She said titles were issued at the National Titling Center in Ruaraka, Nairobi, but certified copies were missing, making it difficult for the government to issue the green cards.
"I know there has been this problem that has persisted... As we speak, I have just called someone in Nairobi and he is following up the matter so we can have certified copies of the documents to be able to issue the green cards," she told The Standard on the telephone.
Kariuki said the families wondered how copies of such government transactions could go missing.
"Someone should be held responsible for this. How do copies of such a multi-million-shilling land transaction go missing? We are suffering just because somebody slept on his job" said Kariuki.