600,000 in dire need of food as drought bites in Turkana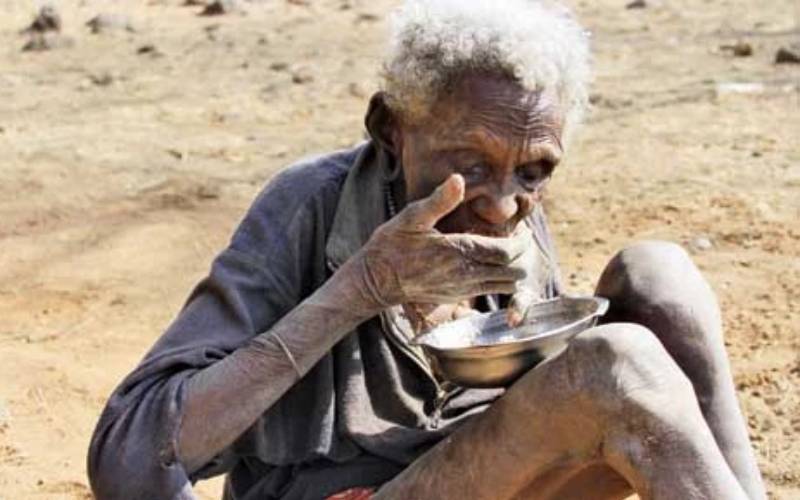 Lolem Ekiru, 43, a herdsman in Kibish, Turkana North, is facing starvation and so are his neighbours.
The pastoralists in most parts of Turkana County have started losing livestock to the drought and are now in dire need of food relief.
Ekiru has already lost all his livestock to the drought due to a lack of water and pasture.
"We trek for more than 30km in search of water and grass, but now all the water holes have dried up. I have lost at least 20 cows already," said Ekiru.
Lokai Lomor, 50, another herder in Turkana West Sub-county, said his livestock have gone without water for the last one week and with no signs of rain coming soon, he is worried they might start dying.
"This drought has caused me sleepless nights. I fear losing my livestock as these animals are the only source of my livelihood. If they die, my family will succumb to hunger too," a distraught Lomor said.
At her homestead in Liwan village, Akal Aruoto, 34, a mother of three, sat pensively pondering her next move. For the last three days, Aruoto and her children haven't had a meal or water to drink.
"There is nothing as painful as a mother seeing her children crying of hunger and there is nothing much you can do. The only source of water where we used to get drinking water has dried up and we don't know where to go next," Aruoto said.
For Lokopu Ng'imoe, 60, losing over 20 goats recently was the hardest thing he has had to witness in a long time.
"We have not received rains for several months now. Getting pasture and water has become hard and sometimes we are forced to traverse across the county in search of rare commodities. I don't know what will happen next since my animals' health has deteriorated," Ng'imoe lamented.
Government response
It is estimated that at least 640,000 people are at risk of starvation in the region.
Reports from Famine Early Warning Systems Network (Fewsnet) and National Drought Management Authority (NDMA) warned of an unfolding crisis in Turkana County especially due to failed rains.
Fewsnet, in its February report, noted that the drought situation in Turkana, Marsabit, Isiolo, Wajir and Samburu required urgent government response before it deteriorates to a famine.
"The forecast of below-average 2021 March to May long rains are expected to negatively impact crop production and rangeland resource regeneration," Fewsnet notes in its report.
Based on data collected during the 2020 short showers of rain assessment exercise, the Kenya Food Security Steering Group estimated that around 1.4 million Kenyans in arid and semi-arid areas were staring at hunger.
The report showed that pastoralists in Turkana are forced to trek between five to 25km in search of water and the search goes on for up to four days.
Last week, Turkana Governor Josphat Nanok appealed to the National Government, through the Ministry of Devolution and Arid and Semi-Arid Lands, to intervene and provide relief food to the residents facing starvation. Since August last year, the county has not received any rainfall.
The county water services chief officer Moses Natome said the county needs around Sh300 million to mitigate the looming crisis.
He said his department has released Sh100 million for water interventions across the region.
"The money will be used to repair and equip broken boreholes," Natome said.
The National Drought Management Authority has ranked Turkana North, Turkana West, Turkana East, Turkana Central and Loima and Kibish as the worst hit by the ongoing drought.
AG's conflicting advisory
The document conflicts with one issued by the same office disqualifying Mutemi from holding the position while still serving as an employee of IEBC