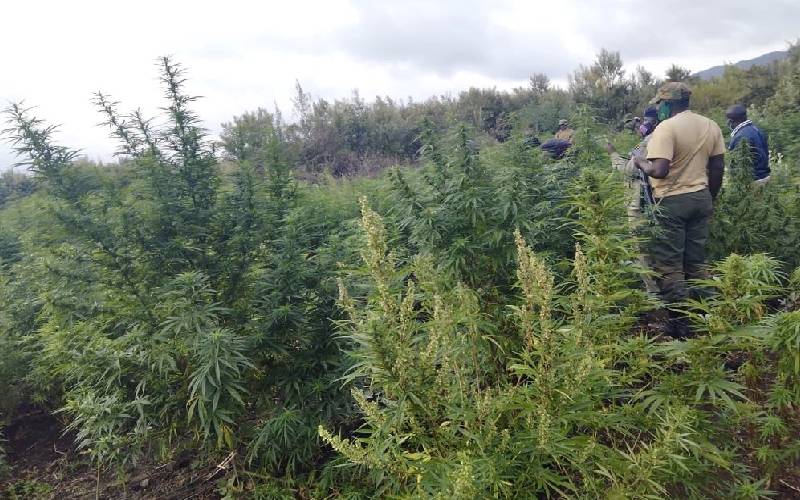 Police on Thursday destroyed marijuana valued at Sh27 million and arrested 14 suspects weeding a field of the narcotic in Naivasha.
Directorate of Criminal Investigations (DCI) said the operation was conducted by a multi-agency team comprising of Anti-Narcotics detectives and police officers.
Police acting on a tip-off from members of the public pounced on the suspects weeding the more than one-acre field of bhang at Kedong ranch.
Detectives are investigating how the suspects managed to plant a whole acre of bhang and if there are other accomplices.
Read More
The 14 are in police custody and will be arraigned once investigations are completed.
A section of Kenyans led by Narok Senator Ledama Olekina has been calling for the law to be amended to legalise marijuana use for medical purposes.
Olekina recently shared a video in which he is in the middle of a farm, full of bhang while on tour in Lithuania.
The Narok Senator has legalised the drug, something Olekina says Kenya should emulate and amend its laws so that the drug can be used to reduce pain in cancer patients.
"Why is it that we in Kenya are still stuck with the old way of saying that this is an illegal drug…this is crazy…it really smells like weed, I might get out of here, high," Olekina said.
The late Kibra MP Ken Okoth in 2018 tabled the Marijuana Control Bill to legalise marijuana.
Marijuana still illegal
However, the National Authority for the Campaign Against Alcohol and Drug Abuse (Nacada) has warned against any assumptions that marijuana has been legalised in the country after the United Nations' Commission on narcotic drugs removed it from the list of the most dangerous drugs.
Nacada boss Victor Okioma said Kenya's position in recognition of cannabis potential for abuse and the obvious health risks as well as the heightened level of abuse both globally and nationally remains.
The commission in December last year voted to reschedule the cannabis plant and cannabis resin by removing it from the strictest schedule - Schedule IV of the 1961 Single Convention on Narcotic Drugs.
Okioma, however, said Kenya did not support any of the recommendations and instead advocated for the retention of cannabis plant and cannabis resin in both Schedule 1 and iV of the 1961 Convention.
"Kenya is at liberty to tighten its controls on cannabis or any other substance despite the global vote to delete cannabis from Schedule IV of the Convention. As such, all is not lost, the leash is still in our hands," Okioma said.
In September last year, police netted 900 kilogrammes of bhang valued at Sh23 million from a house in Mwereri area, Juja farm.
They also arrested Martin Mungai, 28, the house owner, alongside his friends who were found in the house and who were believed to be involved in bhang trade.
At Mungai's compound were 23 bhang plants which the contingent of police officers uprooted and took as evidence.
Further, six women who had visited the house when officers were carrying search were arrested and were found with several rolls of bhang and Sh50,000 in cash.