Agony as cypress trees worth millions dry from aphid attack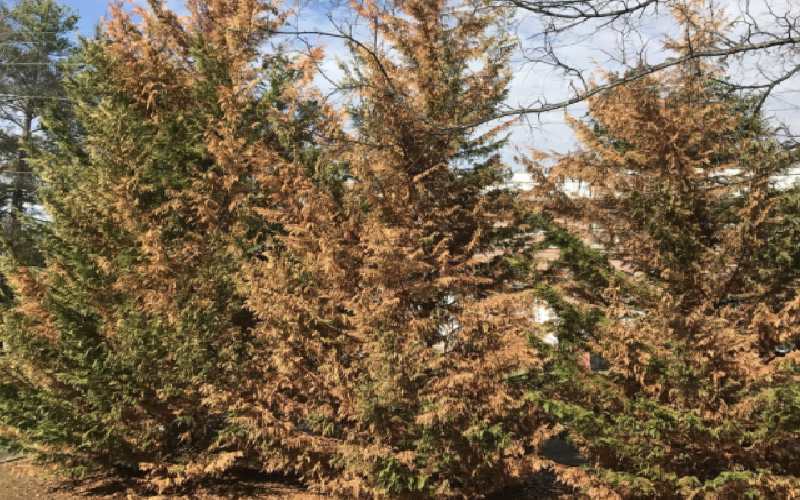 About six years ago, Christopher Komen decided to invest in commercial tree growing after disappointing returns from food crop farming.
Just when he is readying to harvest his trees, Komen, a resident of Kapyego Ward in Elgeyo Marakwet, is desperate for a solution after trees he had heavily invested in started drying up.
A disease struck his plantation and the trees are now wilting and finally drying up.
Alarming rate
"My multi-million shilling investment is going down the drain at an alarming rate. It started around May last year when several trees wilted and within a month, they were dry. It is now spreading to the entire plantation with over 3,000 trees," he said.
Komen said it could not be the vagaries of weather because the trees are planted in well-drained soils, where water is sufficient throughout the year.
"The trees grow in a piece of land where it was initially a maize farm. I doubt that the weather has anything to do with the trees' drying up. The seedlings are also of top quality since I purchased them from Kapcherop Kenya Forest Service (KFS) station," he said.
Take a quick survey and help us improve our website!
Take a survey
Komen now wants KFS and Kenya Forest Research Institute to come to the aid of the farmers that have suffered the loss and explain what could be happening to the trees.
At his farm, trees drying from the top leaves down the trunk dot the plantation, denting the lush and evergreen forest. The trees look like they were set on fire.
David Kemboi, a farmer in Moiben, is also helpless for the solution after his cypress trees dried up.
"I have more than five acres of trees, but I am afraid I will incur huge losses if they go on wilting. Almost one acre has dried up and it seems the spread is ongoing, even after uprooting and setting on fire the dried ones," he told The Standard.
Mr Kemboi has observed that before the wilting starts, the trees become emaciated and leaves turn greyish before they finally dry up.
"The disease is occasional. There are seasons when we do not witness it, and in some instances the drying up is so severe. We are calling on government agencies to demystify it and if possible give us the chemicals to control it," he said.
He said locals who were looking up to tree growing as a form of investment were now discouraged by the disease.
"There has been clarion calls on the need to increase forest cover to beat the ravaging effects of global warming, but if the diseases dry the trees many will be discouraged from growing them," he said.
However, KFS North Rift head of Conservancy Anthony Musyoka said there was no cause for alarm as the trees dried up due to cypress aphids' infestation and would recover once it rains.
"Trees, especially cypress, become more vulnerable to aphids during the dry season. Trees planted on swallow soils or rocky areas wilt and dry up in dry seasons, but recover when the rains fall. Cypress needs deep soils," said Mr Musyoka.
He added that trees planted on waterlogged areas also dried up because of shocks and that the wilting is also experienced in gazetted forests.
"The phenomenon is spread across the region, but isolated, and when the long rains pound, the trees will recover," he said