Eldoret student injured after being subjected to corporal punishment
A Form Three student at Sambut Mixed Secondary School in Uasin Gishu County is nursing injuries after she was allegedly beaten by teachers for stripping in school.
The student, according to a medical report, sustained soft injuries on her buttocks and thighs after she was whipped with a plastic pipe and canes.
"There are whip marks on her buttocks and thighs and after assessing the injuries sustained, the nature of the injury is 'harm'," read the medical report compiled by Turbo Sub County hospital medical officer Douglas Momanyi.
Speaking to Standard Digital at their home where she is recuperating, the girl said the three teachers descended on her after one of them spotted her lifting her skirt in what she claimed was to show her classmates how to protect their nakedness during windy weather.
"The weather was windy on the fateful day, and we were discussing how to prevent our skirts from being blown and lifted up by the winds," said the girl.
Having put on a pair of shorts, she reportedly lifted up her skirt to show her classmates how to hide their nakedness before being spotted by one of the teachers.
"Our class teacher was at the window all this time and he ordered us to the staff room. In the company of two other male teachers and before even interrogation, started beating us in turns. All my classmates received six strokes of the cane each," she said.
She trouble started when she was told to stay behind because she was the one who was lifting up her skirt to the students.
The victim was ordered by the teachers to repeat what she had done to her classmates but declined, leading to more caning.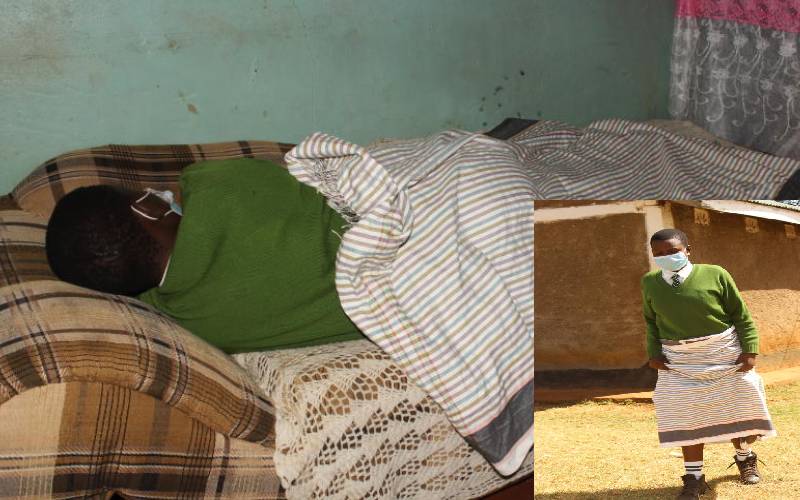 "After I declined to lift my skirt in front of the teachers, they started beating me. I screamed and when other students came to the staffroom they were repulsed," she said.
She said when the teachers were done with her, she could barely walk and had to be aided by two of her classmates albeit with a lot of pain and struggle.
Apparently, the student is a day scholar and lives with her grandmother, a kilometre away from the school.
She denied claims by the class teacher that she was beaten for twerking and dancing, adding that she was in a lot of pain and has yet to return to school for a week.
"It is hurting now that the class teacher claims I was dancing and they beat me up. I am suffering a lot and cannot even sit down because of the pain on my rear side. Even sleeping on the bed is challenging because the hips are hurting," she said.
Her grandmother said she was summoned to the school by the class teacher who reported to her that the girl had been involved in an indiscipline case.
"But when the child was brought home I was shocked because she could not walk on her own. I called back the teacher and asked him if I will come to school or take the child fort treatment but he hang up on me," she said.
She said that her granddaughter was subjected to a lot of pain and she has already sought legal redress.
"As a parent, I am not against caning a student as a remedy for indiscipline but when you injure the child it is not correcting anymore. The teachers have been so rude even mocking me that they will bail themselves out.
According to the school management, the girls were beaten for allegedly stripping and twerking in school.
"They were stripping and dancing in class and we caned them as a form of punishment. They are an unruly lot who have been giving us a lot of indiscipline issues," claimed Joseph Kele, the class teacher.
However, the school Principal Winnie Mibey was surprised by the turn of events, blaming her fellow teachers from hiding the matter form her.
"I was away on the material day and it is shocking the teachers hid the issue from me. Canning has been banned in schools and we do not condone such acts. We shall investigate the matter expeditiously," she said.