One dead and six in hospital after anthrax outbreak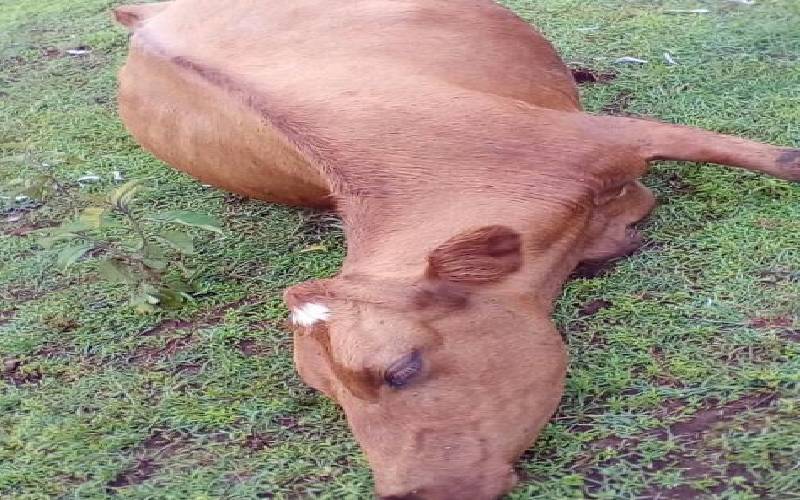 One person has died in what authorities say is a suspected case of anthrax outbreak in Bomet County.
The disease was reported in Itoik village, Sotik Sub-county, at the weekend. Johnstone Kelong, a 60-year-old village elder who helped the community to dispose of the carcass of a cow, succumbed to the disease.
Kelong died on Tuesday morning while undergoing treatment at Kaplong Mission Hospital where six others have been admitted in critical condition.
They are said to have been in contact with the carcass of a cow suspected to have been infected with the disease.
Seven cows have died following the anthrax outbreak in the last one week, with fears that more cows may be infected.
"As a village elder, after the cow in his neighbourhood died Kelong was called in and innocently led residents in disposing the carcass," said Evan Mutai, a resident.
Mutai said they were forced to dispose of the carcass after attempts to seek an opinion from local vets failed.
"After making several calls following more than seven cases in the same village where cows dropped dead, they decided to take it upon themselves to dispose of the carcass," Mutai said.
He said after a day, the group that took part in getting rid of the cow started showing symptoms of anthrax, with swellings and wounds appearing on their hands.
Kapkures Location Chief David Langat said the area is prone to cases of anthrax and that the Department of Veterinary has taken up the matter.
"We are conducting a sensitisation exercise so that those whose cows have died and disposed of them can be taken for tests and treatment to avert deaths," he said.
County Disaster Officer Stanley Mutai said those hospitalised were out of danger.
"The six who have been taken ill are out of danger and will soon be discharged," said Mutai.
County Director of Veterinary Wilson Serem said the current case was not reported to them. He noted the area covering Kipsonoi and Mutarakwa was prone to the disease and that every year anthrax cases are reported.
"It is the first time a human being is succumbing to anthrax in the area, but previously we have had cases of cows dying," he said.
The director said the county will roll out a vaccination exercise and cautioned locals against disposing of cows that drop dead.
"It is my plea that anyone whose cow dies with symptoms that resemble anthrax should be left for the vets to handle to avert infections," he said.
Daniel Kipyator, a local, however, decried the Veterinary Department for failing to carry out constant vaccination.
"It is unfortunate that veterinary officials carry out vaccination exercises once in almost every five years," he said.