Two students died yesterday under unclear circumstances, with families pointing a finger at their schools.
The first incident was reported at the City Mission Secondary School in Nakuru East, where a 17-year-old Form One boy lost his life on Thursday morning while being treated at a Nakuru hospital.
Abdullahi Mohamed Sahal was admitted at the facility on Tuesday morning, just hours after enrolling at the school.
"He has been asking me to enroll him in a boarding school. He was taken to the school for admission by my eldest daughter on Monday evening. He was jovial but hours later he fell ill," said Rukia Mohamed, the mother.
Hours in coma
The school management called her on Tuesday morning, asking her to pick her son for medical attention. "Instead of the school rushing him to hospital they called me. He had been in a coma," said Mohammed.
The family spokesman Dr Abdi Osman explained that attempts by medics to save his life were futile even after he was placed on life support machine.
"He never recovered from the coma. It is unfortunate that we may never know the truth on what transpired in the school. We suspect he was bullied," he said.
According to the postmortem report, Sahal had been assaulted with a blunt object on the left side of his head, inflicting a 12-centimetre fracture which caused internal bleeding.
The school director John Abungu, however, refuted claims of foul play. "We disown any claims that the boy was in anyway mishandled by anyone at the school. We informed the parents and organised for him to be taken to hospital. It is unfortunate he didn't make it," said Abungu.
Nakuru East Sub County Criminal Investigations Officer Benson Mutie said they had launched investigations into the matter. Sahal was yesterday buried at Nakuru Muslims cemetery.
And in Bahati, residents engaged the police in running battles as they protested the death of Duncan Mbugua, who was allegedly assaulted at the Kiamaina Primary School in November last year.
The parents stormed the school, baying for the blood of the accused teacher after reports that Mbugua had succumbed to the injuries at the Nakuru Level Five Hospital where he had been admitted.
John Waithaka, a brother, claimed the teacher assaulted Mbugua a week before they closed for the December holiday.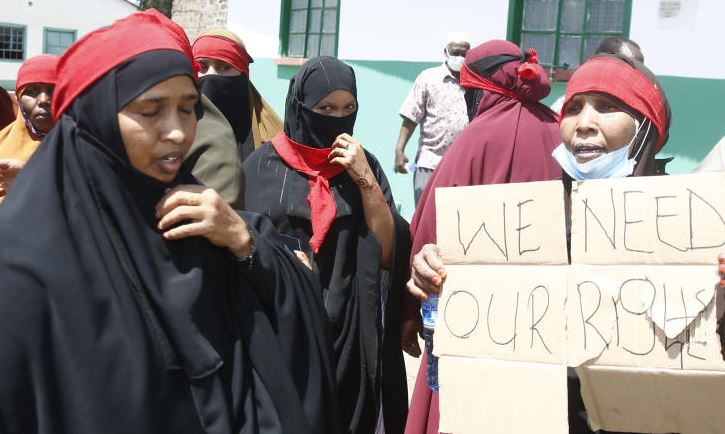 Persistent headache
"He came home complaining of a severe headache. He explained that a teacher had hit him in the head for reporting to school with unkempt hair. Since then he has been having persistent headaches," said Waithaka.
The parents brought down a section of the school's perimeter wall after they were denied entry.
Pupils were sent home earlier than usual, even as the accused teacher remained under police.
"The family only reported the case when the boy died. We are waiting for postmortem to be conducted to pave way for our investigations," said Bahati North Sub County Police Commander Bernard Wamugunda at the school.